Best Baseball Cleats
This page contains affiliate links. As an Amazon Associate I earn from qualifying purchases..
Cleats are extensions on the shoe's sole that mainly provide more traction on soft or slippery surfaces. They may be of metal, plastic or rubber material and either has a conical shape or a blade-like shape. Metal cleats are, however, illegal for safety reasons. The kind of cleat you choose will depend on the game environment. Cleats were first used in the 1960s in the United States of America when spikes of metal were first attached to baseball shoes.
Every sport has shoes that are unique to it and required of every player of the sport. Baseball is no exception. Baseball is a game that involves a lot of running. As a matter of fact, running is the most important part of a baseball game. Running in this game requires that your feet are comfortable enough to run at a very high speed and also stop when you have to. To be able to have effectively maximized speed and stop, you will need high-class cleats.
Quick Look at Our Top Picks:
Best Rated Baseball Cleats Reviewed
Baseball is a competitive sport with high stakes. One extra inch could make you a baseball legend in no time, hence the need for buying the best baseball cleats. We put an end to your search by reviewing some of the very best of the best for you to make an informed decision.
Under Armour Men's Leadoff Mid RM Baseball Cleats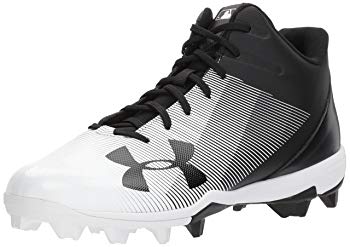 This pair of baseball cleats is a soft and comfortable rubber molded cleats to give you excellent durability and traction on any surface. The upper has patent synthetic leather, which offers excellent comfort, durability, and support.
Furthermore, to keep the feet dry and cool throughout the game and in any weather condition is a very breathable mesh tongue. An EVA midsole runs full-length and helps to disperse pressure from the cleat while providing your feet with cushioning and additional comfort. Weighing 13 oz, this premium pair of shoes is lightweight. Also, it is available in many colors and will definitely improve your performance.
Pros:
Offers great traction on most surfaces
Lightweight and flexible
Has to insert support
Offers great ankle support
Allows you to run easily
Has a disc on the bottom for rotating
Cons:
Runs quite small
Requires break-in period
New Balance Men's L4040v4 Metal Baseball Cleat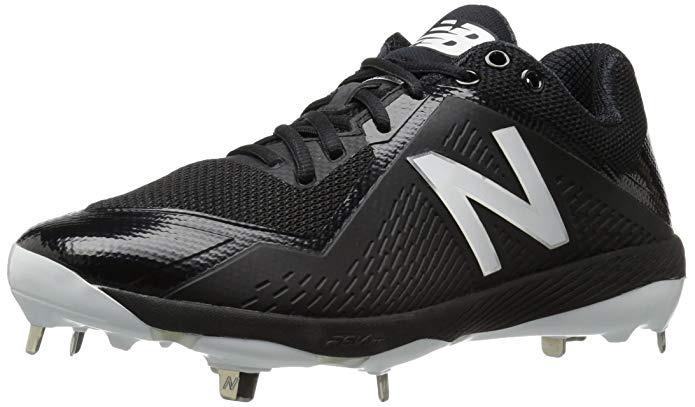 This pair of baseball cleats is designed with a durable synthetic and nubuck upper. This very lightweight and flexible cleat has so many outstanding features for improved performance. Its plate offers a lot of support and flexibility to keep you safe even when you have to turn suddenly.
Moreover, the upper has a very breathable and durable TPU mesh and the cushioning the midsole will provide you with is lightweight and comfortable. Additionally, the shoe's beauty is perfected with a lace cage. You can easily tuck your laces into when rushing off to the baseball field. Available in different colors, this shoe is definitely the best performing shoe for you.
Pros:
Very breathable and lightweight
Provides good ankle support
Offers excellent grip
Easy to clean
Cons:
A few people said it is quite durable
Runs quite small and narrow for some foot types
Nike Huarache 2KFilth Men's Pro Baseball Cleat
This pair of baseball cleats is made with a synthetic leather upper and has plastic cleats. At the upper, this synthetic leather is merged with TPU mesh to keep your shoes and feet dry. Moreover, it gives you a snug fit and also increase the shoe's durability.
Furthermore, at the midsole, there is a combination of Flywire cables and Phylon foam technology which helps to give lightweight lockdown and comfort. Also, the surface is slick and will not allow dirt to cling to it because of geometric divots incorporated into its makeup. This cool-looking pair of cleats offers you great value at a very reasonable price.
Pros:
Provide ankle support
Comfortable and affordable
Offers the first-class grip
Fits snugly
Cleans up easily and nicely
Cons:
Runs quite small and narrow
Adidas Performance Men's Speed Trainer 2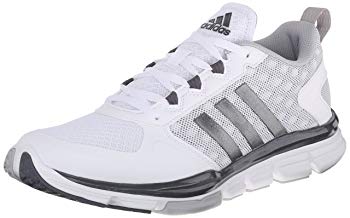 This pair of baseball cleats is mainly designed for baseball speed training. It has a very breathable mesh upper overlaid with synthetic material and a grid under layer. It features a durable rubber sole and an EVA midsole which provides comfortable cushioning.
Moreover, the outsole of this speed trainer is very durable and incorporates flex grooves helps to control traction as well as flexibility. Additionally, if you are in need of durable cleats you can up your game with, this one is for you.
Pros:
Very attractive
Lightweight
Has beautifully-designed reflective strips on the sides
Gives very good arch support
Cons:
The width runs quite narrow
The soles hold too much dirt
Mizuno Men's Vapor Elite 7 Low Baseball Cleat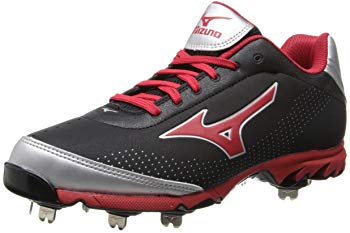 This pair of baseball cleats is of synthetic materials and also features a comfortable synthetic sole with metal spikes that are not removable. The perforated upper coupled with the mesh lining will ensure you enjoy optimal breathability and comfort. For additional comfort, the midsole runs full-length and the collar is padded. The special nine-spike feature serves to improve running, throwing and hitting during the baseball game.
Another unique feature is the Mizuno performance last shape which, in collaboration with the lace closure, will give you the best possible fit as well as a great feel while playing baseball. Weighing 11.7 ounces, this unique shoe is very lightweight and makes moving much easier. Moreover, there are Pro-flex grooves in this shoe's construction to ensure that the shoe's shape. Additionally, with a good blend of innovativeness, artful technology and craftsmanship, Mizuno's Vapor Elite 7 gives you shining performance.
Pros:
Soles are very flexible
Provide very good traction
Very affordable
Offers very good support
Cons:
Not as durable as hoped
Runs small and tight
New Balance Men's 3000v3 Baseball TPU Cleat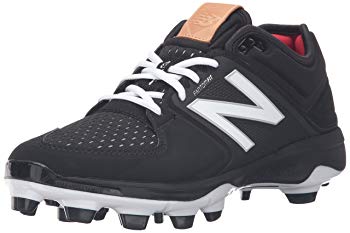 This pair of baseball cleats is made with textile and synthetic materials. It has a rubber sole and uses metal cleats which offer optimal grip when playing on grass fields. This running shoes on cleats offer a FantomFit technology in the mesh upper engineering to provide lightweight support while hugging your feet down and giving you a good balance.
Moreover, the tongue has a debris-free construction to ensure that debris like grit and sand are kept out of your shoes when you are playing. The toe-protect feature has the major task of ensuring that your toes and feet do not get hurt no matter how fast you run. For lightweight comfort, additional support and good fit, this shoe utilizes a Revlite midsole and a comfort collar. From all indications, New Balance 3000v3  is a pair of shoes that make sure baseball players achieve the best results.
Pros:
Super grippy cleats
Very comfortable and well made
Offers great performance on both infield dirt and outfield turf
Very stylish
Cons:
A few people say that it runs a bit narrow
Some say the packaging was slightly messy
New Balance Men's PL4040v4 Molded Baseball Cleat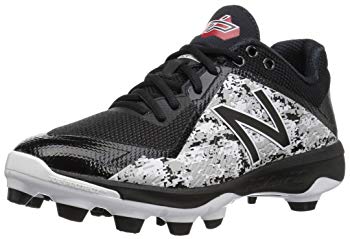 Of mainly synthetic materials and complemented by a synthetic sole, this cleat will last you a long while even if you play baseball every day. The plate of this cleat offers lightweight flexibility and support for all the baseball antics you love using on the field. There is also a TPU mesh system that is very durable, absolutely breathable, comfortable and provides all the support you need for natural movements.
Furthermore, your laces, which will be well secured in the lace cage, will have a very clean and streamlined appearance. Another great feature is the REVlite midsole that runs full-length to give you a very lightweight and responsive cushioning. Moreover, a padded and debris-free tongue will help keep debris out of your cleat. Also, this well-built cleat guarantees you amazing support, advanced grip, and an effortless baseball game.
Pros:
Has a beautiful design
Gives good cushioning
Durable
Gives incredible speed
Offers great support
Cons:
Runs extremely narrow, some customers could not get their foot in
Could use some more arch support
Adidas Men's Adizero Afterburner 2.0 Metal Baseball Cleat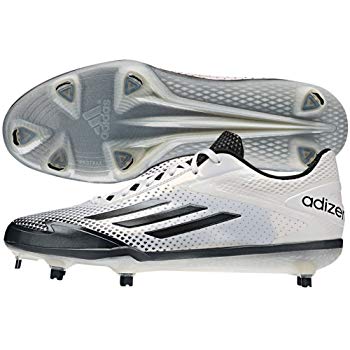 This pair of baseball cleats is geometrically designed to give you all the support, speed and comfort you need to perform excellently on any baseball field. Made with an artfully-designed and lightweight synthetic upper, this cleat boasts of a toecap that is seamless and abrasion-resistant.  These are metal cleats with a 5×3 Protrax configuration to ensure you enjoy superior rotational and linear traction on most surfaces. This imported cleat has a SprintFrame construction on the outsole plate that gives you lightweight stability by creating a perfect balance between the lightweight of your cleat and its stability when you are accelerating and stopping.
Furthermore, your traction on top speed is guaranteed with the cleat design that also makes sure dirt does not penetrate. A treated OrthoLite sockliner is integrated into this cleat's construction to give you breathability, cushioning and odor reduction. Moreover, there is also a very comfy textile lining and a full-length Litestrike EVA midsole for durability and ultra-lightweight cushioning. Additional comfort has a padded tongue and collar which also give you a very snug fit. The traditional lacing closure feature ensures your feet are secure in your cleats.
Pros:
Very lightweight
Gives a very snug and comfortable fit
Helps in accelerating and stopping
SprintFrame construction
Cons:
Metal cleats are not allowed in some leagues
Nike Men's Trout 3 Pro Baseball Cleats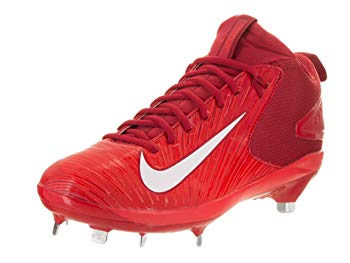 This pair of baseball cleats is inspired and endorsed by the talented baseball outfielder, Mike Trout. Made with synthetic leather, this cleat has durable rubber soles. The TPU plate has a nine-cleat configuration with six of the metal cleats placed full-length, and three of the smaller metal cleats placed in the forefoot area. These cleats help in increasing the shoe's durability and flexibility while playing baseball. The midsole has durable, lightweight and comfortable Phylon foam to help you focus on your game. This pair of mid-cut cleats also has a tongue of mesh material that provides breathability and padded comfort.
Pros:
Great grip
Very comfortable
Stylishly beautiful
Made of good quality materials
Cons:
A few people say that it is not perfectly sized
Under Armour Harper One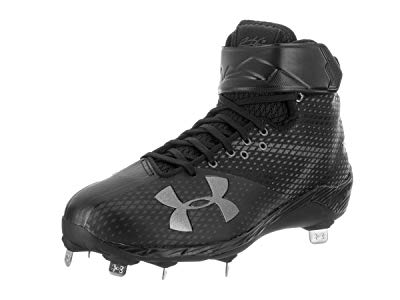 It has supportive and durable synthetic leather and has a well-woven one-piece upper that ensures your feet breathe very well while enjoying lightweight fit and feel. The inconspicuous and lightweight outsole of this pair of shoe is powered by nine metal cleats that strategically offer excellent stability, mobility, and traction. This shoe's midsole features a Charged Foam that provides responsive cushioning as well as absorbs impact.
Furthermore, there is also an internal booty construction that will ensure you have a customized glove-like fit. For real biochemical performance on the field, you have flex grooves at the forefoot area that will increase your flexibility help you when you suddenly change directions. This pair of cleats will make you play like, probably even better than, Bryce Harper on the field.
Pros:
Affordable
Offers excellent absorption of shock and impact
Charged cushioning midsole guarantees responsive cushioning
Offers excellent traction
Very flexible
Cons:
Metal cleats are not permitted in some baseball leagues
Key Considerations when Choosing the Best Baseball Cleats
The right baseball cleats offer you a lot of benefits. Using the right cleats when playing baseball can take your game to the next level. They provide traction, cushion, flexibility and support with just a few added inches to your baseball shoes.
Construction: Cleats are generally from synthetic leather or genuine leather materials.

Synthetic leather cleats: These leather cleats are quite affordable and of good quality. They provide additional ankle and mid-foot support.
Genuine leather cleats: These leather cleats have better quality than the synthetic leather cleats. They are more expensive, flexible, sturdy and breathable than their synthetic counterparts.
Ankle Support: The support by baseball cleats come in three categories – low tops, mid tops, and high tops;

Low tops: Low tops are for players who value speed more than they value stability. These cleats allow the player to move very fast and laterally, thereby making sprinting easier.
Mid tops: Mid tops are great for players in need of ease while moving on the field, as well as good enforcement of the ankle.
High tops: High tops are great at providing injured ankles with additional support by reducing your movements and keeping your ankle firmly in place.
Proper Cleat Size: Before buying your chosen baseball cleat, make sure it is the perfect size for you. The heel should have a snug fit while the toe area should not be too far from the end of the cleats. You should choose tight cleats over loose ones as they will give you ample support and good cushioning for your type of foot. However, they should not cause you pain or discomfort and the studs should not have pressure points. Besides they will eventually get more comfortable as they break-in, especially if they are of stretchable genuine leather.
Type of Cleat: There are different types of cleats. Your choice should put into consideration that field type you will be playing on and the weather conditions. Studs usually go with cleats to provide additional traction and support. You can use shorter studs when the field surface is hard, while longer studs will be more suitable in fields because they provide better traction there. However, you could get cleats with removable studs so that you can easily swap between the long and short studs depending on the most suitable one at the time of play.
Know the Anatomy: Another important thing to take into consideration is your cleat's anatomy. Know that every part of your cleat is very important and plays a vital role in your performance.

Cut length: The cut length could be low-cut if you are in need of freedom of movement, or mid-cut if you need additional protection and support.
Lacing and eyelets: Although some mid-tops use ankle straps, most use laces. These laces should be universal so that you can adjust to your best fit. It is important to have eyelets for your laces so that they stay in place.
Upper and toe cap: The upper part and toe cap, usually of high-quality leather, should be sturdy and tough. This helps to offer your foot and toes the desired protection while running or turning on the field.
Tongue and collar: The tongue should be thin, breathable, and slightly padded to increase your comfort, while the collar should increase your comfort and keep your foot securely in place.
Holes for ventilation: The cleats should have some holes in them to allow for breathability especially in hot weather conditions. It is important to keep your feet and dry during the game so that they do not get sweaty and sticky, hence the need for proper ventilation.
Heel counter: This tough insert is often at the back of the heel to add support to the heel cup and keep it locked in.
Heel cushioning: The cushioning of your heel is important because it helps absorb shock. The heel should be well cushioned to also avoid injury resulting from shock and impact.
Insole: Your foot rests on the insole and this should be very comfortable and removable so that you can add or reduce it till you get one that is most comfortable for you.
Midsole: There should be some cushioning at the midsole, especially in the heel area for additional comfort and support while running.
The Plate: This plays the major role of keeping the studs in place. It is often made of sturdy TPU plastic and can withstand running on different surfaces, including dirt.
Studs: Studs help to provide a firm grip on all surfaces by digging into the ground. Because of the safety risks with metal studs, people usually use these adult leagues, while youth leagues only permit studs from molded plastic.
Know the Game Surface: There are different surfaces on which people play baseball. It is important to know the kind of cleats to use on each surface in order to improve your performance.

Firm Ground Cleats: These are cleats specially made to be used on natural surfaces like grass and dirt, and often have a rectangular shape. They are usually not detachable and may be made of rubber, plastic or even metal.
Artificial Ground Cleats: These cleats are usually for use on man-made surfaces like artificial turf. Shoes specifically for turfs (also called Turfs) are usually manufactured having many rubber studs around the soles and are usually detachable.
Know your Position on the Field: In baseball, every player has a position he is assigned to on the field. Certain cleats have qualities that are more suitable for certain positions. To improve your performance, it is important to know what cleat is best for the position you will play in. You may play as an infielder, outfielder or a pitcher.

Infielders: For infielders, your cleats should be of either metal or plastic depending on the surface. You should use metal cleats for solid and compacted surfaces, while plastic should be used for surfaces that are softer and loose to prevent the build-up of sand and mud.
Outfielders: For outfielders, metal cleats should be used for better traction in the soft grass.
Pitchers: For pitchers, they will need studs that stick better into the ground. Metal studs do this very well and should be used to provide both superior traction and needed stability.
Types of Cleats
Due to the fact that there are few shoes with customizable cleats, most baseball players have to buy cleats that will give them the perfect feel and fit. There are different types of cleats for different types of surfaces and fits. Some of these cleat types are below.
Metal Cleats: These cleats, with their very firm grips, give more traction than any other type because they can dig into the firm or hard surfaces. They give good grip when you are running or standing. Batters enjoy the firmness of these cleats for their toehold because it prevents them from slipping when they are hitting the ball. However, metal cleats are not very flexible so sudden direction change by the players may cause injury. They wear out fast when worn on dirt or grass. People use these cleats in higher levels of baseball. However, they do not permit these in younger leagues due to the risk of injuries.
Molded Plastic Cleats: These cleats, made of plastic or rubber, are extensions or grooves that are not detachable. They are more affordable and durable than metal cleats but lack the metal cleats' grip level. They easily bounce off and offer generous flexibility, hence they are suitable for muddy or soft surfaces.
The Turf/Trainer Shoes: Turfs are footwear people use for training on mostly man-made surfaces like artificial turfs. They cause minimal damage to the training field but are not for major games. They are flexible, comfortable and offer excellent traction. Moreover, the shoes protect your feet from injury by keeping them close to the ground. The only time your turf may cause you injury is when you use it on plastic spikes as this will prevent the studs from having any grip on the ground or giving your feet any amount of traction.
Final Thoughts
Baseball is one of the most demanding sports and requires that as a player. Apart from your clothing, helmet, and gloves, your cleats have to be sturdy since you will be doing a lot of running.  In fact, your success as a baseball player lies in your sole.
From smashing a home run to stealing a base and throwing a great pitch, you need to be very careful when you are choosing the best baseball cleats. We have put together some very important information on baseball cleats and also reviewed some of the very best baseball cleats to make your search easier. We are quite sure what you need to up your game lies in this review.