Best Cleats for Slowpitch Softball
This page contains affiliate links. As an Amazon Associate I earn from qualifying purchases..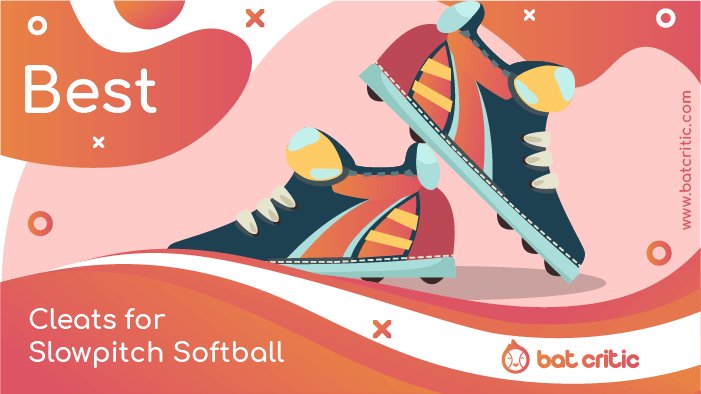 Slowpitch softball is a kind of softball that was usually played indoors. The sport has rules when it comes to their shoes, just like any kind of baseball game. When it comes to softball, people play on a field as well, so good outdoor sports shoes specialized for such games should be worn. However, it is rather hard to know how to pick the best shoes for slow pitch softball if you're new to the game. This article will teach you how to select the best shoes and how to break them in.
Quick Look at Our Top Picks:
Best Rated Cleats for Slowpitch Softball Reviewed
Keep the things we mentioned in mind. Choosing a shoe seem confusing at first, but eventually, you will be able to find the right pair of slow pitch softball shoes fit for you. To help, here are some of the examples of great shoes.
NIKE Women's Hyperdiamond 2 Keystone Softball Cleat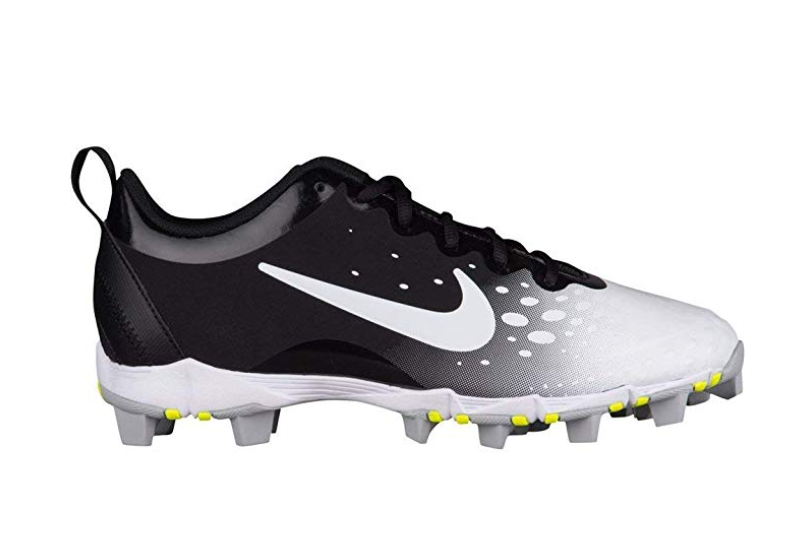 This product is of synthetic leather and has a TPU mesh that is for durability and comfort. It does not sacrifice the comfort of the wearer as the mesh allows the feet to stay cool and dry. The Phylon midsole provides cushioning while being light in weight. It has 12 cleats which allow for the best traction possible.
Pros:
Very lightweight shoes
Shoes are very comfortable
Has great ankle support
Looks very durable
Cons:
Shoes run a bit narrow
Has a tendency to rub ankle uncomfortably
Not meant for pitchers
Under Armour Women's Glyde RM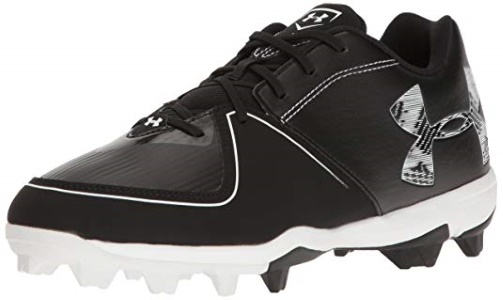 This product is of textile and synthetic materials, and its sole is of rubber. Thus, these pair of shoes are lightweight and are comfortable like a pair of sneakers. It is also durable. Furthermore, the die-cut EVA sockliner provides comfort and durability like no other. The full-length Armourbound midsole also protects the feet from shock and pressure from the cleats, without sacrificing durability. The rubber cleats offer the best possible traction and comfort.
Pros:
Fits perfectly
Reasonable price
Gives good support
Cons:
Tongue is narrow and doesn't cover fully
A few users say it has a tendency to give blisters
Heel may hurt feet
NIKE Girl's Hyperdiamond Keystone GS Softball Cleat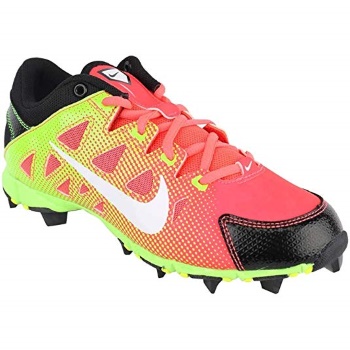 This product is of synthetic materials. It has a full-length Phylon midsole that provides cushioning and comfort. It is also light in weight. Furthermore, the shoes have a rubber sole that features Fastflex technology, allowing them to be able to conform to the movement of the user's feet. As a result, this enables the user to be able to move faster.
Pros:
Durable and sturdy
Has a nice design
More comfortable than regular shoes
Affordable for its price
Cons:
Shoes bigger than expected
Some say the delivery was a bit late
Under Armour Men's Leadoff Low RM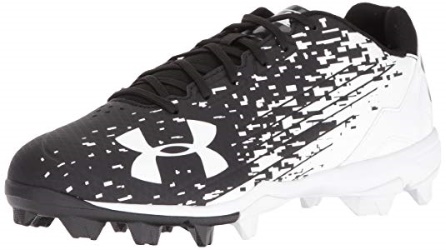 This product is of synthetic and textile materials, with a rubber sole to match. The synthetic leather provides a comfortable fit without sacrificing its durability and gives exceptional support. Furthermore, the mesh tongue adds additional comfort by ensuring that the feet stay dry and cool all day long. The full-length EVA midsole prevents the feet from receiving shock and soreness from the cleats. It also provides comfort to the feet of the wearer. The rubber molded cleats provide traction on all kinds of surfaces.
Pros:
Comfortable
Has great value
Well-fitted
Cons:
Toe area is narrow
Needs a bit more padding
Mizuno Women's 9-Spike Advanced Sweep 3 Softball Shoe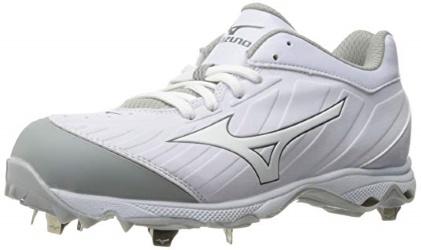 This product is of synthetic materials with a rubber sole. It has a full-length midsole for maximum comfort. The parallel outsole Wave technology provides stability and cushioning. Moreover, the shoe is durable as well. Unlike other brands, this product features a "toe protector" which reduces weight while providing durability.
Pros:
Very durable
Very comfortable
Does not wear out easily
Cons:
Runs smaller than expected
Expensive for its price
How to Pick the Best SlowPitch Softball Shoes
Picking the best slow pitch softball shoes can become confusing if you are not familiar with what you are supposed to buy. If one buys the wrong kind of shoes, not only will they suffer from discomfort, but they could potentially injure themselves. To prevent that, you must first consider the following factors.
League Rules – Metal-tipped or steel cleats are banned in slow pitch softball games. The World Softball League official rules prohibit the use of them. Other types of footwear are allowed, however, so you should keep this in mind.
Playing surface – Generally, you should know what kind of playing surface you are playing on. If you are playing on a traditional field, cleats may be the appropriate footwear as it provides traction. It also protects the ground from any damage.
Gender – Men's feet are different and usually larger than women's. Thus, men generally cannot wear the same shoe size that women have, even if they have the same number on the shoe box. However, if women cannot find the shoe size that they are comfortable in, they are allowed to use men's shoes. There are no rules stating that men's shoes should only be confined to men and vice versa. However, it is all about a matter of fit.
Size – Another important thing to note when buying shoes are checking the sizes available of a certain brand. Check if they run a half-size up. If so, they are not fit for you. Generally, shoe sizes for slow pitch softball run a bit smaller as they usually have a narrow room when it comes to their build. Thus, it is better to look for a brand that carries a return policy.
Appearance – It may seem rather small, but sometimes you need to coordinate your shoes' appearance with that of the team's, especially when it comes to color. However, it is up to you whether or not you wish to stand out by choosing a different style of slow pitch softball shoes. You may wish to consult your coach on whether or not you should buy a different brand and style.
Durability – It may sometimes be hard to detect this, but sometimes you can see how well-made and sturdy the shoes are when they come out of a box. If you are buying online, you should look at reviews and assess their durability on the comments. Don't fall victim to fancy-looking shoes that will only last a month or two. If possible, look for a physical store that sells the shoes. It's always best to check yourself.
Price – Of course, one of the things to consider is your budget. If you can afford something a little expensive that offers good quality, then you can opt for these shoes. However, if your budget runs a little tight, then you should first look at everything else before buying a pair of slow pitch softball shoes that you dream of having. There are some pairs of shoes that are very expensive but are not as durable.
How to Break in Slow Pitch Softball Shoes
In order to ensure that your softball shoes are comfortable and do not cause you injuries, it is best that you break them before you try to wear them. If you wear them without breaking them in, you could suffer from blisters. There are a few things that you can do to break in your shoes without having to break them.
Petroleum Jelly – Before attempting to do anything else, cover the parts of the shoes that will potentially cause blisters. This usually includes the areas of the toes and the back of the heels. Do this with the use of petroleum jelly so the material softens by absorbing the jelly. For your shoes to conform to your foot's shape, use two pairs of socks whenever you practice with the shoes on.
Twist While Switch – While breaking in your new shoes, it is best for you to keep a spare. This way, if the level of comfort during the breaking in period changes, you may still be able to perform normally. You may slowly twist your new pair of shoes in order to help soften the material a bit before wearing them. This helps build your dexterity because it is hard to move if your shoes are too stiff.
Warm Water Method – When it comes to shoes with synthetic materials, one of the best methods to loosen the material of the shoes is by using the "warm water method". This is done by soaking your feet while wearing your shoes and letting it sit in warm water for half an hour. Afterward, let the shoes conform to your feet's shape by letting it dry naturally. Be sure to do this in an area that can be allowed to be wet.
Use a Newspaper – Whenever you are not using your shoes, you may use a balled-up newspaper to help your shoes maintain its heat and conform to the shape of your toes. Store the shoes in room temperature area. Make sure that it is not too cold or hot so that it may cool off. This will also ensure that your shoes stay dry. It will also absorb the unnecessary moisture from the outside elements.
Final Thoughts
The items above are only suggestions. They may seem like they have the same qualities, but there are also differences that make them stand out from the rest of the shoes out in the market.  Always keep the information we listed in mind when choosing your shoe. If you have purchased any of these suggested shoes, simply follow the steps on how to break in your slow pitch softball shoes and you should be ready to go any time.