Best Tee Ball Bats
This page contains affiliate links. As an Amazon Associate I earn from qualifying purchases..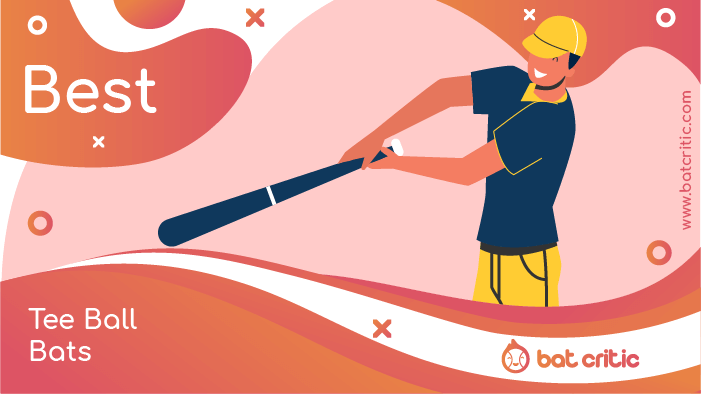 Tee ball bats are used in tee ball games by kids of age 6 and below. Also, tee ball helps prepare young lads at an early stage for the bigger sports such as softball and baseball. These two sports are very popular pastime activities for many folks around the world, especially in the USA. That is why most parents often introduce their kids to these bat sports at a very tender age.
Quick Look at Our Top Picks:
Best Rated Tee Ball Bats Reviewed
Tee ball bats are available in different sizes, colors, and quality. This makes it more tasking to find the best for your kid. Thus, here, we have come up with some of the best tee ball bats to make your task easier.
Easton Mako Beast -13.5 Tee Ball Bat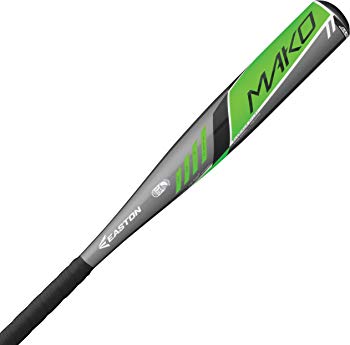 The Easton Mako Tee ball bat delivers top-of-the-world quality and performance. It is completely from composite material to enhance its durable and lightweight feature. It's -13.5 weight drop ratio contribute to the lightweight profile of this bat that allows young players to be able to swing the bat at a high speed with accuracy. This bat also sports a unique rolled-end design, which enables a more stable and smoother swinging experience.
Furthermore, its handle has a cushioned grip that allows players to relish a more stable grip. The Easton tee ball bat features a single overall design. As a result, this makes it a top performer when it comes to channeling the full force of your swing into the barrel as you hit the ball.
Pros:
Extremely lightweight
Offers great value for money
Comes in perfect size and weight
Offers amazing balance for kids
It definitely has some pop
Cons:
A few customers reported the bat may crack after some use
A few people expected it to be lighter
Rawlings Storm Alloy T-Ball Bat

The Rawlings Storm Alloy T-Ball Bat is built to offer top-notch performance as well as quality and durability. This tee ball bat is made from superior-grade alloy material. The alloy construction of this bat contributes to its lightweight profile that allows solid hitting performance by a young lad. Moreover, it comes with a total weight drop of -12 and a 2 ½ inch barrel.
Furthermore, it is well fashioned with an exciting color scheme; the bright pink color so alluring to kids that they will want to be out there all day batting. Also, its handle has a crack themed grip that enables young players to maintain a stable and sturdy.
Pros:
It is awesome for beginners
Nicely priced
Very durable
Extremely lightweight
Excellent handle grip
Cons:
It cannot be used for ASA tournament
A few people say that packaging was a bit messy
Franklin Sports Inferno Bat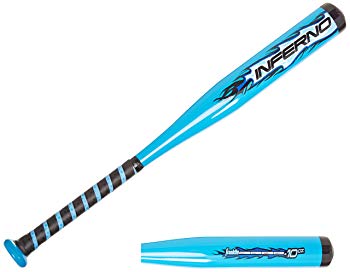 The Franklin Sports Inferno Bat offers good performance together with beautiful color options that are appealing to young players. It has a single-piece design from aluminum. The aluminum material is primarily lightweight in nature, this particular feature is replicated in the bat to enable users to swing with exceptional speed.
Furthermore, the flexible aluminum material also gives the bat's barrel a great deal of flex. This means a player has an adequate allowance to hit the ball harder and farther than ever. Its single-piece design enhances the player's ability to channel maximum amount of the swing momentum. Moreover, its handle is wrapped with a dual-color PU bat grip.
Pros:
Ultra lightweight
Very affordable
Perfect for smaller T-Ball player
Hit harder and farther
Stylish and attractive to kids
Cons:
The metal is a little too thin
2017 Combat Maxum -14 Tee Ball Bat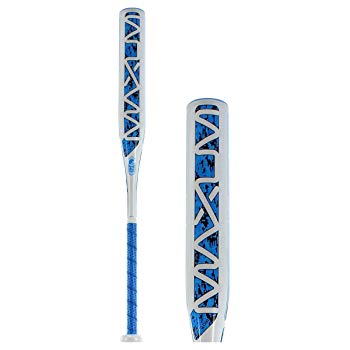 The 2017 Combat Maxum -14 Tee Ball Bat is one of the best bats in this category. This T-Ball bat is constructed entirely from composite material. The composite material in this bat offers a great level of features that set it apart from its rivals. For instance, it offers a much better sweet spot on the barrel than other materials. Moreover, it also makes the bat more lightweight for enhanced swing speed. The T-Ball bat features a single-piece design and one wall barrel.
Furthermore, this one-walled barrel gives awesome flex and hits the ball harder and farther.  When it is compared to many other T-Ball bats, the Maxum -14 provides 20 to 40% wider hitting surface on the barrel. This feature gives the player a better and surer footing to hit the ball right. Above all, it has got some relevant certifications such as USSSA 1, Babe Ruth, Dixie, Pony and Little League.
Pros:
Super lightweight
Offers good pop on contact
Great bat at a budget-friendly price
Great weight for a beginner
Nice looking
Cons:
A little too short for tall kids
Needs to be broken in
DeMarini Voodoo -12 Drop Tee Ball Bat

The DeMarini Voodoo -12 Drop Tee Ball Bat has a strong intent to provide high-end quality and performance with outstanding looks and style. Moreover, this T-Ball bat is well constructed with an aluminum barrel to offer some unparalleled advantages.
First and foremost the aluminum material usually gives a sturdy amount of hitting power while still being flexible to add a considerable amount of flex to the barrel. Also, this will consequently enable the player to hit the ball farther by applying the same level of force. Furthermore, its lightweight feature translates to a greater amount of speed and channeling of a bigger amount of momentum into the barrel. This bat is particularly for use in T-Ball games and it has the 1.15 BPF USSSA certification.
Pros:
Offer more value for the money
Provides enough pop
Perfect for beginner
Offer perfect size
Very lightweight
Cons:
The head of the bat is plastic which may crack easily
A few people say that they wish it was lighter
Louisville Slugger Xeno Plus Girls Softball T-Ball Bat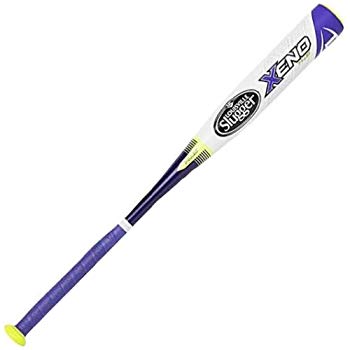 The Louisville Slugger Xeno Plus Girls Softball T-Ball Bat comes with the trademark quality of Louisville to offer outstanding performance at a reasonable price. It is built entirely from alloy material. The alloy carries some added advantages in making bats. Also, the alloy material in this one is what makes it sturdy and durable. This means once you buy this bat you will not be shopping any time soon, as this bat will endure some rough uses that your kid may put it through.
Furthermore, the degree of hitting prowess that the bat carries is incredible. It will definitely allow your girl to swing the bat at great speeds thereby enabling her to direct the optimum force of the swing into the barrel. Moreover, it's -12.5 weight drop ratio coupled with its single-piece design makes the bat absolutely lightweight for young players. Overall, the Xeno Plus bat is a very decent tee ball bat you can acquire within very little budget.
Pros:
Very stylish and colorful
Comes in great size and weight for young players
Extra value for the money spent
Relatively durable
Super lightweight
Cons:
One customer complained of receiving it damaged
Rawlings TBRR12 Raptor T-Ball Bat

The Rawlings TBRR12 Raptor T-Ball Bat is offers the best in quality and performance. It is built entirely from alloy material. The durable type of alloy used in constructing this bat ensures its solid design and minimized weight. Moreover, it comes with a 2 ½ inch alloy barrel that enables you to teach your kid power hitting on the plate. With this bat, kids can learn and develop a stronger hitting power as they are trained to depend on their strength while hitting the ball.
Furthermore, it features a very slim handle that is layered with a synthetic grip to make sure that the players have a firm grip on it during swinging. Additionally, the special perimeter-weighted plug at its end cap enables the players to swing the bat with much more efficient energy transfer that will allow them to hit harder and farther. The most conspicuous feature of this bat is its intricately colorful red-green outlook that will win your kid over at first sight.
Pros:
Combination of affordability and good quality
Highly durable
Perfect size for kids
Extremely lightweight
Cons:
Looks similar so if many people have this, need to label yours
Easton Beast X Tee Ball Bat -10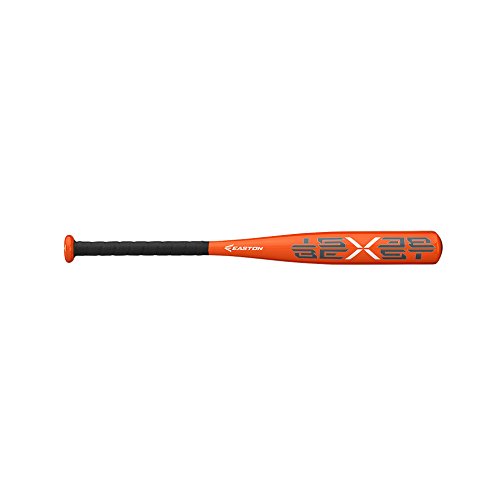 The Easton Beast X Tee Ball Bat -10 is built to be uniquely powerful and to provide a high-level performance that exceeds expectations. This incredible tee ball bat is made entirely from composite material. And its unique composite barrel profile features a rolled end. Its ultra-light design enables young players to relish faster swing speeds, better control, and more power.
Furthermore, it comes with a composite handle that is reinforced with the cushioned grip to make it comfortable to hold. This grip also offers protection to your kid's hand by absorbing the force of impact that usually results from the contact of the bat with the ball. Moreover, the solid feature that makes it resistant to breaking is made possible by the combination of cutting-edge technology and high-quality material.
Pros:
Resistant to cracking and breaking
Great stylish look
Great bat at a reasonable price
True to description
Lightweight
Cons:
May not be the best for hitting coach pitch
Easton TB17SPD13 Speed (Aluminum-13) Tee Ball Bat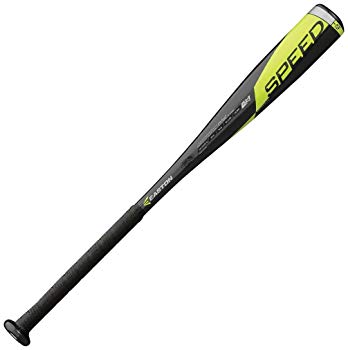 The Easton TB17SPD13 Speed Aluminum -13 T-Ball Bat is one of the most durable and amazing tee ball bats available on the market. It is entirely from aluminum material. This makes it uniquely durable and dent resistant even in harsh weather. It is an entry bat that helps young players fine-tune and perfect their swinging skills by making it simple for them to have a better control.
Also, its ultra-light feature enables players to swing at high speeds to ensure maximum force of the swing into the barrel. Moreover, its solid construction allows massive pop when the bat hits the ball. It features an extremely thin handle with a cushion grip and an end cap that channels energy back to the sweet spot.
Pros:
Has much better control
It is super lightweight
Perfect length and weight for young players
Alluring colors and style
Highly resistant to cracking and breaking
Cons:
Not perfect for hitting hard balls
2018 Axe Origin Youth Bat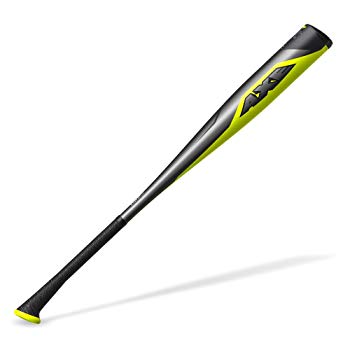 The 2018 Axe Origin Youth Bat has rhe latest technology to enhance comfort and performance. It is a single piece design from Axe's LP1 Alloy. This sturdy aluminum material offers explosive sound, optimum pop and stronger durability. It features a reengineered hitting zone that broadens the sweet spot, enhances durability, and maximizes general performance within the 270-degree contact area.
Moreover, its handle sports a HyperWhip end cap that improves swing speeds, elongates barrel length and reduces weight. Its handle also absorbs shock vibrations by the power of the Endogrid technology.
Pros:
Brilliant handle design
Awesome feel and sound
Offers great contact
Offers excellent grip and comfort
Highly durable
Cons:
A little on the heavy side
Types of Tee Ball Bats
Tee ball bats are often based on the material used in constructing them. The major types of tee ball bats are as follows:
Alloy Bats – They are from aluminum that they mix with other lightweight material. The main advantage of these bats is that they have thinner, more responsive walls, which usually have a more massive pop.
Composite Bats – These types are from a mixture of graphite, carbon fiber, Kevlar and fiberglass. They are some of the most lightweight bats, that is why they seem to be the best choice for young players. But before acquiring this type, always find out about your league rules because some leagues limit their use.
Hybrid Bats – These are usually the combination of the alloy and composite types. Typically, the handle is normally from composite material in order to minimize the total weight. This offers quicker swing speeds while the barrel will be an alloy material to give an extra pop.
Key Considerations When Choosing a Tee Ball Bat
Most parents whose major interest is for their kids to enjoy playing tee ball have not always been lucky to find the best bats for their kids. There is a high probability that you will end up with the wrong bat for your young lad if you do not have the right information. Our main goal in this section is to enlighten you on how you can make the best choice of a bat for your kid.
Weight – There are some technicalities you need to know about the weight of tee ball bats. Usually entry level bats have -10 weight drop ratio. Thus, if you acquire a 25-inch bat, the corresponding weight will be 15 ounces. Also, note that bats with -13 weight drop are the most lightweight, while those with -10 drop are deemed the heaviest. Your kid's body strength will determine the bat weight that suits him. A kid that is not too strong will not be able to properly use a heavy bat. Luckily, more lightweight bats are cheaper and affordable than the heavy ones. Therefore, it is always advisable to have your kid try on each bat before purchasing any bat. A perfect one should be to enable your lad to swing with comfort and freedom.
Length – Checking the tee ball sizing chart is important when looking for the bat with the right length for your kid's height. This chart is always very useful because it serves as the reference point for parents who are ignorant of the appropriate bit length. Another way you can determine if a bat is of the right length for your kid is by having your kid stretch his arms wide, and placing the bat from the middle of his chest down towards the wrist. The result is, if your boy or girl can touch the tip of the bat using his or her palm, then you can consider it suitable for him.
Sizing – This is another essential feature to factor in. Tee ball bats for young players come in 3 standard sizes, which are 24", 25" and 26". Before choosing a particular bat, you must first and foremost consider the size of your kid. If your lad is very tall, you should get him a bat of relative length. Moreover, your kid's body size and arm length are what determine the perfect size for him. Buying a bat with the wrong size will prevent young players from having a comfortable swing.
Bat Lifespan – Bats are strong and extremely durable. Most players outgrow their bats. When it comes to determining whether to go for a more durable bat or not, two things are involved. If your child wants to play tee ball for a long time, you should consider buying a bat that will last longer and the one he can grow into. Remember also that most kids will likely not play for so long as they will advance to either softball or baseball. Therefore, purchasing an overly costly tee ball bat may not be economical. Overall, your best bet would be to go for a more affordable good quality tee ball bat.
Brand – This is another aspect you must not overlook because just like other baseball or softball equipment, the brand is key when it comes to tee ball bats. It is often advisable to always choose bats by reputable brands because it is easier getting the best bats for your kid from them. This is because they are known to have the latest cutting-edge technology and expertise to construct better tee ball bats. Some of the famous manufacturers of these bats are Louisville Slugger, Easton, Mizuno, and DeMarini. But mind you, always do your due diligence before opting for any top brand in order get the best bat for your lad. Overall, ignorance is never a veritable defense for making the wrong decision.
How to Maintain a Tee Ball Bat
It is a common belief that composite bats have the tendency to be more sensitive to temperature than alloy bats. Several makers often suggest minimum temperatures ideal for using their bats. But as a rule of thumb, you should avoid swinging with your bat under temperatures below 12.77 degree Celsius. Comparatively, composite bats have enhanced pop in hotter weather.
Additional Tips on Maintenance
Here are more tips for you on how to take care of your kid's bat:
Dimpled balls can have a debilitating effect on your bats, avoid practicing with them.
Avoid using your bat to wipe off dirt from your cleats as this may damage the bat.
The fewer hits on your bat the more durable it will be, to reduce the number of teammates that make use of your bat.
To avoid breaking your bat prematurely, swing with the label facing toward you.
If you engage your bat in the batting cage often, it may start wearing and tearing sooner than expected. It is better to wait for the main game.
Final Thoughts
Overall, we consider a lot of things that can help you choose the best tee ball bat for your kid. We have alloy bats that are from aluminum, composite bats and hybrid bats. Some factors you must also consider before making your choice are weight, length, sizing, brand, and price.
In the end, it is always important to consider your kid's body size, strength, and height when deciding on the ideal bat for him. Our suggestions are from some of the top manufacturers in the industry. So, be sure to find the right product that will definitely find in the best option for your kid.