Best Field Hockey Sticks
This page contains affiliate links. As an Amazon Associate I earn from qualifying purchases..
Field hockey sticks are specialized equipment used in field hockey. Their primary purpose is to push around the puck to the goal. If you are new to field hockey, choosing the best field hockey stick may be a daunting task, especially if you are confused as to what you should look for when buying a new stick.
Quick Look at Our Top Picks:
The information explained below to ensure that you, as a new player, buy a hockey stick that is for you and you will be able to maintain: how to choose a field hockey stick and how to make your hockey stick last longer.
Top 5 Best Rated Field Hockey Sticks Reviewed
Now that you know the things to consider when buying a hockey stick and how to take care of one, you are probably wondering what the best field hockey sticks are in the market. Buying sticks online may not be the best choice. This is because you will not be able to feel the stick and test it out for yourself. However, if you rely on the good judgment of others, you may get some idea of what to choose.
Grays SURF 500 STICK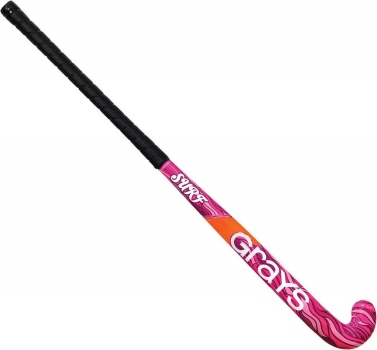 This product is available in three colors and four length sizes. It is of fiberglass reinforced mulberry wood, which is ideal for beginner youths who wish to master the fundamentals of field hockey. The fiberglass reinforcement enhances the strength and durability of this product. Thus, making it capable of being strong enough for long-term play. The standard bow of this hockey stick makes for well-rounded performance in every aspect of the game. The maxi toe feature of the product makes for powerful drag-flicks and reverse stick control.
Pros:
Has a reasonable price
Lightweight
Excellent for beginners
Cons:
Not durable
A few people said it easily cracks
STX Field Hockey Surgeon 50 Field Hockey Stick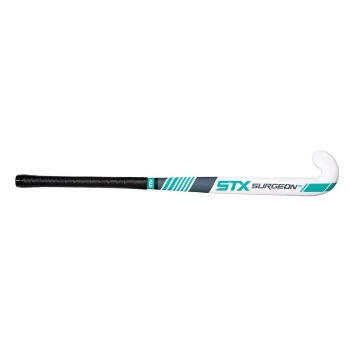 This field hockey stick is available in four length sizes. The product is great for beginners and rookie players alike. It also features a standard 19mm bow with a midi toe that makes ball control easy to do. Furthermore, this stick is made from 100% fiberglass and as such it makes for easy reception and ball control. This stick is versatile.
Pros:
Great for beginners
Lightweight
Great mobility
Cons:
Limited sizes
There is a limit of color options
Grays GX1000 Composite Field Hockey Stick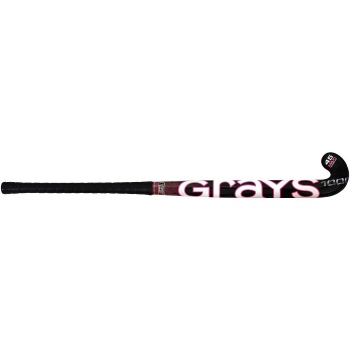 This field hockey stick comes in six colors and seven length sizes. The composition of this field hockey stick is 20% carbon, 20% Kevlar, and 60% fiberglass. This makes it very lightweight and durable than other brands in the market. Furthermore, the fiberglass content allows the stick to be more forgiving when it comes to ball control. Thus, it is able to absorb shocks. This field hockey stick has a super stiff flex, which allows for great power play. Moreover, the high-performance construction of this field hockey stick offers the perfect mix of balance and feel.
Pros:
Works well in any position
Great control
Good stick handling
Very sturdy
Cons:
Limited sizes
Needs to improve quality of feel
Dragonfly Mystique Sola Field Hockey Stick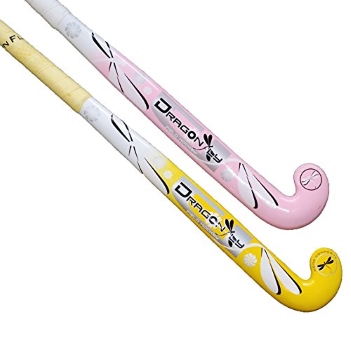 This product is available in one color and two length sizes. This is the best field hockey stick to use if you are still starting to make your way around the sport. The wood core of this product ensures a soft touch for skill development. Furthermore, this hockey stick has a full paint finish along with exciting graphics. As a result, this makes field hockey more attractive to play, especially for children. It has a superb balance and feel which consequently enables the user to master the fundamentals of field hockey easily.
Pros:
Great for beginners
Attractive colors
Balanced weight
Cons:
Limited sizes
Handle of stick may unravel
Grays GX7000 Composite Field Hockey Stick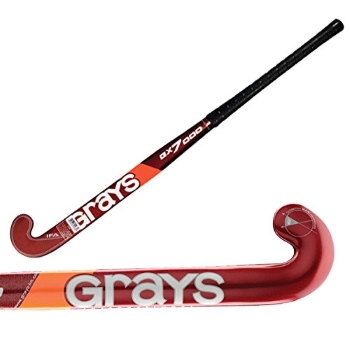 This field hockey stick is available in four sizes and one color. This composite field hockey stick is said to generate the most power than other brands of composite field hockey sticks, as it is composed of a specially formulated carbon and Kevlar multidirectional matrix. As such, it provides great balance and feels. The product is made to strike a balance between weight and exceptional power. This stick has a maxi toe size, which allows for a larger surface area and allows for a better hitting power.
Pros:
Recommended for all player levels
Good to use for defenders
Has a great feel
Cons:
May develop cracks inside
Limited sizes
How to Choose a Field Hockey Stick
Choosing a hockey stick is more of a science than an art. There are specific requirements that a hockey player should have in order to wield a field hockey stick. It does not have to be daunting even though there may be many factors to consider. However, if you keep those in mind and heart, you will understand that certain rules have to be followed. Therefore, the following are things to consider when choosing a hockey stick.
Length – A field hockey stick's length should correspond to the appropriate height of the player. Ideally, field hockey sticks should come up to the hipbone of the player, but if you are unable to gauge the size of your hockey stick by going to a store of your choice, then refer to stick length sizes online. This can, therefore, help you order the appropriate size for your height.
Weight – Depending on your personal preference, you may opt for either lighter or heavier sticks as they deliver different kinds of advantages in the field. Lighter sticks are designed for attackers who wish to have swift movements, while heavier sticks are for defenders which are ideal for passes.
Composition – The composition of the stick helps in determining the durability. It also helps in influencing the performance of the player.
Carbon – This material adds stiffness to the stick. More carbon percentage in your hockey stick means that you will have more powerful hits, however less carbon makes for better control and makes trapping easier.
Fiberglass – This material is found in many field hockey sticks. It adds strength, durability and feel to a stick. They are usually less rigid than carbon. As such, they are cheaper than carbon sticks.
Aramid – This material adds durability to a stick and helps in absorbing shocks.
Wood – This material improves control when dribbling and receiving. This stick material is commonly used by beginners.
Bow – The bow of the stick is the slight curvature that you can see on it. There are three types of bow that are suitable for the appropriate skill level and preference.
Regular – The highest point of the bow falls on the middle part of the stick. This is ideal for more advanced maneuvers.
Mega Bow – The highest point is closer to the toe of the stick. It provides extra power and as such is appropriate for advanced players.
Low Bow – The highest point is closer to the end of the stick. It helps in control and lifting the ball, which is ideal for elite players.
Toe Shape – The toe is the level of the curve of the stick. The level of the toe shape influences the agility and strike capacity of the stick. Here are the levels of the toe shapes.
Short – This shape is ideal for high speed, close control, and stick skills. This is usually ideal for strikers.
Midi – This shape improves technique and offers close control. It has a great sweet spot when hitting. This is ideal for beginners, midfielders or players who are quick to move while dribbling.
Maxi – This has a larger surface area and hitting power. This is usually ideal for defensive players.
Hook – This has the largest surface area for increased ball control. This is ideal for players who have an upright style and are good on grass surfaces.
Budget – Do not pick the best-looking hockey stick if you think that the stick's price goes beyond your budget. Be practical and stick to a reasonable price point that you can afford. Also, scout for options there.
How to Make Your Hockey Stick Last Longer
Breaking hockey sticks can be such a drag, especially if you are a person who likes to keep their game ongoing. Having a hockey stick is no fun when you are on the bench and you just got disqualified because you broke your stick. If you wish to prevent your hockey stick from breaking during a game, here are the following things that you should do to make your hockey stick last longer.
Take Care of Your Stick – Hockey sticks take a beating in the field, so when they are not in use it is best that they receive as little beating as possible. Learn to store them in places that are shock-proof if possible. If you are in the field and you are not using the stick, do not beat your stick around as it will cause tiny fractures which can potentially break your stick.
Buy a Blade Protector – To prevent a hockey stick from further damage and breakage, sometimes it is best to use a blade protector to protect the hockey stick from ball contact. Blade Protection usually comes in stick tapes, which are quite effective in blocking impact.
Invest in Quality Sticks – It is no secret that you will get what you pay for when it comes to buying cheap sticks. However, this does not mean that all cheap sticks are of an inferior quality, since some expensive sticks still break quickly. Simply learn how to look for a good stick that you can afford and make sure to take the steps you need to lengthen its lifespan.
Give TLC to Your Stick – Wipe off any moisture or mud off the stick after using the stick in the game. If there are any deep scratches on the stick, repair it using epoxy cement.
Hack the Shaft – Tape the lower four inches of your shaft to reinforce the stick and prevent it from breaking by other players' sticks. This method is known as "hacking".
Play on Grass or Turf – Do not use your hockey stick on pavement or any abrasive surfaces. This will only create small cracks and in some cases, grind on your stick which will cause it to break. Only play with your hockey stick on grass or turf.
Retouch the Paint – If you notice that your stick needs a little retouch when it comes to its cosmetic appearance, simply go and buy some touch-up paint and proceed to paint your stick until it looks like new again.
Modify the Grip – For optimum performance when it comes to control, modify the grip on the top six inches so that even with your eyes closed, you may be able to feel which angle the head of the stick is facing you.
Eliminate Rain Sticks – Composite sticks that have a hollow core may sometimes gain a rattling sound inside due to a powerful impact of either the ball or another stick. If you wish to get rid of the rattling sound, simply poke a hole inside the stick and shake it until the dislodged membrane comes out of the hole.
Final Thoughts
In conclusion, not all field hockey sticks are the same. They have their own advantages and disadvantages which makes them unique from other sticks. If you feel that these selections are not the best field hockey sticks for you, then you at least you will get some idea in determining what the best may be for you. As long as you keep in mind the things to consider when buying a hockey stick.
Sources
hockeyperformanceacademy.com/how-to-choose-a-field-hockey-stick/
sniperskinsports.com/blogs/sports-blog/the-science-of-hockey-stick-breakage-and-how-to-prevent-it
sportsunlimitedinc.com/stick-care.html