Best Batting Cages
This page contains affiliate links. As an Amazon Associate I earn from qualifying purchases..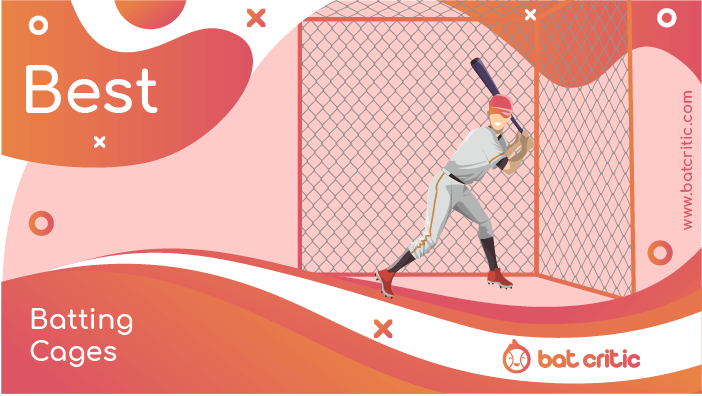 When it comes to baseball, sometimes it is best to have your own batting cage at home that you can use so that you may be able to hone your skills and be a better batter.
The only problem is that you may not know how to shop for the best batting cages, especially if you are a new player in general. Sometimes you may opt for a cheap batting cage and it will break apart. It will be rather frustrating to buy another one. Therefore, we discuss what things to consider when buying a batting cage, tips to follow when shopping for a batting cage and how to get the most out of your batting cage.
Quick Look at Our Top Picks:
Best Rated Batting Cages Reviewed
Now that you know some things about how to choose a batting cage, you may want some suggestions on what to buy. The suggestions below will give you a clear and complete idea on what batting cages you should buy so that you will not have to look anywhere else.
Net World Sports Ultimate Baseball Batting Cage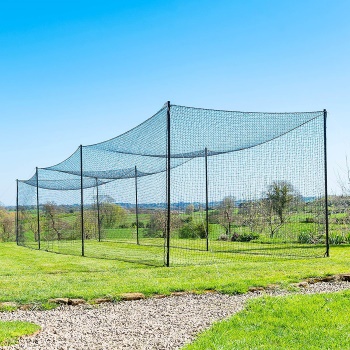 This baseball batting cage includes both net and poles. It comes in four different sizes and lengths. It has a # 42-grade netting that is UV treated, which makes it rotproof and waterproof. Furthermore, the powder coated steel poles are sturdy and lightweight. This makes them easy to set up. The net also comes in one piece. It comes with the roof pre-sewn in so that you will not have to worry about additional set up. Moreover, it offers excellent durability for both baseball club and backyard use.
Pros:
Easy to take down
Very strong cage
Quite functional
Cons:
Instructions somehow tricky to follow at first
Welds are weak and can break
HEATER SPORTS PowerAlley Baseball and Softball Batting Cage Net and Frame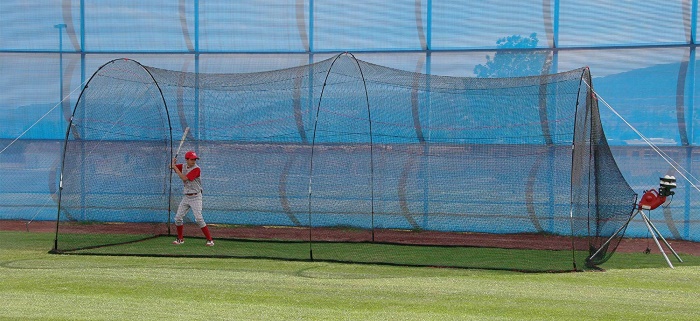 This product has the perfect size for any backyard. It can also be used by kids from age 4 up to adults. The package is an all in one, as it includes heavy duty stakes, fiberglass rods, strong nylon setting, and a built-in batting cage harness. You can use this for a pitching machine. The batting cage is easy to set up and take down as well, it takes just a few minutes.
Pros:
The batting cage is quite easy to set up
Has a good design
Great for 40mph ball machines
Cons:
The delivery was a bit late
Not portable
Tournament Sports Equipment PRO QUALITY Pitchers L Screen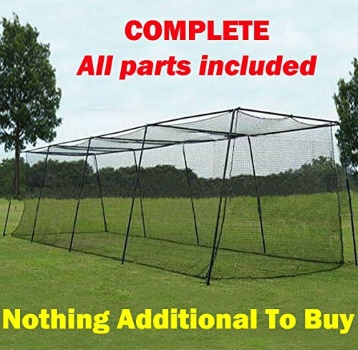 This product comes with a 5-year warranty. It has a #42 HDPE mesh for netting that is UV coated making it rot-proof and shrink-resistant. This makes it ideal for outdoor use. Furthermore, the net is also easy to set up. The frames are heavy duty as they are of heavy gauge galvanized steel. The frames are stable whether they are set up on grass or pavement. Moreover, the double powder coated poles offer maximum strength and stability, making this product built to last.
Pros:
High quality for its price
Set up is easy
Stable whether on grass or pavement
Cons:
Some say that the poles are a bit weak
A few users said that the welds are weak
Net World Sports Baseball Backstop Nets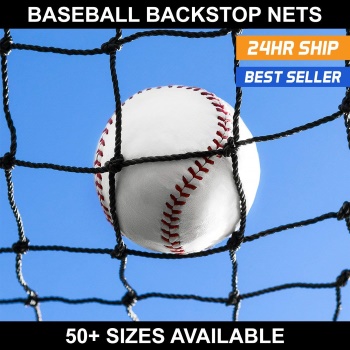 This product is for both indoor and outdoor use. It has an unbeatable quality as it is made to be a heavy-duty product for it is made up of # 42-grade poly twine. Furthermore, it has an overlocked edge at the top for added durability. There are more than 50 sizes to choose from in this product to suit whatever needs you may have, whether at home or in the baseball club. Unlike other products, this net is 100% weatherproof.
Pros:
Many users say it is quite sturdy
Holds up well in different weathers
User-friendly and durable
Cons:
Baseballs may have a tendency to break through
A few people said that the material is too thin
Fortress Trapezoid Baseball Batting Cage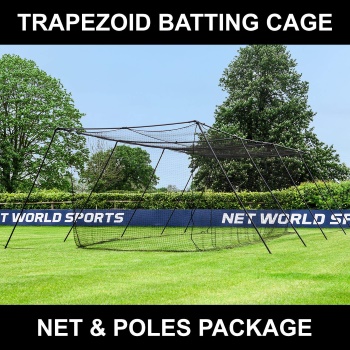 This batting cage comes in three sizes of your choice. The frame is of galvanized steel, making it strong and durable. It is also rustproof, waterproof, and weatherproof. Moreover, it has #42 ¼ inch mesh net that hangs internally so that balls will not re-bound off the frame. The frame of this product is freestanding so that it will be easier to set up and take down. It may not be ideal for all surfaces though.
Pros:
Sturdy cage
Comes in three sizes
Portable cage
Cons:
Net may have a tendency to unravel
Not ideal for all surfaces
Requires at least two people to set up
Things to Consider When Buying a Batting Cage
There are some things to keep in mind when choosing a batting cage. This solely depends on your needs as a batter and your environment. If you buy the wrong kind of batting cage, then chances are it will only cause you bigger problems. Not only will this be a waste of money, but it will be very inconvenient. Thus, here are some things to keep in mind before you buy a batting cage.
Environment – First and foremost, you must consider what kind of batting cage you would purchase based on the location for setting up the batting cage. While some cages are specifically for indoor use, most batting cages are for both indoor and outdoor use.
Included Materials – The next thing you have to keep in mind is if you need any kind of materials that are part of the package deals, or if you just need the net itself. Some of the package deals include poles that some people don't need. Others, however, do need these items because they are first time buyers or have broken poles.
Size – Not all batting cages have the same dimensions. Some of them are for smaller spaces, while others are for wider ones. Be sure to know the dimensions of the place you chose in setting up the batting cage because you do not want an oversized batting cage. That will only consequently become a nuisance once you have set it up.
Price – Of course, one of the things you need to consider is the price. If you feel that the price is too high for your budget, then move along and go for a less expensive batting cage. However, make sure it isn't cheap in quality. Do not sacrifice quality for your budget just because you think you got a good deal. Remember to always go midway if you are to buy anything.
Tips For Buying a Batting Cage
Avoid PVC Cages at All Costs – Many people may say PVC batting cages as the best material to go for, however, it tends to bend and break easily. It is not a good thing to have your new batting cage break because only after a month of using it. PVC cracks easily, which is why it is not a clever idea to buy this during the cold.
Bigger is

Sometimes

Better – The pole diameter should be bigger because they are generally last longer. This means that you don't need to buy one as often as smaller ones. However, bigger does not always mean better, as there are some downsides. Bigger poles will be heavier than small poles. However, they will be more difficult to set up as they contain more support to contain its weight.
Use Ground Footers – Buying batting cages with ground footers seems like a chore to do and set up. This is especially when they are made of concrete. However, they will serve to be more beneficial. It will help you in making your batting cage sturdier.
Protect Your Net  – When buying your net, you may want to make sure that you know how to take care of it. Just because it is durable does not mean it will last longer. This means you must learn when to take down your net whenever you are not using it.
Avoid Cheap Material Cages – Cheap batting cages are cheap for a reason. Make sure that you do your research before buying a batting cage and try to avoid the cheap ones if possible unless they are the only ones you can afford.
How to Get the Most Out of Your Batting Cage
When you have a batting cage, you may want to practice with it, but most of the time you may not know what things you can do when you have one. Here are some tips to make your batting cage feel like you are batting on-field.
Simulate Real Games – Live batting practice pitches should be thrown at the same distance as those used in real games to simulate real pitches.
Set Markers – Set a marker on the first and third base so that the batter knows which are fair and which are fouls.
Hit the Whole Length – Batters should hit the entire length of the cage and not hit the nets from a short distance. This will help them see what they are doing right and wrong.
Final Thoughts
Batting cages are helpful in honing the skills of a person when it comes to batting. They may be set up in a backyard or inside a baseball club. This all depends on the portability of the cage. There are some things to note about batting cages, which we mention above. Overall, if you have decided what to buy and are aware of the factors to consider, look at the list of suggestions above. They may give you an idea of what products are worth looking into.