Best Lacrosse Heads for Middies
This page contains affiliate links. As an Amazon Associate I earn from qualifying purchases..
Quick maneuvers and accurate passes are the main style of midfielders, which is why they require special kinds of a lacrosse head. If you are a middie who is new to the game or a middie who wants to change their broken or warped head, chances are you will be daunted by the variety of lacrosse heads that are available in the market today. Lacrosse is a fun but a competitive game to play if you are a Middie position in the sport. Therefore, to stay safe, you should read the things that you should look for when choosing a lacrosse head for middies.
Quick Look at Our Top Picks:
Best Rated Lacrosse Heads for Middies Reviewed
Since you now know the tips and tricks on how to look for the best lacrosse head, you might probably wonder which lacrosse heads are best for middies. Below are some of the best lacrosse heads that will help you decide what to pick.
Maverik Lacrosse Men's Unstrung Centrik Universal Head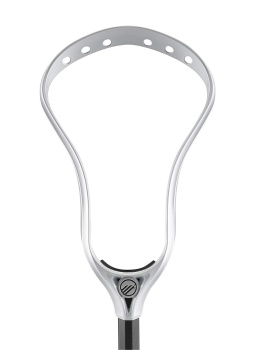 This product is available in 6 colors. It has a Level 4 Bottom Rail, which is for a mid-high pocket that delivers a powerful pass while it providing a consistent hold whenever you catch the ball. The new 3-Strut design offers the feature of being light in weight while being stiff. Furthermore, the narrow throat offers maximum control possible and prevents the ball from falling too easily. It has multiple stringing holes for custom pocket options, which enables you to string the head according to your preference.
Pros:
Very lightweight
The head is considerably durable
Stiff enough for poking
Cons:
Top stringing holes are too small
Not recommended for long stick middies
STX Lacrosse Stallion 700 Unstrung Head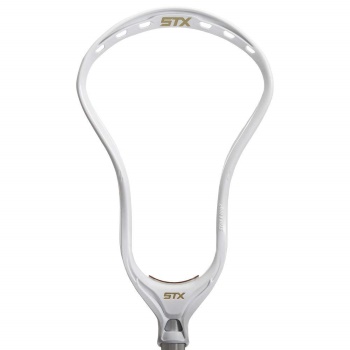 This product which complies with NCAA and NFHS rules is available in two colors. It features the new patent of STX, Speed Scoop, which enables middies to scoop up balls effortlessly while minimizing the scoop drag on the ground. Moreover, the Stallion 700's two-sidewall design provides optimum stability when shooting, checking and scooping ground balls. This product is 25% stiffer and 5% lighter than previous models of the same name. Furthermore, the C-channel technology distributes the stress to the sidewall, enabling the head to have a stronger and more stable feel.
Pros:
Durable
Allows great control
Excellent for attack
Cons:
Moderately hard to string for beginners
More expensive than other brands
Warrior RABIL 2 - X Spec Unstrung Lacrosse Head

This product is available in 5 assorted colors. It provides maximum stiffness with the least possible weight. The holes accommodate a mid-high pocket which allows for more power. Furthermore, the glove is considerably durable and lightweight.
Pros:
Considerably lightweight
Durable
Allows for good accuracy
Cons:
Some users say that the item tends to chip sometimes
Marks up easily
Warrior REGULATOR - X Spec Unstrung Lacrosse Head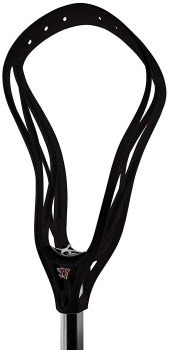 This product features the new loc-throat technology which removes shaft rattle and adds stability to the head. The mid-high sidewall transition allows having a higher pocket placement which allows for more power shots. Furthermore, the SYMRAIL design provides maximum stiffness without sacrificing the light weight of the head.
Pros:
Shape makes it easy to catch balls
Head made to be compliant with NFHS and NCAA standards
Has a thick scoop
Cons:
Color makes it easy to pick up dirt
Strength is not as equally distributed than other models
Warrior Evo 4 Unstrung Lacrosse Head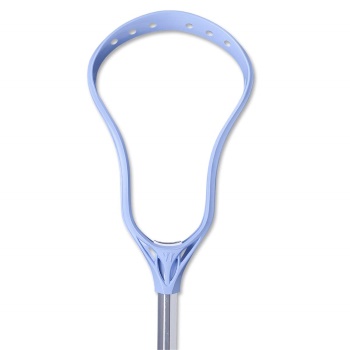 This product has been re-engineered to strike a balance between its lightweight property and stiffness using the SYMRAIL design. Furthermore, the holes are made to pave way for custom pocket placement. It is a great product that is durable and has a wider face that makes catching easy.
Pros:
Durable
Easy to string
Wider face makes catching and controlling easy
Cons:
Head may break if broken in improperly
Hard to string
Things to Look for When Choosing a Lacrosse Head for Middies
Being a middie is a wonderful experience when playing lacrosse. However, shopping for proper equipment for this position may be trickier than you think. This does not have to be the case if you know what you to look for when buying equipment such as lacrosse heads. Here are some of the things to consider when shopping for your new lacrosse head.
Gender – Lacrosse is divided not only into leagues but also in gender. There are rules that are made specifically for women or men players. If you buy the wrong kind of lacrosse head and use it in the field, chances are you will be disqualified from playing, so read the label of the lacrosse head if it is for your gender or not.
Stiffness – Good lacrosse heads for middie players offer a balanced blend of flexibility and stiffness, which is why they are perfect both for offense and defense. This allows for the utmost stability that you will need when you are on the run, which is why you should look for heads that are not too stiff nor flexible.
Mid-High Pocket Setup – Having a mid-high pocket setup enhances the hold while middies run through the field. This prevents middies from losing the ball while they are running. It also helps in scooping up the ball while they are on the run.
Lightweight but Durable Heads – Because middies are always on the run and are passing balls from one point to another, they should opt for heads that are both lightweight and durable, as heavy heads will slow them down and heads with a weak built will only result in problems.
Skill Level, Strengths, and Weaknesses – You should first determine what you are most comfortable with when playing as a Middie. That includes knowing your strengths and weaknesses. If you are an expert middie, then you will not need a beginner's Middie head. If you are entry-level, it is best to stick to beginner-friendly middie heads to be safe.
Price – This should be the last thing you may want to consider, but do note that you get what you pay for. For this reason, you should probably invest in a reasonably expensive equipment that delivers good performance. It is durable, so you won't have to buy a middie lacrosse head over and over again.
How to Maintain a Lacrosse Pocket FOR A MIDDIE
A lacrosse pocket, once broken in, may seem like it is very durable. However, if you do not know how to take care of it properly, it may potentially break when you least expect it. Maintaining a lacrosse pocket should be one of the most essential things you should know as a middie. This is because it helps you maintain your pocket. Furthermore, it helps to protect your lacrosse head from caving into pressure.
Determine the Pocket Material – Before you do anything else, you should first know what kind of material your pocket is made of. Pockets can be made of nylon, polyester or cotton, which absorbs mud and dirt. This may cause the pocket to tighten and lose its shape. If this happens, it will become a lot harder for you to throw and catch a ball because there will be areas where the pocket is too stiff.
Steps to take if a pocket is dirty – If a pocket is too stiff because of accumulated dirt and grime, the following should be done to revive your pocket from its dreadful state. Rinse the pocket with warm water to remove the mud from the pocket. Then, place a ball in the head of the pocket and slide a butter knife between the plastic. Do not make the pocket too deep. Let the pocket dry for at least 10 to 15 minutes.
Steps to take if a pocket is too tight – If your lacrosse head's pocket has become too tight due to irregular use, you must simply use the stick and play catch with it until it loosens again. Play with the ball every night and day for 20 minutes until it reaches its optimum state again.
What to do if your pocket is loose and/or frayed – Remember to look at your pocket and ensure that it is not unraveling at some ends. If the pocket becomes too loose, simply tighten the knots and it should be back to normal again. Use a lighter and blacken the strings of the pocket that are becoming frayed to prevent it from spreading further.
Adjust Your Pocket – If you feel that your stick is losing its accuracy, then it is probably time to know how to adjust the strings of your pocket to get it back to your preferred tightness. The shooting strings are the ones that you should adjust if you feel that it is not accurate enough. The shooting strings are the horizontal strings that you can find on the stick. Make sure that you are doing a few practice throws while you are adjusting the pocket to determine the accuracy of the pocket. Then, set it up according to your preference.
Tips to Improve Your Skills as a Middie
If you are a newbie middie, then you have probably thought of ways to improve yourself. Since the Middies must stay mobile and be tough at the same time, these tricks may help you to become more effective.
Focus on North-South and Downhill Dodges – When you do a north-south dodge, you must be able to avoid your enemy and shoot at the goal at the same time. For you to successfully do this, practice juking or bull dodge if you are a larger Middie.
Focus on Making Ground Balls Efficient – It is no secret that whoever has more control over ground balls has the advantage. Work on staying low and scoop ground balls. If you can, string your head to have a mid-pocket so that you would be able to do this easily.
Become a Two-Way Middie – If you are a Middie, you must be flexible, in both defense and offense. If you know how to play your strengths, focus on your weaknesses so that you may be able to become more well-rounded and play a more versatile role.
Build your Stamina – In order to compete at high-level games, you have to work on your stamina because you will be passing, shooting, and catching at all times, all while you are running in the field. This means that if you find yourself wheezing at practice, you will not last during a proper game. So be sure to train your body so that you will be able to keep up with others.
Time and Room Shooting – You must be able to know when to shoot to the goal with the proper stance at the right position. This means that you should not leave any room for any imbalance while running so you may be able to shoot appropriately. Take your time to practice calculating your shots as fast as you can, all the while maintaining your stance.
Shooting While Running – Sometimes when you are not able to shoot the ball while taking a stance, you must be able to shoot while running. Learn to know what your opponent is going to do. Then shoot or pass before they can do anything.
Guide the Enemy Towards the Defense – If you are busy running to the goal, the last thing you want is to have your enemies trailing you as you are running to the goal.
Roles of Defensive Middies – If you are an offensive Middie, you should learn how to be more elusive and be able to recognize if a fast break is about to happen. If you are playing the defense, you must learn how to control heavier and longer sticks. Then, pass it onto your fellow teammates who should take the offensive.
Final Thoughts
Middies will be glad if they choose one of the following heads to use for their next game as these selections. This will most definitely improve their performance. However, they should not rely on the equipment alone. They should know how to practice the things that have been discussed to become a good Middie. Then, they should also know how to maintain a lacrosse head in order to make their lacrosse head last longer. If you are not satisfied with the lacrosse heads that are listed here, you are free to choose more options.