Best Cricket Bats
This page contains affiliate links. As an Amazon Associate I earn from qualifying purchases..
Cricket bats are one of the essential tools in cricket. A cricket bat's purpose is simple: to hit the cricket ball. They may look like simple tools used for movement, but they are actually made from complex designs. Cricket bats have evolved throughout the years, as the sport's rules have changed as well. Nowadays, there are different types of cricket bats, which can make shopping for a cricket bat daunting. In order to find the best cricket bats in the market, you should know first be aware of the different kind of cricket bats.
Quick Look at Our Top Picks:
Best Rated Cricket Bats Reviewed
Now that you have some ideas on how to choose a good cricket bat, buying a cricket bat can be intimidating. However, choosing a bat should not be difficult, so long as you have an idea on what you need. Taking the points above into consideration, review the list below for some suggestions on great bats.
GM CHROME 606 English Willow Cricket Bat (Free Extra GM bat Grip)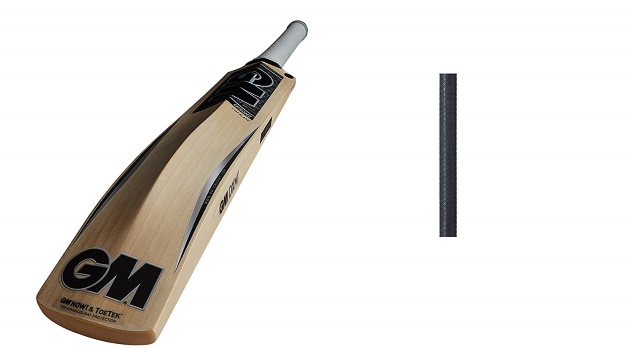 This Grade 2 English willow has 6 to 8 grains and is a low to mid-swell position for all-around power play. It is pre-knocked in by the bat maker in-house and oiled with raw linseed oil. As a result, this reduces splitting and cracking. Furthermore, clear anti-scuff covers are also applied to the face and edges of the blade to increase its durability.
Pros:
It has an excellent weight and sweet spot
Carries an extra bat grip
Has less chances of toe swelling and toe damage
Cons:
Cracks at the bottom when knocked in
Cannot be used by people below 5'5"
Pro Impact Practice Tennis Ball Cricket Bat, Full Adult Size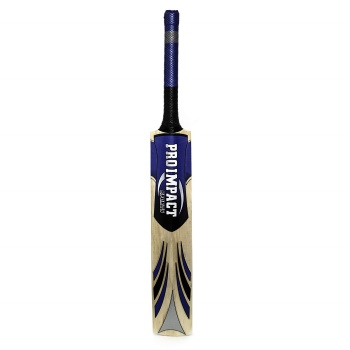 This product is great for practice as it is of wood material. It is handcrafted and for light play. The handle is reinforced with wound string. Furthermore, it is covered with a rubber sleeve for a firm grip. This bat is also perfect for home and club practice play.
Pros:
Weighs only 1091 grams
Has a balanced weight and curvature
Ideal for softball cricket play
Cons:
Cannot be used on hard tennis balls
Bad packaging
Not sturdy
Pro Impact Classic Kashmir Willow Leather Ball Cricket Bat, Full Adult Size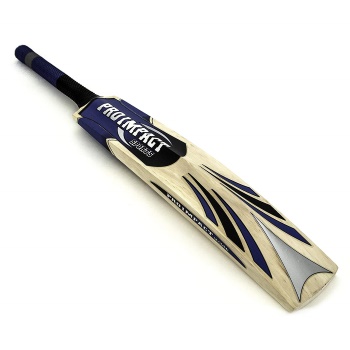 This Kashmir willow bat is perfect for either club usage or individual practice. It has a unique shape that enables the user to be able to have a fast pickup of the ball. Furthermore, weighing only 3 pounds, it is relatively lightweight. It also has a round handle that is a top quality cane.
Pros:
Reasonable pricing
A finish of the bat is sleek and strong
Comes with free fiber tape
Cons:
Prone to breakage if not oiled and knocked in properly
Grip has a tendency to come out
Only good for light tennis balls
Pro Impact JUNIOR Cricket Bat Set includes BAT, BALL, WICKETS, BAILS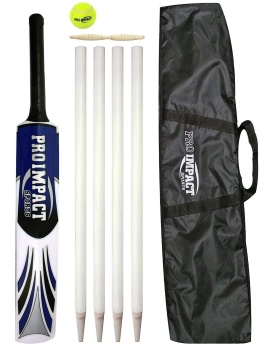 This product consists of a bat, 4 stumps, bails, tennis ball, and a carrying bag. Furthermore, the bat included in this set is a Junior Size 5 bat of wood material. The set is ideal for backyard play. As this set comes with a tennis ball, the manufacturers do not advise regular cricket ball use.
Pros:
Ideal sets for kids
Reasonable craftsmanship quality of the bat
Offers good stroke when playing with tennis balls and rubber balls
Cons:
Tickets are not sturdy
Paint of the stump is of bad quality
Only good for light to moderate play
Amber Cricket Gear Tennis Cricket Bat

This bat is from select Kashmir willow and is thus a good choice for club and home play. Weighing about 2 pounds, this bat has an average weight that you can only use for tennis balls. However, it has an excellent cane handle that is sturdy.
Pros:
Perfect weight for tennis cricket ball
Superb pickup
Great for backyard American cricket
Cons:
Grip hurts when used with bare hands
The wood joint area is prone to breakage
Different Kinds of Cricket Bats On the Market Today
There are different types of bats for different types of players, but generally, the cricket bat should be no more than 38 inches long and 4.25 inches wide. Depending on the type of material, taking care of a bat is all different.
English Willow
Many professional cricket players prefer this bat. English willow cricket bats are the first bats that you will encounter in the market. This type of cricket bat is also the most expensive type in the market. The reason why is because the English willow is the most used material in the production of cricket bats for professional users. It provides the most strength and compression for the cricket ball. English willows are separated into five grades according to its quality, with 1 being the highest and 5 being the lowest.
This type of bat is ideal for playing with hard cricket balls because of its durability without sacrificing the weight of the bat. The downside of this bat is that it requires knocking and oiling before you can use it on the field. Despite these cricket bats being the most durable, they are still prone to breakage if you do not knock in and oil them properly.
Kashmir Willow
Kashmir willow cricket bats also originate from England, with their defining characteristic being more brownish. They are still durable and light in weight, but they are not the same as the English willow as Kashmir willows are dryer and harder than English willows. However, this does not mean that they are brittle cricket bats. They are more durable than softball cricket bats. The Kashmir willows also require knocking in and oiling just like English willows. This ensures they stay strong and reduce the risk of the ball.
Softball Cricket Bats
However, nowadays softball cricket bats are of fiber or good quality wood. Therefore, they are much much cheaper than Kashmir or English willow. Furthermore, softball cricket bats are for beginners or softball cricket players. Sometimes, softball cricket bats are also hard plastic material, but they tend to be cheaper than rubber softball cricket bats.
Training Cricket Bat
As its name implies, training cricket bats are for people who wish to hone their skill in cricket. Typically, there are no specific types of wood for training cricket bats, but they are usually Kashmir willow, if not English willow. These cricket bats may have a shorter handle cane or a narrower width compared to normal cricket bats.
KEY CONSIDERATIONS WHEN BUYING A Cricket Bat
Not all cricket bats are the same. In the same way, not all cricket players have the same needs. What makes a good cricket bat is tricky to answer because of these factors, however generally a good cricket bat depends on two factors: the skill of the bat maker and the materials that make the bat.
Reputable Brand – Cricket bats by unskilled bat makers make for cheap, breakable products, no matter how good the materials were. Finished bats should have a good feel rather than a good weight which usually depends on the skill of the bat maker. When a bat maker takes their time to make sure that they create a good bat, it will provide a good result. This is why many high-end brand bat makers tend to have a more expensive price because they tend to ensure high quality.
Playing Conditions – There are four types of cricket bats in the field, and two kinds of playing fields. For those who play softball cricket, they should consider buying softball cricket bats which are specifically made for softball cricket. For those who play with leather or rubber balls, usually willow cricket bats will do the trick for them. Regardless of playing style, practice cricket bats can be used by any kind of player in the field, as long as they wish to hone their skills.
Your Height – Not all cricket bats are the same for every player's height. There are several bat sizes for different ages and different heights. According to the specific measurements of the bat's length and width, shorter and younger people require bat sizes 1 to 5 and taller people require sizes 6, Harrow, Short Handle, and Long Handle.
Willow Grade – Willows have grains that will serve as the main indicator of the strength of the bat. In fact, most of the time, grains are the indicator of the bat's price. Grade 1 English willow bats have no irregular grains compared to Grade 2 English willow bats, and as such are more expensive. However, this does not mean that they have a lower quality. This just means that they take longer to knock in and oil to reach their optimum performance. When it comes to softball players, knocking in and oiling is not necessary because there are no willow grades necessary.
Your Batting Style – Companies make three types of cricket bats – low, medium, and high. Depending on the drives, hooks, and cuts of the player, they should opt for medium bats. Those who like to have straight shots and drives should be compatible with low bats.
The Handle and Buying a Toe Guard – Picking the right handle and toe guard can change your game significantly. Those who opt for oval handles are more likely to have a better directional feel to their game. However, those who pick round handles are for players who like to flick the ball around the field.
Density and Material – The density of the material also depends on the wood's moisture threshold and the way it is processed by the bat makers. If they heat the wood too much, the result will be a more brittle and lighter bat with more opportunity to absorb oil. The inverse principle applies to a wood that has been processed to produce a bat with more moisture. This results to a heavier bat, which is better as it is more durable as well and provides more weight.
Final Thoughts
In summary, there are many expensive cricket bats out there that can break easily even when properly oiled and knocked in. Sometimes, the cheaper brands of cricket bats are the ones you need if you are simply starting out. However, do note the cons that a cheap cricket bat can come with. Considering the different factors in choosing a cricket bat, and knowing what makes a good cricket bat, there are different types of cricket bats that will suit your needs and as such it will be up to you, in the end, to decide what the best cricket bat is for you as a player.