Best Fastpitch Softball Bats
Fastpitch Softball is one of the most loved games in the world, especially in the United States. Although males sometimes engage in Fastpitch softball, usually young females from 5 years and above play this. One of the main things you will need to play or train in Fastpitch Softball is a bat and not just any bat.
Fastpitch softball bats' barrel diameter measures 2¼ inches, while they have a length-weight ratio of between -8 and -13. Most softball leagues, however, specify rules and regulations for the fastpitch softball bats, so it is important to verify these rules and regulations before purchasing your fastpitch softball bat.
Quick Look at Our Top Picks:
Best Rated Fastpitch Softball Bats Reviewed
Fastpitch softball is one beautiful sport that is gradually gaining recognition globally. Whatever your level of professionalism is in this game, you need the right gear to play it. Therefore, having the best fastpitch softball bat will give you a better result and make you enjoy the game. However, due to the numerous bats to pick from, choosing the best bat can be quite difficult. So, we have simplified your search process by picking out some of the best fastpitch softball bats on sale.
DeMarini 2018 CFX-10 Balanced FastPitch Softball Bat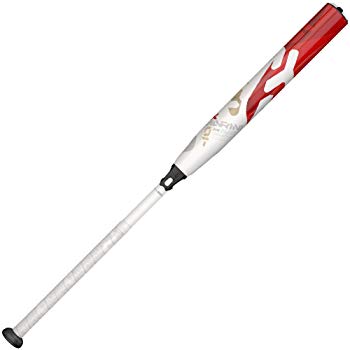 This fastpitch softball bat ensures you enjoy the lightest swing and the best performance while playing fastpitch softball. This two-piece bat has a paraflex composite design for the barrel, and a 3-fusion endcap for the handle. The barrel, composed of 22% strong composite material, ensures that you enjoy equal distribution of weight, flexibility and a good pop. Its 3-fusion handle has a sleek design for reduced vibration and a great feel.
Furthermore, it also helps to redirect energy back to the bat's barrel. The main purpose of this 3-fusion system is to optimize your knob to endcap performance. Another beautiful feature of this bat is its well-structured and well-designed RCK knob that fits the batter's hand perfectly. Moreover, all these innovative features are put together to guarantee you have an outstanding performance on the plate.
Pros:
Gives lots of great pops upon contact
Beautiful design
Has a long hand grip that extends to the handle
Its barrel has a standard diameter of 2¼ inches
Cons:
Its bounce does not last long enough
Quite expensive
DeMarini 2018 CFX Insane -10 Endload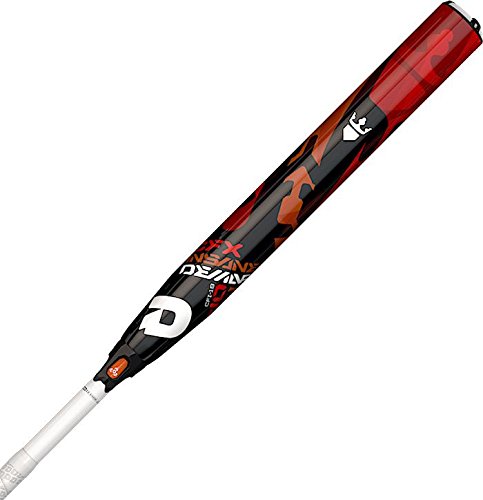 This fastpitch softball bat enhances swing and performance. For power hitters, this bat is strong and lightweight. This two-piece bat has an anatomically designed RCK knob and a 3-fusion technology. Added to this is a barrel with a paraflex composite design.
Furthermore, this barrel also has a diameter of 2¼ inches and an even endload. The extra pop and power offered by this bat makes it a well-loved choice among fastpitch softball players. Although it takes some getting used to, you will have to buy another without hesitation.
Pros:
Great for power hitters
End-loaded bat
Hits well
Very nice pop
Weight is perfect
Cons:
Expensive
Handle is crooked
Louisville Slugger 2018 Xeno -10 Fastpitch Softball Bat

This fastpitch softball bat is specially designed to boost the confidence of batters as they step into the plate and improve their performance. Making use of some of the most innovative technologies in the world of Fastpitch softball, Louisville Slugger ensures you get your money's worth. This two-piece totally composite bat has an IST connection that is stiff, offers improved transfer of energy, and reduces the sting the players usually get in contact.
Furthermore, the S1ID technology is patented and ensures the bat gives off very good pop on impact. It also makes sure this bat is suitable for different types of players by balancing the bat's swing weight. Moreover, all the features of this standard bat combine to give the players an edge over other players as soon as they step into the plate.
Pros:
Hits great
Great performance
Has a well-balanced swing weight
Great transfer of energy
Cons:
Not very durable
Requires breaking-in
Rawlings 2018 Quatro Fast-Pitch Softball Bat -10

This fastpitch softball bat is designed to conquer the problems of bat sting. The flex hinge design is patented and increases swing speeds, give a well-focused flex, and ensure you have a crazy pop.
Furthermore, the ultra-high performance barrel of this fastpitch softball bat is 100% composite and integrates a sting-reducing and sweet-spot-improving vibration dampening technology. Moreover, with its drop 10 length to weight ratio, this bat is lightweight, composite and powerful enough to improve your skills as a Fastpitch softball batter. Additionally, stamped by the major leagues like ASA, NSA, ISF, ISA, and USSSA, this bat is for champions and guarantees flex, distance, balance, and performance.
Pros:
Gives a great pop
100% composite and powerful
Approved by major Fastpitch softball leagues
Lightweight
Ensures ultra-high performance
Cons:
The grip might give blisters
A few say that it may rattle after a few weeks' usages
Easton Women's Fastpitch Ghost Double 10 Barrel Softball Bat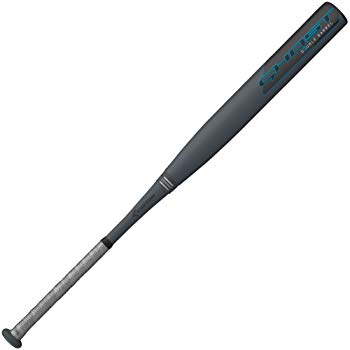 This fastpitch softball bat eliminates every form of vibration using a combination of ConneXion+ technology and double barrel construction. The double barrel technology creates a barrel with minimal compression for the purpose of enhancing feel and performance.
Furthermore, meeting the standards of ASA, NCAA, and ISF leagues, this beautiful bat gives a maximum pop, weighs 3 pounds and has a length to weight ratio of -10. Moreover, an explosive sound can be heard when the outer and inner barrels collide. One of the most beautiful things about this bat is that it works perfectly right out of the wrapper and requires no a break-in period.
Pros:
Sounds great
Great feel
Eliminates all vibration
Produces the lowest compression
Approved by ASA, ISF and NCAA leagues
Cons:
It is not very durable
Not certified by many other leagues, like USSSA
Mizuno Finch Jennie Fastpitch Softball Bat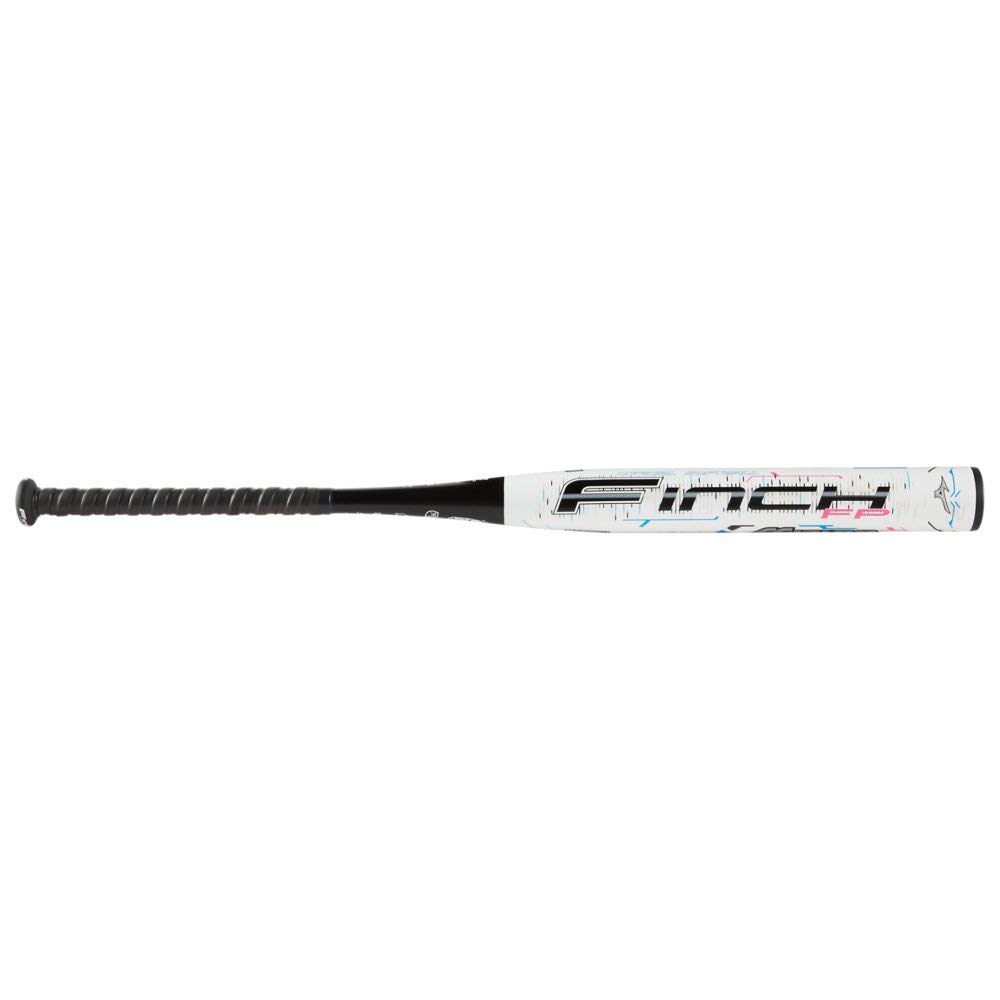 This fastpitch softball bat is made specially to suit the specific needs of Jennie Finch, a legendary American Olympian softball pitcher. This confidence-building bat is very lightweight and appropriate for beginners. Also, forged with Mizuno's alloy material, this bat has a well-cushioned and very comfortable grip.
Furthermore, the weight of the swing is ultra-light at 5 pounds. Mizuno Finch Jennie's Fastpitch Softball Bat is a one-piece, 2¼ inch and -13 length to weight ratio bat. It also has the approval of ASA, USSSA, NSA and ISA leagues.
Pros:
Has a decent pop
Great bat for starters
Does not sting
Lightweight
Has a lot of power
Cons:
Some say it may not be very durable
A few people say the delivery was not on time
Axe Bat Danielle Lawrie (-12) Fastpitch Softball Bat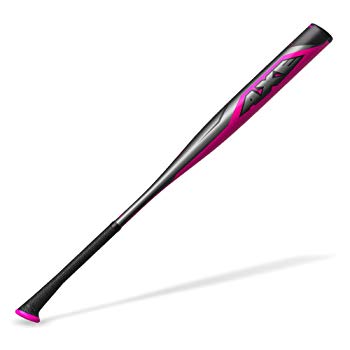 This fastpitch softball bat is made mostly from aluminum and is a one-piece type of bat with the endorsement of legendary Fastpitch softball college player, Danielle Lawrie. One of the best features of this bat is its Axe handle. It also helps to give the batter a great swing, increased speed, better control of the barrel, as well as steady contact.
Moreover, the barrel of this beautiful bat is a high-performance LP1 that ensures you enjoy durability as well as a pop that is simply explosive. The bat utilizes the use of a hyper-whip endcap for reducing the weight at the bat's tip to increase the swing and enlarge the sweet spot. Famous for its speed, power, and stability, this bat stands apart from other bats by hitting on only one side.
Pros:
Well designed and great for entry-level players
Great swing mechanics with a natural feel
Gives an awesome grip
Has a large sweet spot
Improves performance
Cons:
Some say there is some sting in the hands
Requires some time to get used to its feel
Anderson Bat Supernova 2.0 (-10) Fastpitch Softball Bat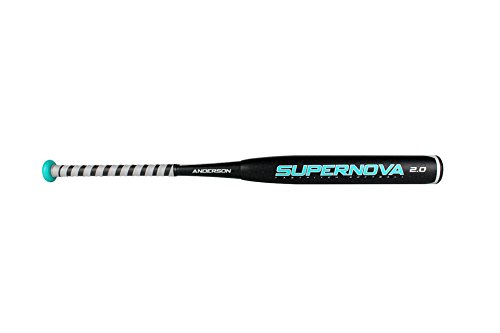 This fastpitch softball bat is made from the high-grade composite material is best suited for adults. With its two-piece design and complex composite material, this bat is built to withstand a lot of hits for a long time. Well-balanced and fast, the handle is thin enough to generate additional speed. Moreover, the barrel of this scientifically-designed bat is sure to add pop and distance the moment it hits the ball.
Pros:
Ensures harder hits
Well streamlined and constructed
Has a nice, huge sweet spot
Enhances speed
Durable
Cons:
Requires some getting used to
A few people say it was not as good as advertised
Combat 2017 Maxum Madison Shipman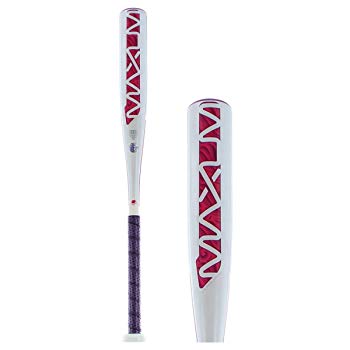 This fastpitch softball bat is specially designed to meet the needs of younger players in need speed, durability and lightweight. This high-quality bat uses an innovative Precision Molding Technology, which has the major functions of doing away with weak points, improving performance, toughness and durability. Having a barrel that is extra long, this ASA-certified bat has a -14 drop weight and an ultra-fast swing weight. It also features a unique lizard skin grip to increase the hitter's comfort, reduce vibration and prevent the slippery feel most players get from their bats at the plate.
Moreover, this two-piece composite bat has a carbon-fiber sleeve that runs from the top of the bat to its base. This helps to polish up your performance and give you consistent strength. With a sweet spot that is about 40% larger than that of other bats, you will enjoy consistency and distance. As a matter of fact, this seamless bat will give you high quality at an affordable price.
Pros:
Very lightweight
Effective warranty
Perfect for a newbie
Very easy to swing
Cons:
Some say it may possibly crack
Does not meet the standard of other leagues apart from ASA
2017 Anderson Rocketech 2.0 Fastpitch Softball Bat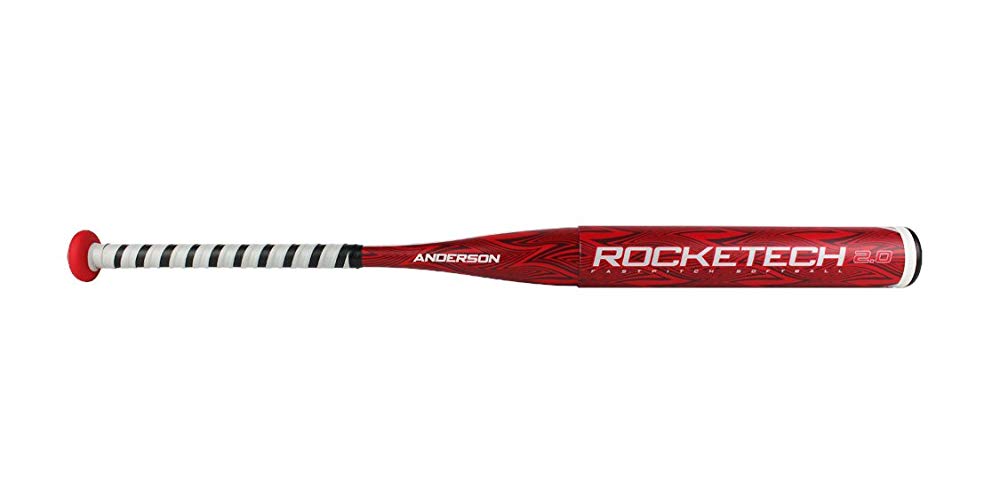 This fastpitch softball bat is beautifully designed with single-piece Aerospace alloy materials to provide unrivaled durability. This bat uses an integrated Power Arch Multi-Wall Technology to increase the bat's durability, improve the trampoline effect of the bats and also boost the speed of the balls.
Moreover, it requires no break-in period, this 1.5-pounds stick adds power to your hits using its end load swing weight. Other features include a lightweight and strong endcap, an ultra-thin whip handle, a padded bat grip, massive sweet spot, 2¼" barrel diameter and -9 drop weight. This bat is certified by many fastpitch softball leagues.
Pros:
Delivers great hits
Gives excellent pops
Very easy to swing
Great feel
Beautiful graphics and design
Very durable
Cons:
Quite pricey
May sting the hand
Key Considerations When Choosing the Best Fastpitch Softball Bat
Considering the fact that a lot of companies are manufacturing different types of Fastpitch softball bats, you will have a lot of bats to choose from. To make your shopping easier, we have put together some of the major factors to take into consideration when shopping for the best Fastpitch softball bat.
The kind of fastpitch softball bat you choose will depend on your preference, style of playing and the rules and regulations of the League you are to play in. More importantly, the bat should compliment your playing style in every way that counts. Here are some of the things every good batter should have in mind when shopping for the Best Fastpitch Softball Bat.
Type of Fastpitch Softball Bat: There are two main types of fastpitch softball bats, these are the one-piece and the two-piece bats. People use both when playing Fastpitch softball because they both have advantages. Your choice will, therefore, depend on what you require from your bat – minimum flex or maximum trampoline effect.

One-piece Bats: These bats mold in such a way that the barrel and handle of the bat are joined as one structural body. In simple terms, every component of that bat, the hand and the barrel, is in one piece. Moreover, this bat best suits batters who need their flex to be at a minimum.
Two-piece Bats: These bats comprise of two separate parts, that is, the barrel and the handle are separate. In some cases, the handle may not be of the same material as the barrel. Also, this bat best suits batters who need their bat to give them maximum trampoline outcome.
The material of the Fastpitch Softball Bat: It is important to know what material your bat is made of. This helps to enable you to determine its weight, durability, and performance.

Composite Fastpitch Softball Bats: These bats are from fiber, fiberglass, and graphite. They are more durable than other types of fastpitch softball bats. These bats give the batter a larger sweet-spot and reduce the vibration in their hands. However, despite their popularity, most leagues do not permit the use of composite softball bats.
Alloy Fastpitch Softball Bats: These bats are from mostly aluminum with other metals. Because of their composition, these bats tend to be lighter, more stylish, durable and more affordable.
Hybrid Fastpitch Softball Bats: These bats fall under the two-piece category and feature bats that have a composite handle.
League Fastpitch Softball Bat Rules: There are many leagues that sanction Fastpitch Softball. Some of them are the ASA, ISA, and NSA. However, ASA, which stands for the Amateur Softball Association, has the strictest ball speed policies. Therefore, if your bat has an ASA certification stamp, it will be approved by other leagues. Overall, every league has its set of requirements, of course, so a good batter needs to know most of the requirements of each league.
Length of the Fastpitch Softball Bat: The length of your Fastpitch softball bat depends on the player. Some players are more comfortable with shorter bats, while others prefer longer bats. Some people choose the bat length based on the batter's age, but the best way to get the best fastpitch softball bat is by holding it using the stance you love to take when batting. Moreover, the wrong bat will not seem well balanced in your hands and will also be quite stressful to swing. More so, you will not be able to get the perfect pitch. On the other hand, the perfect fastpitch softball bat for you will feel right in your hands and also keep you well-balanced.
The weight of the Fastpitch Softball Bat: The weight of the bat will also depend on the batter. A heavy bat will have the tendency to stress you out when you swing, while a bat that is too light will not give you the right balance and expected pitch.
A drop of the Fastpitch Softball Bat: The drop weight of your fastpitch softball bat is its length (inches) to weight (ounces) ratio. You figure this out by subtracting bat's length from its weight, and the result should give you a negative number (Drop weight). You should know the drop for your league so you will not buy a wrong bat. The rules of ASA dictate that your bat should have a drop of between 8 and 12.
Price of the Fastpitch Softball Bat: The price of each fastpitch softball bat depends on the company that manufactures it. High-rated companies usually manufacture expensive bats. Moreover, note that quality and price do not necessarily go together. Also, be sure to put your budget into consideration so that you will not buy a bat that will stretch your budget.
Common Mistakes To Avoid When Choosing the Best Fastpitch Softball Bat
Choosing the best Fastpitch Softball Bat may not be as easy as it may seem. A lot of people make mistakes that cost them a lot of money and time – especially if there is no warranty on your bat.
Your Choice of Bat Should Not Be Based On Its Color: The color of your Fastpitch softball bat has nothing to do with its performance, durability or production. Some Fastpitch Softball players would love their bats to match the color of your uniform. While this would be lovely, it is very wrong and can mislead you to buy a model that will be wrong for you. Moreover, some manufacturers compromise quality for beauty, giving you a beautiful but inferior-quality bat. Never make the mistake of trading bat quality for beauty.
Your Choice of Bat Should Not Be Based On Your Teammates' Preference: It is important to choose a bat that matches your skills and preference and not your team's or teammates'. One thing to keep in mind is that in the batter box, it's just going to be you and your bat. So, ensure that you try out different bat models until you find one that suits you perfectly. Moreover, different people have different needs, so the perfect fastpitch softball bat for your teammate may not be the perfect one for you.
Your Choice of Bat Should Not Be Too Heavy: The weight of the bat should also be put into consideration. Do not buy a bat that is heavy because the weight will slow you down, and stress you out. Also, in the case of younger players, they may not even be able to properly lift the bat off the grass. Lightweight bats help to increase swing speed and pop off. To enjoy an excellent performance at the plate, make sure your Fastpitch softball bat is lightweight.
Do Not Buy a Bat without Ample Information: Choosing a bat on a whim without adequately researching it could be a very terrible mistake. You could get information by talking to experienced Fastpitch Softball players about their opinion. Moreover, you can also get reliable reviews and ask a lot of questions before finally settling on a bat to buy.
Final Thoughts
In summary, fastpitch softball bats are necessary for both power hitters and players. The best fastpitch softball bats should boost the batter's confidence on the plate, especially if she is a new player. These bats should also be lightweight and easy to swing, have innovative technologies and large soft spots, give excellent performance, great feel, powerful hits, and mad props.
Additionally, people in need of lightweight usually choose fastpitch softball bats of composite materials. Since several leagues specify the ratio of length-to-weight they require, it is important to find out the specific softball requirement.