Best Sunglasses for Baseball
This page contains affiliate links. As an Amazon Associate I earn from qualifying purchases..
Sunglasses are an important accessory for baseball players in the field. Not only does it keep the harmful sun's rays away from the eyes, it also helps keeps dust, air, water, and unnecessary light away.
However, most people choose baseball sunglasses because of the way they look and not how they function. Here we will discuss the various types of baseball sunglasses, how to choose baseball sunglasses, and if polarized baseball sunglasses are for you.
Quick Look at Our Top Picks:
Best Rated Sunglasses for Baseball Reviewed
If you were to think of buying sunglasses, it would seem daunting because there are many options out there. However, to help ease the process, we have gone through and listed some great suggestions.
Under Armour Igniter Polarized Multiflection Sunglasses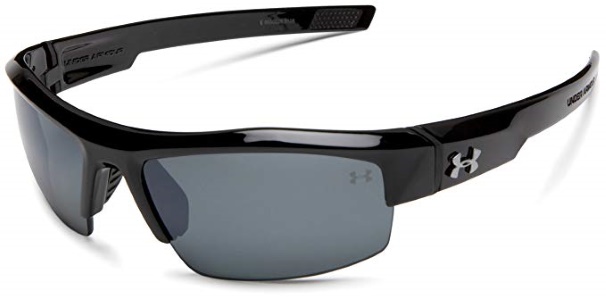 This product has polarized lenses with 100% UV protection coating, ensuring that you are able to see the best at daylight. It also ensures you don't have to worry about the harmful rays of the sun getting into your eyes. Furthermore, the product comes in three colors, and has a glare reduction coating which provides you protection from bright light. Also, the Multifection lens coating makes the lenses of this pair of sunglasses resistant to scratches and allows it to repel water.
Pros:
Great fit
Bag provided for lenses is convenient
Affordable than other brands
Cons:
Polarizing effect not effective enough
Lamination has a tendency to bubble and peel off
DUCO POLARIZED Sports Sunglasses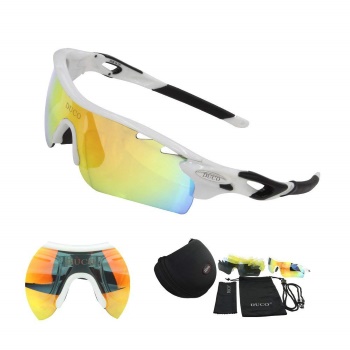 This pair of sunglasses are best for outdoor sports as it is lightweight and sturdy. The frame is of high quality polycarbonate material that is durable and strong enough for any weather. Moreover, the lens has 100% UV protection and is also shatterproof. This product also has a warranty, whatever the reason of breakage is.
Pros:
Enhances vision
Perfect fit
Worth the price as it comes with accessories
Cons:
Rubber nose looks too tall
Looks cheap
Nose piece has a tendency to break off
Franklin Sports MLB Deluxe Flip-Up Sunglasses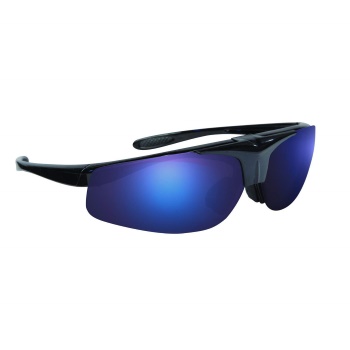 This pair of sunglasses is a flip-up type of sunglasses. The frame and lenses of this product is of polycarbonate material, ensuring that it is impact and shatter proof. The lenses have a UVA and UVB protection coating, which will help you protect your eyes from the sun. Furthermore, the product comes with a carry pouch and a headband strap, which will provide your sunglasses protection while you are not using it.
Pros:
Comfortable to wear
Flips up and down easily
Doesn't scratch easily like other brands
Cons:
Blocks view when flipped up
Lenses don't have great coverage
Lenses let light in at different angles
Easton Diamond Interchangeable Sunglasses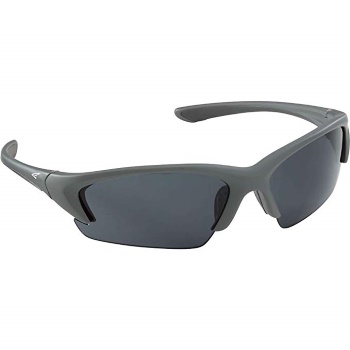 This product's lenses are of shatter-proof polycarbonate, which ensures that your sunglasses are strong and durable. The black frame comes with three lenses with different colors: black, brown, and yellow. Moreover, these lenses are interchangeable as well. The lenses also have a 100% UV protection coating that will deflect the harmful rays of the sun from your eyes. Furthermore, the frame has a soft rubber nose and a flexible design. This will make sure that your sunglasses are a good fit for you every time you wear them.
Pros:
Great price
Durable
Versatile
Cons:
Frame is brittle
Sunglasses a little small for adult size
Rawlings Youth 102 RV Sunglasses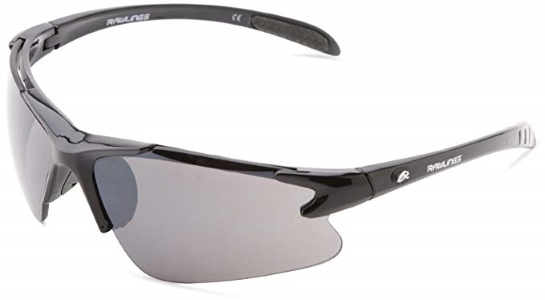 This product has lenses that are of polycarbonate material and has a scratch resistant hard coating. The lenses have an easy clean lenses that repels dirt, water, and oil. This would make it easier for you to wipe obstruction from your view. The lenses also offers 100% UVA and UVB protection. This will help you block harmful ultraviolet rays from the sun while enjoying the outdoors.
Pros:
Nice quality
Fits youth sizes perfectly
Lightweight
Has good optics
Cons:
May not fit all sizes
Frame might be prone to breakage
Key Considerations When Buying Baseball Sunglasses
Believe it or not, there are many kinds of sunglasses. As such, finding the right type of sunglasses can be daunting for first-time buyers or people who have not bought baseball sunglasses. Here are some factors to consider whenever you are buying a new pair.
Frame Fit – Ordinary sunglasses, unfortunately, are not a good fit for the baseball field as they are not designed to stay on the face. Ordinary sunglasses are usually just for fashion. Athletic sunglasses such as baseball sunglasses, on the other hand, keep sturdy as you move along the field.
You should look for frames with silicone noses and temple pads. These designs are sure to decrease the amount of slippage of the baseball sunglasses, ensuring that your sunglasses are secure.
Wrap around Arms – Other things to look for when looking for baseball sunglasses are glasses with wraparound arms that fit beyond the ear. This kind of design enables the user to not worry about the glasses. If you are not comfortable with hook-type frames, then baseball sunglasses with a hook strap frame may fit your tastes. These types of baseball sunglasses are also called goggle frames.
Head Straps – SometimesSometimesIf you are not fond of having goggle frames, then frames with detachable head straps might perhaps tickle your fancy. Head straps are just like goggle frames, as they are adjustable. However, you can remove them if you decide that they are not necessary anymore.
Lens Type – If you are not a fan of having to purchase sunglasses all the time, then flip-up lenses may suit your tastes. Not only can these types of lenses be removed, they can be fitted on most types of eyewear as well. If you are not a fan of flip type sunglasses, then sunglasses with interchangeable lenses might be suitable.
Lens Shape – A lenses' shape may not be important to many users as it may just be for cosmetic reasons, but this is not the case for baseball sunglasses. Ideally, one should look for baseball sunglasses that have lenses that fit the face shape of the user.
Additional Coatings – Ordinary sunglasses do not protect your eyes from the harmful rays of the sun. Baseball sunglasses, meanwhile, have protective coatings and other features that will help you keep your sensitive eyes from these rays.
Types of Baseball Sunglasses
When it comes to the kinds of sunglasses, fashion sometimes overrules function. Baseball sunglasses primarily have different kinds of styles. Though they basically do the same thing, they have differences when it comes to their uses. Here are the different types of baseball sunglasses that you will find around the market today.
Transition Sunglasses – These types of sunglasses are able to change its glare automatically when the sun's rays hit the glasses. Furthermore, this enables the user to be able to shield their eyes from the sun whenever it is extremely hot and allows them to see in the shade.
Flip-Up Sunglasses – These are types of sunglasses that have two lenses: one with a coating, and an ordinary or prescription lens. Whenever the user wishes to shield their eyes from the sun, they can simply flip the coated lenses downwards.  They can also flip up the coated lenses whenever they wish to see in the shade.
Polarized Sunglasses – Polarized sunglasses are special types of sunglasses where the sunglasses' coating filters some parts of the sun's rays. This enables the user to see under bright lighting.
Prescription Sunglasses – Prescription sunglasses are special sunglasses that allow users with eyesight problems to be able to see under the sun. Most of the time, these types of sunglasses are tailor-made for the eyes of the user, much like any type of eyeglasses.
Are Polarized Baseball Sunglasses for You?
Polarized sunglasses have its advantages and disadvantages, which is why some people are on the fence about whether or not they should buy them. Polarized sunglasses help shield the user from the light coming from different directions. However, it may ultimately affect your depth perception and distort your vision.
Any kind of lens can impart optical distortion, but polarized lenses are particularly known for being like this. One should note, however, that polarized lenses do not have the same function of protecting the user from ultraviolet rays like coatings do.
Final Thoughts
In conclusion, there are many kinds of sunglasses out there, but only a few are best for baseball. Sunglasses for baseball have many types. Baseball sunglasses have different attributes and features which are helpful on the field depending on their versatility. Most of the time they offer the same features that are fit for daytime use. Do note, however, that not all baseball sunglasses are fit for everyone. So, before buying an expensive pair, look at the reviews so that you will know what you are buying.