Best Youth Big Barrel Bats
Youth big barrel bats are also sometimes called senior league baseball bats. Depending on the league's rules, some bats with a diameter of 2 ¾ inches are restricted from being played on the field. Senior league players typically use youth big barrel bats.
Quick Look at Our Top Picks:
These people fall under the age bracket of 13 to 16 years old. If you are looking for the best youth big barrel bats available in the market, you should first consider the following before buying one online: types of youth big barrel bats, how to choose a youth big barrel bat, and how to take care of a youth big barrel baseball bat.
Best Rated Youth Big Barrel Bats Reviewed
Now that you have an idea on how to choose a youth big barrel bat that suits your tastes, you might be wondering what products are the best in the market. The items below are some suggestions to consider. This is because a lot of users recommend them as being some of the best.
Easton S500 Youth Baseball Bat YB16S500 2 1/4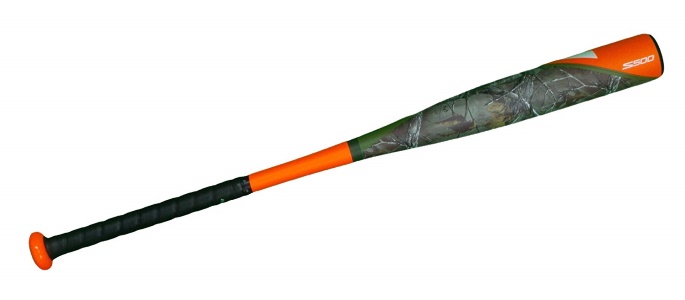 This product is available in two colors: orange and yellow. It is 7050 –aircraft-grade alloy which enables users to have a fast swing speed with a large sweet spot. Additionally, this product has an ultra-thin handle, which measures at 29/32". This product is also evenly balanced, and as such enables users to be able to swing swiftly and powerfully.
Pros:
Delivers few vibrations compared to other bats
Decent pop on the ball
Lightweight bat
Cons:
Does not have a clean feel
Model no longer eligible for Little League play
Marucci Hex Alloy Senior League Baseball Bat with 2 3/4 Barrel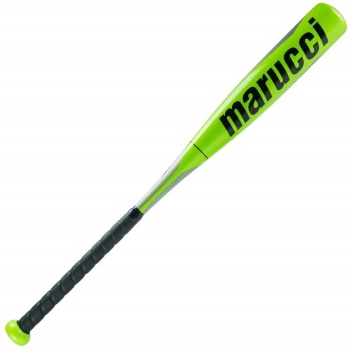 This bat has a material that is of one-piece alloy, which offers a smooth, traditional feel. It has a sting-free comfort knob which offers maximum control and comfort. It also has an extended sweet spot that delivers quite an exceptional performance. Moreover, the bat is a -10 and comes in three sizes: 27"/17 oz., 28"/18 oz., and 30"/20 oz.
Pros:
Has a great pop
Well balanced bat
Cons:
Has a tendency to have dents
A few people say the quality was not the best
Easton Mako Xl Comp 2 5/8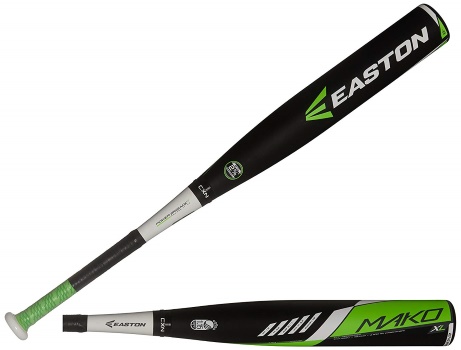 This bat is a composite bat that is a two-piece build using ConneXion technology which helps transfer energy for an optimized feel. Furthermore, it has a 2 5/8-inch diameter and an -8.0 oz weight to length ratio. This bat also  has a massive sweet spot and an unmatched speed. This will help further enhance the player's performance in the field.
Pros:
End loaded bat which can enhance power
Has lots of pop
Has a one-year manufacturer warranty
Cons:
Not approved for 2018 Pony League Play
End loaded property may decrease accuracy
Easton SL17S310 S3 Aluminum 2 5/8 10 Senior League Big Barrel Baseball Bat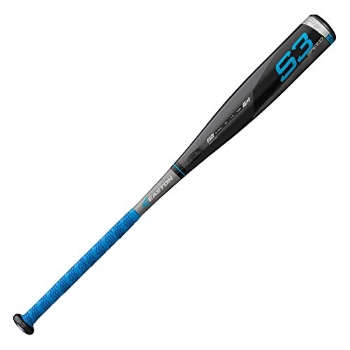 This bat has a 1.2 mm HYPERSKIN grip that enables the player to have an enhanced grip without sacrificing the soft feel. It is of HMX aluminum alloy which allows for a greater sweet spot area and a heightened durability. Its 29/32-inch handle allows the player to be more stable when hitting the ball. Also, the one-piece design allows for better control. This bat is approved under Pony baseball, Dixie youth baseball, AABC and USA.
Pros:
Good price for its value
Has a good pop
Has little to no vibration
Cons:
Bat coating can chip easily
Has a small sweet spot
Easton S3 2 3/4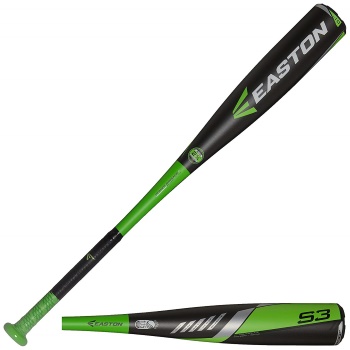 This bat has a -10 oz length to weight ratio. It is also of HMX aluminum alloy which creates a large sweet spot. Furthermore, the creation of a trampoline effect on hitting the ball sacrifices the durability of the product. This product also offers a balanced swing weight with little motion of inertia and features USSSA BPF 1.5 certification. It also has a HYPERSKIN grip which allows a soft feel.
Pros:
Great price for its value
Has a great pop
Has a balanced weight
Cons:
Has flat spots
A few people say it dents easily
Easton Xl3 Senior League (-5) Baseball Bat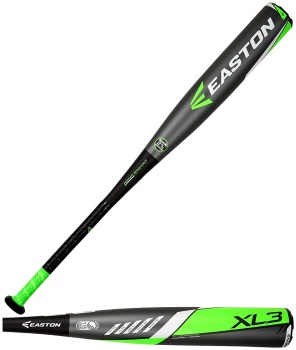 This youth big barrel bat comes in 2 sizes: 31"/26 oz. and 32"/27 oz. The bat is a one-piece build that is 2 5/8-inches in diameter and has a -5 oz length to width ratio. It allows the player to get a bigger sweet spot without being too heavy. Furthermore, it is 100% HMX aluminum alloy, giving it a nice pop.
Pros:
Weight distribution makes it easy to get around with
Allows for a decent bat speed
Cheaper than other brands
Cons:
Cap on the barrel has a tendency to break
Grip is not that durable
Louisville Slugger Solo 618 (-11) 2 5/8

This youth big barrel bat has a selection of five sizes that you can choose from. Furthermore, this one-piece baseball bat offers high heat and maximum speed. Thus, you may be able to control your swing through the zone in any manner you wish. It is also approved by USA baseball and has a one year warranty. As a result, this ensures that only the best satisfaction can come from this product.
Pros:
Excellent balance
Great grip
Does not have any stings
Cons:
Smaller sweet spot
Little to no pop
Has too much vibration
Easton 2015 SL15MK8T MAKO TORQ 2 5/8-Inch -8 Senior League/Youth Big Barrel Baseball Bat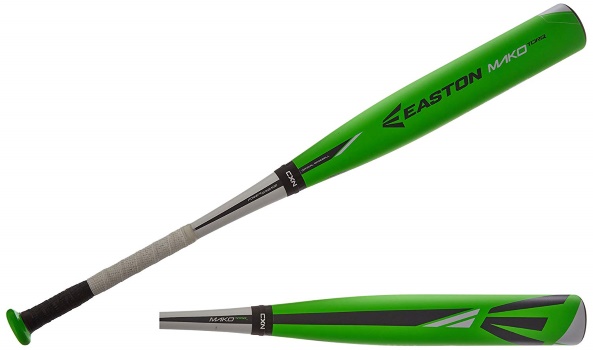 This product has a torque handle gauze grip that will enable the user. Moreover, this bat is USSA 1.15 BPF certified and has three options: 30 inch/22 oz., 31 inch/21 oz, and 32 inch/24 oz. It is a also two-piece bat with a composite handle that maximizes energy for powerful swings.
Pros:
Has excellent pop
Performs well when broken in
Gives a better bat speed than other brands
Cons:
Handle feels weird
Expensive
Needs to be broken in
Easton 2015 SL15S110 S1 COMP 2 5/8-Inch -10 Senior League/Youth Big Barrel Baseball Bat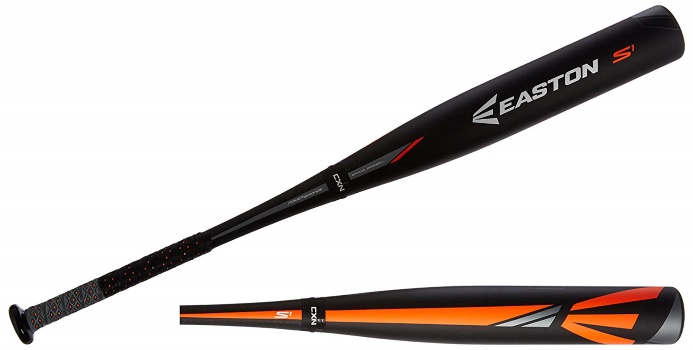 This is a two-piece bat that is made of a composite handle that is ultra thin. Moreover,  it has a performance diamond grip for easier swings and greater feel. This bat has a massive barrel that is also a composite that optimizes the sweet spot for optimized performance. Furthermore, the black carbon handle of the barrel eliminates vibration.
Pros:
Reasonable price point
Has a good pop
Swings fast
Cons:
Requires some time to break in
Delivery was a bit late
DeMarini 2014 CF6 WTDXCFX Big Barrel Baseball Bat (-10)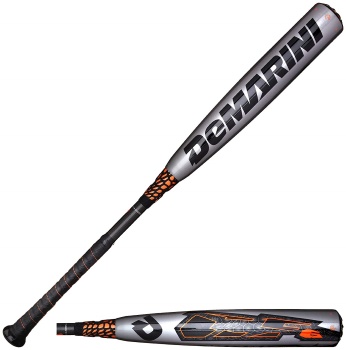 This is a 2-piece bat with a D Fusion handle that allows the user to heighten their performance using the barrel without sacrificing the feel. Furthermore, the handle is of Carbon Reinforced Composite. This makes it stiffer than other kinds of composite handles, which allows optimum energy transfer between the barrel and the ball.
Pros:
Incredible pop
Cheap for its value
Less vibration than other brands
Cons:
Not allowed in most leagues
Big barrel length
Types of Youth Big Barrel Bats
There are several types of youth big barrel bats to choose from depending on the type of result that you are going for. If for example, you are more of a power player, then you should look for a type of youth big barrel bat that allows you to have more power. Below are the types of youth big barrel bats that players typically use in Senior League Baseball.
One-Piece Big Barrel Bats – One-piece big barrel bats use the same kind of material throughout the whole bat. The primary advantage of this kind of bat is the fact that it can produce a powerful strike when the player swings the bat to hit the ball.
Two-Piece Big Barrel Bats – The two-piece big barrel bats are of two different parts made into one bat. It is usually the handle that differs from the rest of the bat, and they come together. The main advantage that a player can get from this type of bat is that it allows the barrel to flex at the point where the bat hits the ball and creates a trampoline effect. Another advantage of two-piece barrel bats is that it offers less vibration when the ball hits the bat.
Alloy Bats – Alloy bats are a primary alloy or sometimes mixed with other metals to make a strong product. Alloy bats have the advantage of having the strength necessary to allow a strong barrel wall despite being thin. Most college league players use alloy bats for this reason.
Composite Bats – These kinds of bats are a mixture of carbon fiber, fiberglass, graphite, and in some cases Kevlar. The advantages of composite barrels are that these tend to have a bigger sweet spot than alloy bats. They are usually able to break up the vibration upon impact with a ball because these are made up of two pieces. However, some leagues restrict their use depending on the rules.
Hybrid Bats – This is the type of bat that uses an alloy bat as its barrel and is bonded with a composite bat handle. The alloy part of the bat allows the bat to weigh lighter and the composite part of the bat has the ability to become longer. As a result, it gets a bigger sweet spot. These usually cost less than an alloy bat and more than a composite bat.
Wood 2 5/8-Inch Baseball Bats – The 2 5/8-inch baseball bats are smaller in comparison to 2 3/4-inch baseball bats. Most 2 5/8 bats are more expensive in comparison to 2 3/4 bats because of the fact that they are more in demand and they have lighter drops in comparison to 2 3/4 bats with the same length.
Wood 2 3/4-Inch Baseball Bats – These types of barrels are bigger in length, and thus have a larger hitting surface. The problem with some of these bats aside from being restricted in some leagues is that sometimes these bats end up being too thin in comparison to 2 5/8 inch bats.
KEY CONSIDERATIONS WHEN BUYING A Big Barrel Bat
Youth big barrel bats come in an array of sizes, which may offer multiple options for the youth player to pick. There is no "one size fits all" when it comes to youth big barrel bats because they offer different kinds of attributes. As such, personal preference should play a key role in selecting a baseball bat in order for one to be able to select how to choose a youth big barrel bat that fits them right. Here are some of the factors that you should look into when choosing a youth big barrel bat.
Selecting the Material of the Bat – If you are new to using baseball bats, you may want to opt for metal bats as opposed to selecting traditional wood bats. This is because metal bats are lighter in weight and are easier to control than wood bats. However, batted balls from lighter bats have a higher speed than wood bats, and as such may impact away from the sweet spot.
Height and Weight of the Player – The player's weight and height are essential to finding the right bat because it is the main factor in determining whether or not the bat is heavy or light enough for the player. If the bat is deemed too heavy for the weight and height of the player, the swings will result to many foul balls because the player is not squarely making contact with the ball. Lighter bats will result in the player not being able to perform at their maximum.
How to Take Care of a Youth Big Barrel Bat
Just like any good item, in order for a player to be able to use their bat correctly is to break in their bat properly and learn to maintain it once it has been broken in. Not all bats are ready to be used upon purchase because there are certain areas of the bat that need to be reinforced in order to prevent the bat from breaking. Additionally, there are certain things to be done in order for the bat to be able to keep to perform at peak performance. Here are some of the tips on how to take care of a youth big barrel bat.
Break in the Bat Before Using – Breaking in the bat is a requirement for some. Not all bats may require breaking in, such as aluminum youth big baseball bats. Composite bats, on the other hand, need about 150-200 hits before they start performing at their peak. When breaking in baseball bats, start at 50% power and gradually add power as your swing count rises. Rotate your bat at every 1/4 inch to ensure the evenness of the bat is broken in.
Limit the Use of Your Bat – Bats are often made to become durable, but they are also susceptible to wear and tear in the long run if they are constantly under pressure. If the bat is often used for batting practice, chances are the bat's life will be shortened. It is advisable for players to use demo bats for batting cage practice.
Do Not Use Your Baseball Bat to Knock Off Dirt – Chances are there will be times where your baseball cleats will have dirt on them, and your most common reaction will be to reach your bat and knock off the dirt with your bat. This bad habit is something you should not do, as doing so will potentially damage your bat. It will leave you with a bat with small cracks and wear which can lead to big damage in the long run.
Final Thoughts
In summary, even the best youth big barrel bats have its advantages and disadvantages. Not all bats are made the same. It also carries some properties that a user may like or dislike. If you have a youth big barrel bat in mind, learn how to take care of it first. There are many types of youth big barrel bats, so choose the one you feel is right. Finally, remember, the best way to win the game is not through your equipment, but with practice.