Best Softball Cleats
Softball cleats are shoes that are meant for softball games. Typically they consist of a normal rubber shoe with a sole that has 8 to 15 protrusions.
They are typically lighter and are more versatile than metal cleats. There are many brands of softball cleats out there.
A person may find it hard to look for softball cleats since they are similar to other types of cleats. So before digging in, its best to know the different types.
Best Rated Softball Cleats Reviewed
It may be confusing for a person to find the right pair. If you consider the things we mentioned above, it should not be that tough. However, to help even more, here are some suggestions that may give you an idea to find the right pair.
Mizuno Women's 9 Spike ADV Finch Elite 2 Fast Pitch Molded Softball Cleat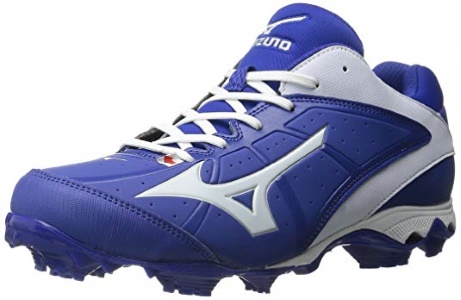 This product is made up of synthetic materials as well, which makes it durable and lightweight. The sole is also made of synthetic material. The thermoplastic polyutherane cleats are made for a good feel and optimized fit. Furthermore, this product has nine spikes, which are designed for a fast pitch. It also provides stability and quick movement. The cleats do not dig as hard as metal cleats. The waved cushion of this pair of cleats also provides stability and comfort, while the padded booty tongue is for comfort and fit.
Pros:
Very comfortable
Tongue does not bunch up after prolonged use
Does not need to be broken in
Cons:
Size runs smaller than expected
Base of shoe may have a tendency to rip off
Expensive than other brands
Under Armour Men's Leadoff Mid RM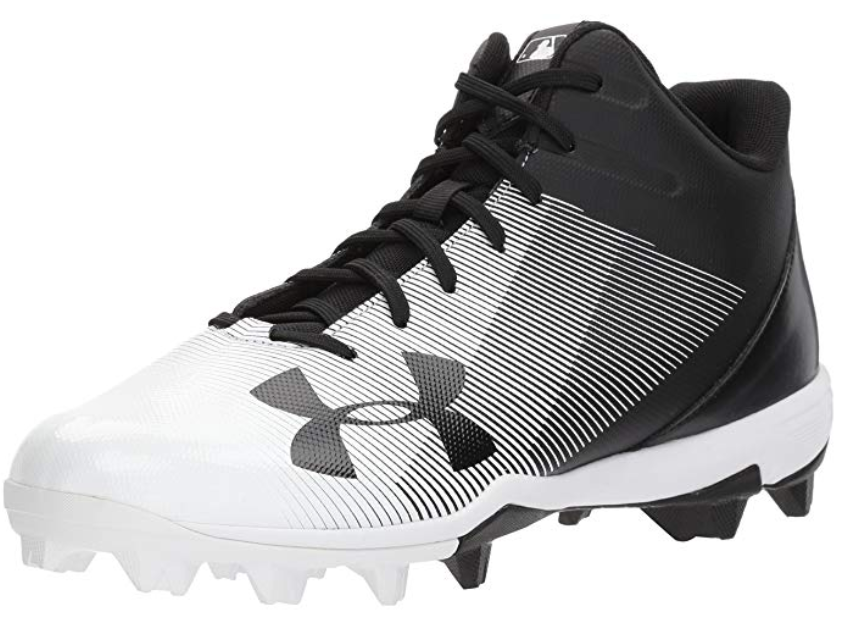 This product has a material that is of synthetic leather which is for comfort and stability. It has a mesh tongue which provides the user to have a breathable shoe that will help it stay dry and cool all day long. Furthermore, the full-length EVA midsole adds comfort to the shoes, which helps in dispersing cleat pressure throughout the feet. The cleats are of rubber, which will provide appropriate traction to the ground you are stepping on.
Pros:
Offers big sizes
Cheaper than other brands
Grabs well in dirt and sand
Cons:
Width is a bit small
Sizes not meant for adults
Leather tends to wrinkle
Mizuno Men's 9 Spike Advanced Erupt 3 Softball Cleat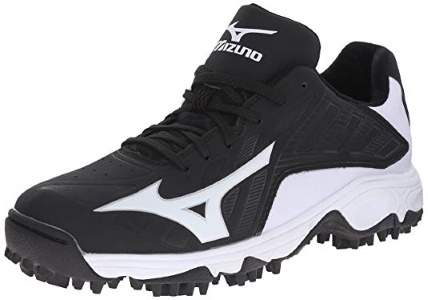 This product is from synthetic materials and has a rubber sole that provides the best grip possible without being too heavy. The round grip aggressive stud design allows for better traction and stability. Furthermore, the Proflex feature allows the wearer's forefoot to flex through multi-flex zones. This allows a natural movement of the feet when worn.
Pros:
Well made for its price
Offers great support
Durable and lightweight
Cons:
Shoe sizes run small
Thin material makes it uncomfortable to wear
Shoes are narrower than other brands
Mizuno Women's Finch Elite Switch Softball Cleat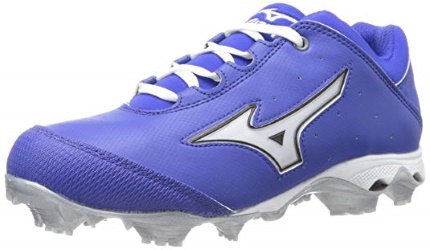 These baseball cleats are of synthetic materials and its sole sports a 9-spike outsole which is for fast pitches. The parallel outsole wave is for optimum cushioning and stability. This makes it the most comfortable pair of cleats available for women softball players. Furthermore, there are 6 color inserts available in this product, which will enable you to customize the color of your shoes.
Pros:
Provides great traction when worn
Offers great performance
Very comfortable cleats
Cons:
Top strap has a tendency to break
Tends to wear out quickly
Smaller size than advertised
Mizuno Men's 9 Spike ADV Erupt 3 Multi-Sport Mid-Cut Softball Cleat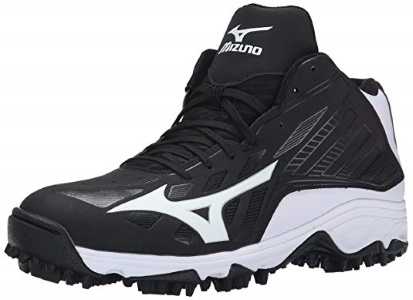 This product is of synthetic materials and fabric. It has a synthetic sole that provides comfort and stability no matter the weather conditions. Moreover, the cleat has a lace-up feature lightweight synthetic upper and outer traction outsole. It also has a pad tongue and collar so that there is more comfort. In addition, there is a full-length midsole for the same purpose.
Pros:
Has a better feel than hard cleats
High tops give added support
Very comfortable even in packed dirt
Cons:
Narrower than other brands
Toe box runs smaller than other brands
Requires breaking in
Types of Softball Cleats
Every type of cleat has different functionalities. Depending on your needs and your role as a player, you will have to know what kind of cleats are appropriate for you. Below are the basic categories.
Metal – The studs of metal softball cleats offer advanced traction in the field. They are usually blade-like and have a round edge which provides a stable grip on the ground. They may provide better security and stability whenever the user changes direction.
Furthermore, most professional players opt for metal cleats because they are ideal for base stealers, as they need great stability while running. For those in the batter's box, it provides them good traction against their swing. The disadvantage of metal cleats, however, is that it is not appropriate for all field conditions. Also, it tends to cause injuries to the knees or ankles. These cleats can also be hard on a player's foot.
Molded – Molded cleats can either be of rubber or other materials such as TPU. They attach to the sole of the shoe in a manner that does not harm the user's feet. The number of studs and their arrangement depends on the brand you buy. Generally, they are made as wide as possible. Most youth leagues use molded studs because it is easier on their feet and it will not injure them, unlike metal cleats. Not only that, they are more comfortable.
Furthermore, molded cleats are just as stable as metal cleats, but they tend to wear down faster. Another main disadvantage is that they have a tendency to slip, especially in rainy weather. They do not provide good traction.
Turf or Training Shoes – These types of cleats are of rubber sole material. Training shoes have a shallower pattern than the two types above. You can use them in batting cages where regular types of cleats are not allowed. Furthermore, you can use these for field practice and practice plays.
How to Buy Softball Cleats
Softball cleats wear down over time, which is why people often replace them with new ones or switch them up with other cleats. Knowing how to buy softball cleats is a tricky question. Most of the time, people buy softball cleats that are not compatible with their gameplay and their role in the field. This causes problems when it comes to performance. It is not only the fit of the cleats that count but also other factors. Here are some of the things to consider whenever you are going to buy a new pair of softball cleats.
League Requirements – Before even trying to play on the field with your desired cleats, it is best for you to check whether the cleats are allowed on the field. Not all leagues allow all types of cleats. This is because sometimes they cause injuries. For example, youth league players are not allowed to play in the field with metal cleats as they are too heavy for the feet. Furthermore, the metal studs can cause injuries to their developing bodies. Most of the time metal cleats are disallowed for safety reasons. But some leagues allow them for professional players.
Cleat type – Varying types of cleats offer different advantages and disadvantages to players who wear them. If your league allows all types of cleats, keep the disadvantages and advantages in mind and try to work out which kind of cleat works best for you.
Field Position – Not all cleat types are meant to be played by all players in the field. The design of the cleats will vary, depending on the specialty of the manufacturer. Generally, cleats will offer the same thing, which is stability and traction. But this may be a problem if the cleats the user is wearing are for a different level of stability and/or traction. For example, metal cleats are meant for batters. They will offer greater stability than traction compared to fielder's cleats. This is because of the fact that they are needed to counter the swinging movement of the batter. As such, it is not compatible for players who are always on the go.
General Fit – Like any good pair of shoes, cleats should have a great fit on the feet. A pair of baseball cleats that are too big may only result in the user walking funny. Meanwhile, a pair that is too small will only cause great pain and discomfort. One should keep in mind that baseball cleats should have a snug fit.
Final Thoughts
Looking for the best pair baseball cleats does not have to be as daunting a task as others would say. Usually, it only requires a good eye and knowing what kind of things you need in the field before playing the game. This also requires knowing what your role is in the field. The most important thing to keep in mind when buying a new set of baseball cleats is the league requirements. You will have to comply with them to avoid buying another shoe. The best baseball cleats above are just suggestions. Consider the pros and the cons before buying so that you have the best baseball cleats in the market.