Best Pitching Machine
This page contains affiliate links. As an Amazon Associate I earn from qualifying purchases..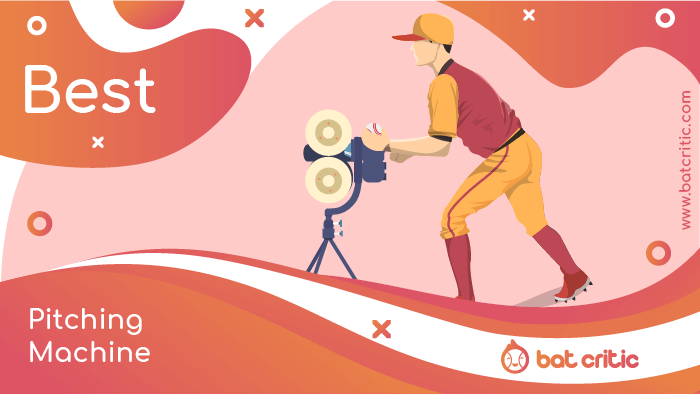 Baseball is one of the most popular games in the world, with millions playing the game every day.
The Sunday afternoon springtime games are not always enough to make a player the best he can be.
Sometimes, a batter needs a little more practice to get everything just right.
Pitching machines are the perfect way to do that, they keep you on the top of your game and allow you to enjoy some mindless, beloved fun right in the comfort of your very own home.
Best Rated Pitching Machines Reviewed
A pitching machine can and is an extremely expensive investment.
You should not take the decision to buy one lightly. With an entire catalog of products out there, it can be easy to get lost in the sea of results.
With that in mind, we have put together a list of our top recommended pitching machines so that the process can be easier.
Types Of Pitching Machines
Buying a pitching machine is more than just making sure that the machine works, it's important that machine also work for you. Depending on your skill level, age and purpose, the type of pitching machine that is good for you can be completely different than what is good for others.
Manual Pitching Machines – Manual pitching machines are pitching machines that are loaded and run by human power. These machines oftentimes don't have any electricity or battery power and are best used for young players or beginners. That's because these machines don't have too much power or stamina.
Compressed Air Pitching Machines – Compressed air pitchers are the children answer to electricity powered pitching machines. They aren't as powerful or as versatile as the typical three wheel or adult pitching machine, but they do provide more power than the manual pitching machine. Moreover, as these pitching machines don't have any exposed areas, they are a lot safer for children and inexperienced players to use.
Wheeled Pitching Machines – Wheeled pitching machines run using, you guessed it, a wheel. These pitching machines require a power source and have a very strong pitch as a result of the spinning wheel. The number of wheels, however, differ from model to model. As a general rule, the more wheels, the more versatility. Therefore, three wheeled pitching machines are a lot more versatile then a one wheeled pitching machine.
How to Choose a Pitching Machine
Choosing the right pitching machine for you is mostly a personal process. What works for you might not work for someone else, for any number of reasons. And that is why instead of trusting anyone else on what to buy, simply go through this list and trust yourself.
Lifespan and Warranty – How long you need the pitching machine to last for should be a main point during your decision making process. There is a big difference in price and function when buying a pitching machine for leisure versus a pitching machine for function. If you are looking for a pitching machine to help you improve your game and get you a college scholarship, you may benefit more from a machine that's built to last. The best way to know if a machine was made for the long run is by checking out it's warranty. Companies that are confident their product will stand the test of time, often include a long warranty or money back guarantee.
Speed – Really good pitching machines can often pitch at speeds up to 100 miles per hour, while cheaper machines usually can't go faster than 60 or 70 miles per hour. But even if you can't afford the fancy 3000 dollar machine, there's no reason to panic. This is because the closer you stand to the machine the faster the ball is. So instead of standing at the suggested distance of 60 feet away, try standing closer.
Portability – If you have a big backyard, then you may not need for your pitching machine to be portable, However, if you live in the city, being able to take the machine to the ball park with you might be a must. In order to increase portability, oftentimes pitching machines are built with wheels and battery packs. These allow you to take your machine with you anywhere and not worry about it dying. (Especially if you could just change the batteries).
Reloading – Part of the beauty of a pitching machine is that it allows you to make baseball practice a lone sport. However, if your machine can only hold 8 to 10 balls, forcing you to constantly refill the basket, then what have you really accomplished? Moreover, in order for you to be able to use a pitching machine solo then it needs to have an auto feeder, and not require manual loading. Both of these things are important to keep in mind before making any final purchase.
Pitching – What kind of pitching are you practicing? Do you want to hit fly balls? Grounders? Curve balls? Fast balls? Knowing this is vital before buying a pitching machine. This is because, not all pitching machines can do all pitches. Some need extra accessories, others can't do more than one at all, either way, it is important to know what you want to focus on when buying a pitching machine.
Cost – Quality pitching machines are no small investment, with some of the top ones costing close to 3000 dollars or more. However, if you're not looking to shell out the big bucks for a top-grade pitching machine, there are actually a lot of cheaper options that work pretty well. While you can't expect to get an MLB quality pitch, you can certainly feel certain that you're practicing well enough for your own junior league.
Skill – Similar to pitchers themselves, pitching machines come at multiple different skill levels. Buying a pitching machine that performs on your skill level is an important part of learning and utilizing the machine. This is because, if the machine is too easy then it won't serve any purpose, and if it's too hard then you won't be able to learn gradually.
Function – Different pitching machines have different functions and abilities. Some can throw curve balls and fast balls, while others focus more on fly balls and grounders. Knowing what you want the pitching machine for will help you choose the pitching machine that works best for and what you are trying to accomplish.
Brand – Brand is always a hot topic when it comes to quality. With many people assuming that top brands are naturally better quality than their less known counterparts. However, this is simply not the case. When it comes to a pitching machine, instead of focusing on the brand name, you should be focusing on function and warranty. These things are much more likely to get you the product you want, than just following a brand.
How to Get the Most Out of Your Pitching Machine
Pitching machines can be a great tool when it comes to batting practice when used right. However, in order for the machine to be a help as opposed to a hinderance you need to know how to get the most out of your machine.
Start Slow – Most pitching machines have multiple different speeds that can be adjusted according to skill set and preference. However, if you're just starting you then it's best to start out slow. Staring at a speed that is faster than you are comfortable with can result in you picking up bad habits in order to keep up with the pitching machine.
Change it Up – Once you have become more comfortable as a batter and you are ready to create new skills, the way to do that is by constantly changing the speed on the pitching machine. The constant change of speed will allow you to experience different types of pitches as well as keep you sharp.
Regulation Distance – Depending on the game you are playing, the game regulations regarding the distance of the pitcher form the batter change. Therefore, when practicing with a pitching machine it is important to keep these regulations in mind. The best way to get used to the distance that you will be faced with during the game is to practice with the pitching machine using that same distance.
Back to Basics – When it comes to batting, sometimes the most important thing is to have those basic skills down. If you want to get the most out of your pitching machine, then don't use it to teach yourself fancy new tricks, but rather let it help you get better at those old favorite batting stances and skills.
Move Around – Changing the angle of the pitching machine is also a good way to get a good feel for different pitches. It's important to remember that different from a pitching machine, people aren't perfectly consistent. Causing the machine to change it up will allow you to get a feel for what a real game might feel and look like.
Why Not Use a Live Pitcher?
There are definite advantages to using a real pitcher; they could give you pointers, they are more likely to resemble an actual game, and sometimes, it's just more fun. However, when first starting out there is a clear upside to using a pitching machine. Pitching machines offer beginner players the consistency they need. Whether it be because pitching machines allow for the same type of pitch to be thrown countless times, or it be because pitching machines don't tire the way people do. Regardless of the reason, the machine clearly offers a sense of consistency that helps beginners develop the skills they need to become great batters.
Pitching Machine Balls
Surprisingly, most pitching machines don't use regular baseballs, but rather special pitching machine balls. These balls are generally lighter and plastic, in order to put less pressure on the machine and ensure it lasts longer. Moreover, these differen balls allow for shape specific advantages to make the pitches stronger and more accurate.
Mini Balls
Mini balls are, as their name explains, mini. You use these balls to sharpen the focus of the batter and strengthen their hand-eye coordination. These balls come in two forms, soft mini balls, and fast mini balls.
Soft Mini Balls – These balls travel slower than their fast counterparts and people generally use them when the pitching machine has no choice but to be close to you. The closeness of the pitching machine allows the speed of the ball to become less important. The closer to the machine you stand the faster the ball feels.
Fast Mini Balls – These fastballs, quite simply, go fast. They are small and hard, which allows them to be light enough to move quickly. It can be hard enough to cut through the air, allowing for their speedy movement. And while they can be used indoors like their soft counterparts, it's generally not a good idea given their strength and speed.
Lite-Balls
Lite balls are the same size as a normal baseball and split up into three categories; soft lite balls, hard lite balls, and slider simulated leather balls.
Soft Lite-Balls – These balls are softer than normal balls and travel slower than them too. These balls are generally used in order to help develop hand-eye coordination on young and beginner hitters. These balls sole purpose is to tech batting skills, therefore, they need to be extremely accurate and paced.
Hard Lite-Balls – These balls are constructed out of hard and durable polyurethane. Moreover, these balls feature a dimpled design across the entire face of the ball, which allows the ball to soar faster and more precisely than other balls. These balls simulate the feel of a real baseball pitch more accurately.
Slider Simulated Leather Balls – People use these balls in pitching machines that have the ability to thrown curve balls. The low profile seams on the ball allow the spin they need in order to allow the ball to travel to different places around the batting zone. Not only does this allow for the practicing of hitting curve balls but it also stimulates the natural feeling of a random pitch a real pitcher would deliver.
"Real" Baseballs
These balls are not actually real regulation baseballs, but rather balls that simulate the shape, feel and weight of regulation baseballs. You can only use this in very specific pitching machines that are durable enough to handle the real weight of a baseball.
Poly Baseballs – These are balls that are the size and weight of a regulation baseball but don't resemble them in look and feel. They have a dimpled exterior which allows them to cut through the air easier and deliver a powerful pitch. However, the pitch that is thrown resembles that of an actual pitch most accurately.
Leather Pitching Machine Baseballs – These balls are made in order to truly feel as if the regulation ball is being simulated. The low profile seams on the ball allow slight movement in the pitches and simulate the authenticity of a real pitcher. These balls are also used in curveballs, as the movement helps them travel more accurately through the air.
Regulation Baseballs
There are countless pitching machines out there that claim the ability to thrown real regulation baseballs. And while that technically might be true, the truth of the matter is a lot more complicated than that. When using a regulation baseball in a pitching machine, there is a high chance that the seams on the baseball will wear out the wheel on the pitching machine. Moreover, the pain from the balls wear off on the machine and ruin the consistency of the metal. So, while it may seem cool to use real regulation ball in batting practice it's probably not the best idea if you want your pitching machine to stand the test of time. Just because you can, doesn't mean you should.
Final Thoughts
Baseball is more than just a fan favorite sports game, it's also a way that multiple Americans bond. Throughout the generations baseball has quickly become a family and community sport, offering friends a sense of healthy competition. However, as with everything in life, to be good at baseball requires hard work and dedication, to improve on throwing, catching and batting.
Pitching machines, one technology to help with some of these things, come in all shapes and sizes and finding the one that works best for you don't have to be a painful process. Don't let the multitude of options take out the fun and excitement. What's important to remember is that pitching machines are a great and fun way to work on your batting and catching, right in the comfort of your own home.