Best Hockey Skates
This page contains affiliate links. As an Amazon Associate I earn from qualifying purchases..
Finding the right hockey skates is as difficult as finding the perfect shoes. No single hockey skate can be said to be the perfect one because some people have different needs and preferences. Most of the time, if you are wearing hockey skates, your movement is different. Thus, you cannot compare wearing shoes to wearing hockey skates. Before finding the best hockey skates in the market available, we should first look at how to buy the right hockey skates, how to lace these up and know the difference between hockey skates and ice skates.
Quick Look at Our Top Picks:
Best Rated Hockey Skates Reviewed
Remember that price point is not always the answer when scouting for hockey skates, as some are for other kinds of players. Sometimes, cheaper is better, especially if you are a beginner. Also, make sure to bear in mind the things you should consider before buying hockey skates. The following list helps to make shopping for the best hockey skates easier for you.
Bauer Vapor X400 Ice Hockey Skates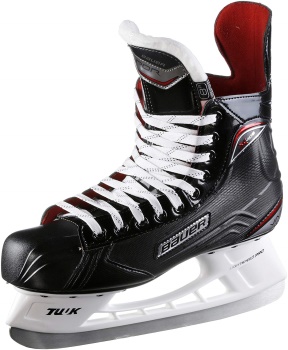 This hockey skate is for adults of both sexes. It is available in sizes as small as 6 and as large as 12. The outer shell of this hockey skate is durable. Furthermore, the item is rigid for the best possible performance and longevity. The X-rib design gives an unparalleled response by providing strategic support around the ankle. This product is heat moldable, so breaking in this product would be quicker than other brands.
Pros:
Holds up well
Great support
Gives ample support
Cons:
Needs to be broken in
A little restrictive on the ankle
Bauer Supreme S140 Senior Hockey Skate ( 1048625 )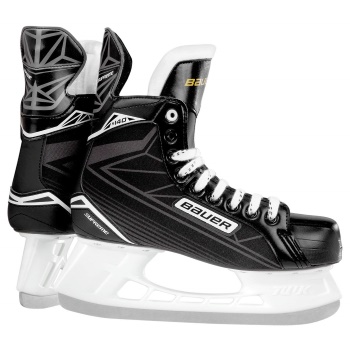 This product comes in two sizes. It features a classic fit that accommodates all varieties of foot types. The feel of this product makes it easy for new skaters to skate on these shoes. The skate requires little break-in time while it provides good heel and ankle support.
Pros:
Has good construction
Inexpensive for its quality
Great for beginners
Does not wear out easily
Cons:
Non-heat moldable
Sizes run small
CCM JETSPEED 260 SENIOR HOCKEY SKATES, 10.0 D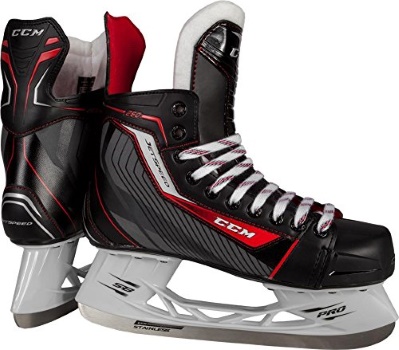 This product drastically improves the boot construction, fit and performance of the previous lines. Furthermore, this offers a "close to the foot" fit, making it comfortable. It is snug and secure without having to sacrifice its lightweight property. Moreover, the tongue is a two-piece design that provides maximum comfort and protection. The outsole has full exhaust ports which provides breathability and moisture management.
Pros:
Fits nicely
Very comfortable
Lasts long
Cons:
Very expensive
The material feels a bit cheap
Tour HOCKEY FB-225 SENIOR ICE HOCKEY SKATES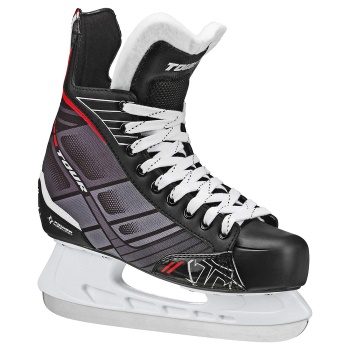 This pair of hockey skates is available in four sizes and has reinforced quarter panels. It has a deluxe foam padding, which allows for maximum comfort possible. This product allows the utmost stability and protection possible as it has a firm ankle support. Furthermore, the carbon steel edge blade ensures that you are able to be as quick as possible without having to worry about the blade breaking.
Pros:
Perfect for beginners
Cheap for its good quality
Very comfortable
Cons:
Needs to be worn in
Blade needs to be sharpened first
Some complain that it is stiff
Bauer Vapor X300 Ice Hockey Skates (Junior)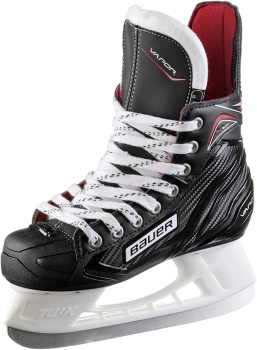 This pair of hockey skates is available in three sizes. Both sexes can use it, and it is for junior players. The exclusive boot construction provides 15% more ankle support than other brands, all the while providing the best anatomical fit for your child's feet. This product is thermo-adjustable, which allows to break them in more easily.
Pros:
Great for beginners
Lightweight
Has great feel
Cons:
More expensive than other brands
Needs more padding
How to Buy the Right Hockey Skates
While you may opt to buy ice skates as they are often cheaper and easier to find, we do not recommend this as hockey skates will give you a different kind of edge and protection. Not only this, ice skates are weaker than hockey skates when it comes to giving ankle support. This is crucial in playing hockey as the ankle is the main part of the foot that receives the most strain. Thus, if you are going to play hockey, leave your ice skates alone and read this guide.
Size – Generally, there are no uniform sizes when it comes to hockey skates just like any ordinary shoe. Some may be looser or tighter than other brands. Furthermore, using your usual shoe size may not be the best idea. If possible, find a physical store that carries the brand that you like. Then, use one of the skates' sizes there as a reference to get the size that you need.
Usage – Not all kinds of hockey skates are for the same kind of play. Moreover, some are for recreational play, while others are for professional. The use of the skate will also influence the price of. Thus, keep this in mind if you think that the skates are too cheap or too expensive.
Protection – Though hockey skates are durable, not all are made that way. As such, you should look for skates with a reinforced toe and a nylon boot for added toughness. The tall part of the boot should be solid enough to protect the Achilles tendon. Also, look for skates that have a tongue that stays in place when you lace up.
Stiffness – Not all hockey players need the stiffest boots in the market. Those are only reserved for the most advanced players who know what they are doing. If you are buying for a beginner or a youth player, you should probably opt for flexible or moderately stiff boots. Stiffer boots tend to be more expensive. For that reason, keep that in mind when looking for the right hockey skates.
How to Properly Lace Hockey Skates
There are hundreds of ways on how to properly lace a shoe, but there are some specific techniques that you should learn if you are going to purchase a pair of hockey skates, such as learning how to properly lace them up. Not only will proper lacing help secure the boot onto your foot, but it will also help reinforce the protection that it has so that it may cover your foot properly against harm. Here are five ways to properly lace up your hockey skates.
Under Crisscross Lacing – This technique is the most common method of lacing up skates, as this method is also used in lacing up new skates. To use this method, simply begin straight across on the inside and through the bottom eyelets. Cross the ends under each eyelet pair by feeding under the sides and out through the next higher set of eyelets. Repeat until the lacing is completed.
The advantages of this method of lacing is that it offers maximum comfort than other types of lacing and is very easy to do, even if it only offers a traditional look.
Double Cross Lacing – Another simple way of lacing up your skates is by using this method. To do this, simply lace up to the preferred top eyelet using the crisscross lacing method. Begin to bow double up your laces once you get to the top when you begin to cross your laces.
The advantages of this method are that it allows the boot to be tightened firmly to the foot, it reduces slippage, and it is harder to loosen which makes it more secure than other types of lacing.
Lock Lacing – This lacing method helps in reducing heel slippage in skates and help in forwarding flex. To do this, lace the skate up to the second from the top eyelets using any lacing method explained before. Run the ends straight up on the outside and in through the top eyelets. Cross the ends and feed them under the vertical section of the other side. Return the ends to the middle to be tied and pull the vertical section inwards.
The advantages of this type of lacing is that it also tightens firmly around the boot, reduces slippage, gives the ends a shorter length and is harder to loosen, making the boot more secure.
The Difference Between Hockey Skates and Ice Skates
The difference between hockey skates and ordinary ice skates lies not only in their names, but also their functionalities and capabilities. This is the reason why hockey skates should be the ones you use whenever you play hockey. It will not only protect you from potential harm but also help you in securing the speed and changes you need. These skates adapt to the movements of their respective sport. Therefore, you cannot use them interchangeably unless they are for recreational purposes. You should examine their differences to avoid further confusion.
Function – Ice skates have long gently curved blades on leather boots that specializes in supporting elaborate and swift movements such as spins and twirls. Thus, they are less restrictive and provide less protection on the ankle of the boot in order to allow more movement. Hockey skates, on the other hand, are for speedy movements and quick turnarounds. This may require wearers to have thicker boots to protect them from possible injuries from such movements.
Features – An ice skate's blade is longer than a hockey skater. The ice skate has a curved end, which skaters use to create longs spins and skate in long curves. Ice skates also have picks on the front which allow them to jump on the ice. Hockey skates meanwhile, have no toe picks and has a stronger curve that is set closer to the middle of the foot. This allows for swift straight skating and turns to a full stop after.
Types – Ice skates can be designed for freestyle, synchronized skating, or ice dancing. They also have different attributes which serve specific purposes for each type of skating, such as freestyle skates having longer blades to allow more freer movements. Hockey skates are further special for three types of players: goalies, defensemen and forwards. Their differences from ice skating subtypes are subtle as it only requires only a few differences from each other.
Size – This is where both skates have a commonality. The appropriate skate for both sports must lie in the right side where the foot must lie flat in the boot while being snug. The difference between their sizes lies in the narrowness of the skate. Women's hockey skates are usually narrower than men's because they are meant to conform to the average size of a woman's foot. Ice skates usually are of the same width as men's.
Considerations – When it comes to ice skates, beginners can wear ice skates right away because they will learn how to balance themselves using said skates. Hockey skates are not allowed for first-time skaters because of their steep curve. So, first-time skaters for hockey should wear such skates only if they are already familiar with inline roller skates, as it follows the principle of movement of hockey skates.
Final Thoughts
Not all hockey skates are for the same purpose nor are for all kinds of players. These selections are some of the best hockey skates. Not only do they comply with the considerations that people look for when buying the perfect hockey skate, but their opinion on these skates are generally positive. Do not fret if you think that none of these skates are fit for your needs. There are many kinds of hockey skates that are available.