10 Best Wood Bats
This page contains affiliate links. As an Amazon Associate I earn from qualifying purchases..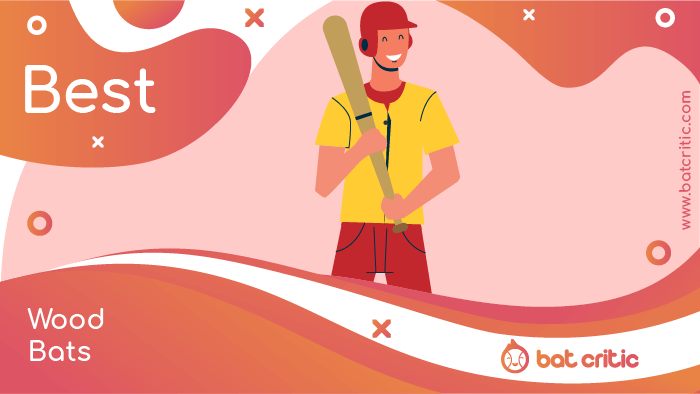 Many people will tell you that baseball is what makes the world go round. It's a game, a sport and for real fans, a lifestyle. But playing America's greatest pass time isn't as easy as the pros make it seem, with raw talent, exceptional gear and hours upon hours of training. However, having a bat in your hands and standing at the pitch can make you feel like a pro. But not just any bat either, a real genuine wooden baseball bat will do this job.
Quick Look at Our Top Picks:
Top 10 Best Rated Wood Bats Reviewed
Buying a baseball bat doesn't have to be a series of hit or misses. Knowing what to look for is half the battle, and we lay this out for you. Now, it's up to you to find the one that works best for you. Down below we list our top ten products, making buying easier.
Louisville Slugger Genuine Series 3X Ash Mixed Baseball Bat

This Louisville Slugger Genuine Series 3X Ash Mixed Baseball Bat is made from ash, which is a more flexible timber and results in less breakage. Moreover, this construction and timber makes for a perfect sweet spot and easy playing. Finally, this bat was pulled from production after the discovery of a minor flaw. And while this flaw doesn't affect the performance of the bat, it was bad enough to significantly lower the price. Allowing, for a cheap but high end wooden baseball bat.
Pros:
The handle thins out nicely
Weighted well with most of weight in barrel
Bat has a good grip
Cons:
Some found that it broke easier than expected
The Ash was found to be too soft
Easton S1 Hybrid Maple/Bamboo Wood Baseball Bat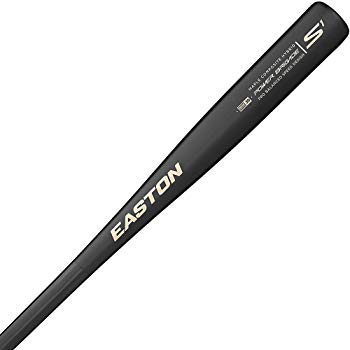 This Easton S1 Hybrid Maple/Bamboo Wood Baseball Bat features a balanced build for optimal speed and play. Moreover, this baseball bat is made from a mix of durable bamboo and professional maple. Additionally, the bat features a cupped end for a lighter more controlled swing. And finally, this bat comes with a 90 day warranty, meaning you can make sure it worked for you before committing to it.
Pros:
The bamboo core keeps the bat from cracking easily
The bat is balanced well
Bat has a good pop (power)
Cons:
Some found the bat to vibrate
Found to have a small barrel
BB-W Wooden Baseball Bat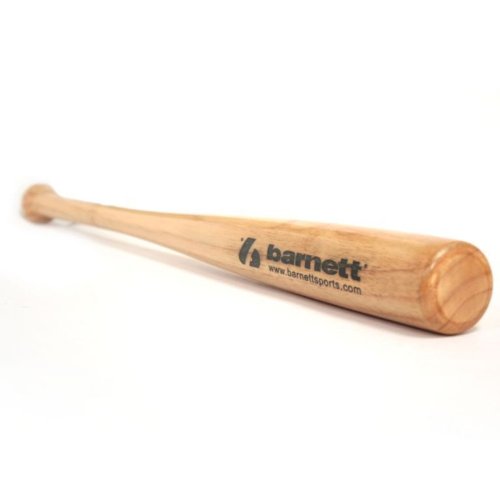 This BB-W Wooden Baseball Bat is from composite wood. This bat has a flat top for easy swing and a heavier feel. Moreover, this bat is made specifically for children and beginners. In addition, this bat should only be used with softer balls (as opposed to tee balls). And finally, this bat comes in multiple sizes, allowing you to buy the size that works best for you.
Pros:
Solid and strong
Many found the bat to be perfectly heavy
Affordable
Cons:
Head was found to be smaller than expected
Marucci AP5 Maple Baseball Bat

This Marucci AP5 Maple Baseball Bat is handcrafted from genuine high quality maple. Moreover, the bat comes with a tapered knob, tapered handle, a large barrel and an end loaded feel. Additionally, this baseball bat is bone rubbed for increased wood density. And finally, this bat is best for those who have previous experience hitting with wooden bats.
Pros:
These bats were found to be hard and tough
Comfortable swing with a barrel heavy hold
Reasonably priced with a good value
Cons:
Many found that the bat came damaged
Bat broke easily after a few uses
Louisville Slugger Youth 125 Maple Genuine Unfinished Baseball Bat

This Louisville Slugger Youth 125 Maple Genuine Unfinished Baseball Bat is built from genuine dependable maple wood, this keeps the wood from flaking and breaking. Additionally, the bat has a split black and white finish, with a black finished barrel. This bat is priced lowly and reasonably to fit into everybody's budgets.
Pros:
Durable
Bat has a good weight
Good balance
Cons:
This bat doesn't have a good grip
Bat is found to be lighter than expected
Easton MAKO Ash Youth Wood Baseball Bat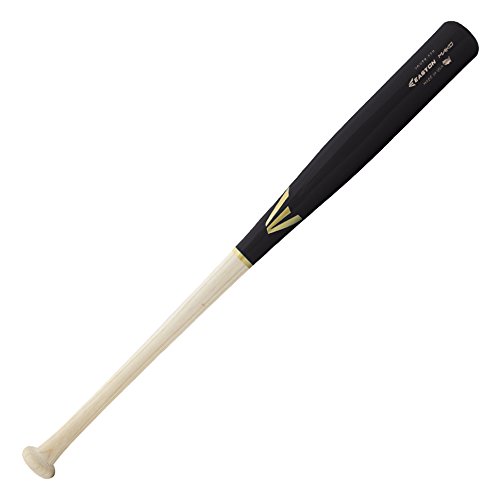 This Easton MAKO Ash Youth Wood Baseball Bat is an American made bat, featuring ash wood. Moreover, this baseball bat has a laser engraved handle and a cupped top for a light, balanced and controlled swing. Additionally, the ash wood has increased flexibility for longer distances and providing a larger margin of error for the batters. And finally, this bat is built to play like the MAKO youth bat, in order to make the transition to wooden bats easier for children and beginners.
Pros:
Durable and long lasting
Great pop
Light and comfortable feel
Cons:
Some have found that the bat is heavier than advertised
Rawlings Youth Velo Ash -7.5 with Ultra Thin Tac Grip Wood Bat

This Rawlings Youth Velo Ash -7.5 with Ultra Thin Tac Grip Wood Bat features an ultra-thin tac grip for a strong grip and easy control. Additionally, this bat comes with a larger hitting surface in order to create a wider sweet spot and an easier hit. Moreover, this bat is made with Ash wood which is flexible enough to pop and durable enough to withstand power. And finally, this bat is made for batters looking for a balanced but speedy swing.
Pros:
People have found this bat to be high quality
Strong grip and good balance
Bat features a sleek style
Cons:
The handle of the bat has been found to be cheap
Bat came broken to some
Easton K2000 North American Ash Baseball Bat

This Easton K2000 North American Ash Baseball Bat is made from all north American white ash, making this bat lighter, and more flexible. Moreover, the flex in the barrel also provides the bat with an increased sweet spot, making the bat easier to hit with. In addition, this bat features a rounded end for a smooth swing and balanced grip. And finally, this bat features a laser engraved barrel.
Pros:
Good weight distribution
Strong and durable
This bat has been found to have a good pop
Cons:
Some found that the bat wears out pretty quickly
Incomparable to other, better quality, bats
Rawlings Adirondack Natural Ash Wood Bat

This Rawlings Adirondack Natural Ash Wood Bat is made from Adirondack ash wood with a natural finish. The ash wood provides the bat with more flexibility, allowing for a greater sweet spot and a better pop. Additionally, this bat features a large barrel, in order to make it easier to hit the ball and provide the batter with better batting opportunities. Finally, this baseball bat also features a laser engraved knob.
Pros:
Good and solid weight
Many liked the length and look of the bat
Great pop and power
Cons:
Some people found this bat to be weak
The construction of this bat was found to be poor
FLASHTEK Natural Baseball Bat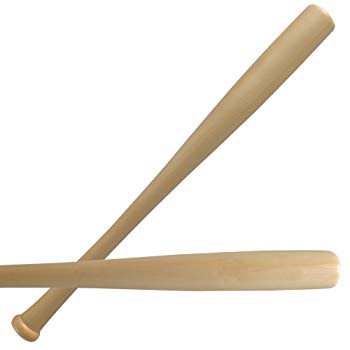 This FLASHTEK Natural Baseball Bat is an all natural hardwood baseball bat. Moreover, this bat can come in either a natural finish or a painted mix, two-tone finish. In addition, this tee ball is for kids, as it stands at only 25 inches tall. And finally, this fragile bat is for soft-strike tee ball only, because the wood can't withstand the pressure of a hardball and will snap.
Pros:
Easy to swing
People found the quality to be good on this bat
Has a smooth surface that's easy to hold
Cons:
Bat has been found to break easily
Many found that the bat was smaller than expected
Key Considerations When Buying a Baseball Bat
Buying a baseball bat sounds like it should be a simple process. Go over to your neighborhood sporting goods store and pick one up. But the real players will tell you that there's a lot more thought that goes into a player choosing his bat. With so many different options out there, finding the perfect bat for you really needs to come down to a science.
Size and Measurements
There are two components here, your size and the bat's size. And not surprisingly, these two components need to match up in order for you to find the perfect bat. In order to check what size bat you need, put your arm straight out to the side and measure the length from your chest to the tip of your index finger. Using that length and the weight of your body, you can find easy ways to calculate the size of your bat.
Pro Tip: An easy way to double check that you have the right size bat is to place it on the floor beneath you and ensure that your hand can reach the handle without bending down.
The Bat's Weight
Baseball bats have something called a "drop weight." The drop weight is the difference between the height and the weight of the bat, the bigger the drop weight the lighter the bat. Most people assume that the stronger they are the heavier their bat should be – well, most people assume wrong. The drop weight of a bat is actually a super personal decision. Keep in mind that the lighter the bat, the faster it swings but the harder it is to control, and vice versa. Therefore, the only real way to know what bat feels best in your hands is to just take a couple swings.
Pro Tip: There is a difference between the bat weight and the swing weight. The bat weight is the overall weight of the bat, the swing weight, however, has to do with the distribution of the weight.
What It's Made Of
Bats come in multiple different materials, the two obvious being, aluminum, and wood. But even when narrowing our search down to wood, there are still multiple different types of materials.
Maple – Maple baseball bats are the most common with professional players, making them a favorite by countless fans. And while it is true that this wood provides the bat with extra power, durability, and pop, it also comes at the cost of being the heaviest bat with the smallest sweet spot for hitters.
Birch – Birch wooden bats are another popular style, with plenty of new players finding this style is the easiest to work with. And while it is true that this wonderful wood has the ability to present the strength of the maple with the flex of the ash, it is also true that this wood is heavy like the maple. Moreover, this bat is also not a good option for those batters looking for speed in their swings.
Ash – Ash is one of the most common woods used in order to make wooden baseball bats. It has a wonderful pop, and great flexibility and is the lightest of the three kinds of wood, making it also the fastest swing. However, all good things must come at a price, and ash baseball bats are no different. As a result of the softness of the ash baseball bats, the ball is less likely to go far when hit and the bat is probably the easiest to break.
Know Your Bat
Before you can dive into the world of baseballs and reviews, it's important to know what you're talking about. A baseball bat has a knob, a grip, a taper, a barrel, and an end. Each part of the bat serves a different purpose for the overall build. Knowing how to identify each part of the bat and understand it's weight distribution can ensure that you buy a baseball bat most comfortable for you.
How to Choose the Right Bat for You
Choosing the right bat really comes down to two things, size and feel. While size isn't an exact science and there sure is an exception to every rule, for the most part, the correct height and weight on a bat will make it easier for you to swing stronger, faster and cleaner. However, the real deciding factor should be the way the bat feels. Hold it in your hand, swing it a few times, maybe even hit a couple balls. At the end of the day, there is no one best bat, just one best bat for you.
Why Not Aluminum Bats
Aluminum bats are fast, and durable and have a much greater sweet spot than their wooden counterparts, so why not just use them? Well in case you need reassurance that you were making the right decision, wooden bats make you a better player. This is because aluminum bats perform better on their own. Players that use them are considerably weaker. Furthermore, with wooden bats, the batter gets more feedback with contact and is able to use that to develop their skill, something aluminum bats have no ability to offer.
Pro Tip: The weaker hit forms the wooden bat actually make playing safer for the fieldsman during a game.
Recognizing Softball Bats
Recognizing the difference between a baseball bat and a softball bat can be difficult, especially when they're both wood and look largely the same. For one, the drop weight on softball bats is heavier, ranging up to 5 ounces. Moreover, baseball bats vary in width and size, while softball bats rest always at a comfortable 2.25 inches. Additionally, softball bats are usually longer than their baseball counterparts and have thicker handles as well. You can recognize all of this with logic, as a softball is significantly larger than a tee ball and would thus require a bat with a larger barrel.
How to Increase the Lifespan of Your Baseball Bat
It's very easy to find yourself constantly on the market for a new bat. However, there are certain ways you can increase the lifespan of your bat, making it last a little while longer.
Temperature – Wood is a fragile material, there's simply no two ways about that. The cold can damage it. It can grow too dense or waterlogged from something as simple as rain. And while sometimes it is unavoidable to play in these conditions, it's important to limit the use so that the bat won't snap and break.
Sharing Isn't Caring – We know this goes against everything you've learned since the first grade, but sometimes sharing is the absolute worst thing you could do. And when it comes to the lifespan of your baseball bat, this certainly is the case. Bats become increasingly sensitive with every swing and slam, and by allowing your friends to borrow your bat your drawing your bat's expirations day increasingly closer.
The Balls You Use – There are certain balls players call regulation balls. These balls are the perfect weight and density for baseball and baseball bats. Playing with balls that are too dense or too heavy will surely increase the chances of your bat taking too much pressure from a pitch and breaking in two.
Keep it Turning – Every hit on the bat places extreme amounts of force on its build. In order to keep one spot on the baseball bat from getting particularly weak, turn the bat every time you use it. Keeping the bat constantly rotating will keep you from hitting the same spot, over and over again.
Cleaning Up – Make sure when you clean your bat not to use anything with chemicals. All those magic cleaners will ruin the finish and wood of your bat and leave it basically useless. If your bat is dirty, then simply take a cloth and some soap and water and wipe it down – steering clear of the chemical cleaners at all costs.
How Much You Should Spend on a Baseball Bat
When trying to decide how much to spend on a baseball bat, use something called the "Rule of 7." The "Rule of 7" refers to the idea, that the bat you buy shouldn't cost more than seven times the amount of games you will play with it. For example, if your bat cost you 70 dollars, then you should be able to get at least 7 games out of it.  And while this is by no means a complete science, and there's no reason to spend less, this should keep you from spending too much more.
Final Thoughts
In summary, baseball has been America's favorite pass time for years. With countless fans tuning in week after week to watch the game play out and to root for their favorite team. But more than that, playing baseball is also, unsurprisingly, a phenomenon that sweeps the nation. Today, there are Little leagues, Junior leagues and even Senior leagues spending their Sundays playing the game they've learned to love. And while there are plenty of things that go into this, there's nothing like having the perfect bat.