The 10 Best Affordable Baseball Bats
This page contains affiliate links. As an Amazon Associate I earn from qualifying purchases..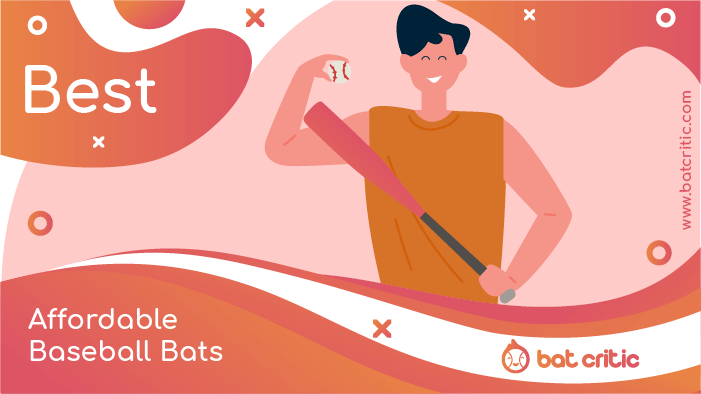 Baseball is one of the most watched and played games in the entire United States, and for many dedicated American's baseball has become worshipped and beloved throughout their families.
This love for the all American game has resulted in hundreds of personal leagues, little leagues and countless other groups forming in order to play the game for themselves.
However, in order to do so one needs to have the essential gear and equipment. Baseball bats however, can cost hundreds of dollars and be well out of the price range for most average earners.
Quick Look at Our Top Picks:
IMAGE
PRODUCT

Affordable
Requires minimal effort to control
Lightweight design

VIEW LATEST PRICE →

Lightweight and balanced
Affordable and has great value
Attractive and have a sleek style

VIEW LATEST PRICE →

VIEW LATEST PRICE →

best Cheap usa baseball bat

This bat has been found to have good quality
Good strong grip
Easy to swing and control

VIEW LATEST PRICE →

best cheap wood baseball bat

Solid and strong
Heavy and controllable
Bat has very good value

VIEW LATEST PRICE →
Best Rated Cheap/Affordable Baseball Bats Reviewed
Buying a baseball bat doesn't have to be an expensive investment. With mass production technologies as popular as they are today, it is easy to find a quality bat for a low investment. However, with millions of Google results popping up with every search, it can be difficult to narrow down your search to what is worth buying. That is why we made a list of our top ten recommended products, placed down below.
Louisville Slugger K100 Ash Wood Fungo Bat

This Louisville Slugger K100 Ash Wood Fungo Bat features specific design function to make hitting ground balls and fly balls easier, this allows for the team to practice both infield and outfield fielding. Moreover, the unique shape of the bat and the end weight design allows for a light weight and easy to control baseball bat. The lightweight design allows for strong hits without exerting much power. Finally, the flexible ash wood allows for good pop and a strong hit.
Pros:
Affordable
Requires minimal effort to control
Lightweight design
Cons:
This bat is found to be heavier than expected
Rawlings 2018 Raptor Alloy USA Baseball Bat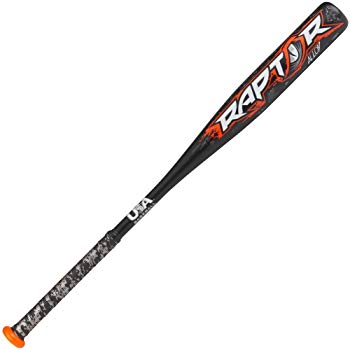 This Rawlings 2018 Raptor Alloy USA Baseball Bat is made of metal and offers balance and power all wrapped into one low price. Moreover, the low drop weight allows players to exert as little effort as possible while still maintaining a powerful hit. In addition, the perimeter end cap on the end of the bat allows for a lighter, faster and more controlled swing. And finally, the bat is made from aerospace grade alloy, keeping the bat durable and long lasting.
Pros:
Lightweight and balanced
Affordable and has great value
Attractive and have a sleek style
Cons:
Some people found that the bat came dented
The bat comes heavier than advertised or expected
Easton 2018 USA Baseball 2 1/4 S150 Youth Baseball Bat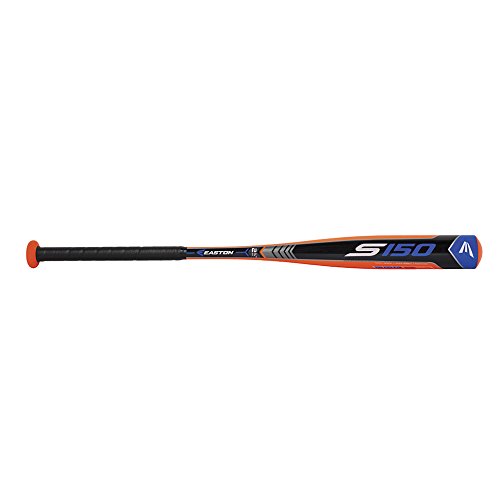 This Easton 2018 USA Baseball 2 1/4 S150 Youth Baseball Bat is a lightweight yet powerful piece of gear. Moreover, this baseball bat is made from ALX50 military grade aluminum for increased performance and long lasting durability. Additionally, the balanced design on the baseball bat offers a balanced, controlled and fast swing. And finally, the length weight ratio offers power upon contact and the pop that everyone loves to hear.
Pros:
People found this bat to have a great sweet spot
Easy to hit with and control
Good length weight ratio
Cons:
This bat was found to be heavier than expected
People found this bat to have bad weight distribution
Louisville Slugger Solo 618 (-11) 2 5/8

This Louisville Slugger Solo 618 (-11) 2 5/8″ USA Baseball Bat has Hyper alloy construction, allowing for a strong transference of power and an increased controlled swing. Moreover, the end cap of the baseball bat allows for an increased speed swing. In addition, this bat was approved for play in USA games, ensuring you both safety as well as quality. And finally, this bat comes with a one year manufacturers warranty, ensuring you the highest quality service and product.
Pros:
This bat has been found to have good quality
Good strong grip
Easy to swing and control
Cons:
Some found that this bat had no pop
People have found the bat to vibrate too much
DeMarini 2018 Voodoo (-10) 2 5/8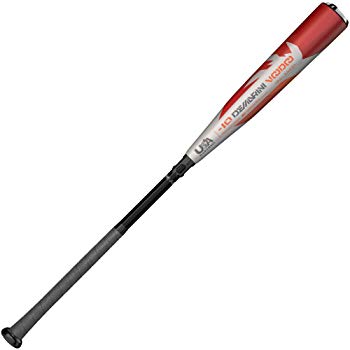 This DeMarini 2018 Voodoo (-10) 2 5/8″ Balanced USA Baseball Bat features a one piece X14 alloy for more even and equal weight distribution throughout the baseball bat. Additionally, the 3Fusion handle also helps to keep the weight distribution spread out. Moreover, the bat features a balanced and controlled swing weight. And finally, this bat has been approved for play in the USA, assuring both quality as well as safety.
Pros:
Many have found that this bat features a nice pop
Swing speed of the bat was good
Good balance and weight distribution
Cons:
People found this bat to wear quickly – affecting performance and pop
A bit expensive
Barnett BB-W Wooden Baseball Bat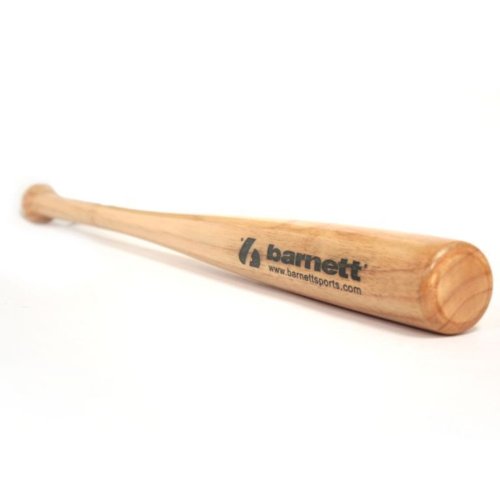 This barnett BB-W Wooden Baseball Bat is keeps the child or beginner player in mind. The bat is for leisure and practice use only. Moreover, this bat is from composite wood which makes for easier contact than with other more powerful aluminum bats. In addition, this bat has a flat end, making the bat slightly heavier for those that like the heaviness for control. Finally, the lack of power in this bat keeps the ball from flying far, making it perfect for practice hitting.
Pros:
Solid and strong
Heavy and controllable
Bat has very good value
Cons:
People found the head of the bat to smaller than expected
This bat is smaller than advertised
Cold Steel 92BSS Brooklyn Bats, Crusher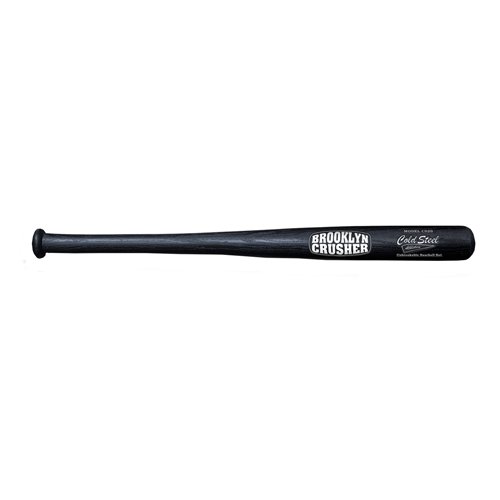 This Cold Steel 92BSS Brooklyn Bat is of polypropylene material, making the bat extremely durable. Moreover, because of the material, this bat does not break, crack or rot- even including a warranty to keep you happy. Additionally, these bats are easy to clean and don't ruin easily from environmental factors. Finally, these bats come in multiple sizes and you can be use them in any game, including little league.
Pros:
Easy to swing and control
Extremely durable
Surprisingly lightweight and balanced
Cons:
Some found that the bat dents and wears quickly and easily
COMBAT SL7MX211Baseball Bat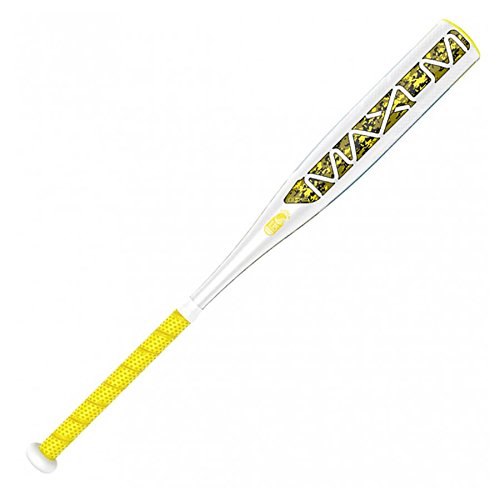 This COMBAT SL7MX211 Baseball Bat has seamless construction, ensuring the highest quality. Moreover, this baseball bat features a lizard skin grip in order to make swimming and controlling the bat easier. In addition, this bat has a larger hitting surface than other competing brands, making the ball easier to hit and the bat's sweet spot bigger. And finally, this bat features the longest barrel in the industry, making the bat heavier, easier to control and making the sweet spot larger.
Pros:
Great quality
Good value for money
Delivers an incredible pop
Cons:
Many found that this bat didn't have a long lifespan
Easton Beast X Hyperlight Tee Ball Bat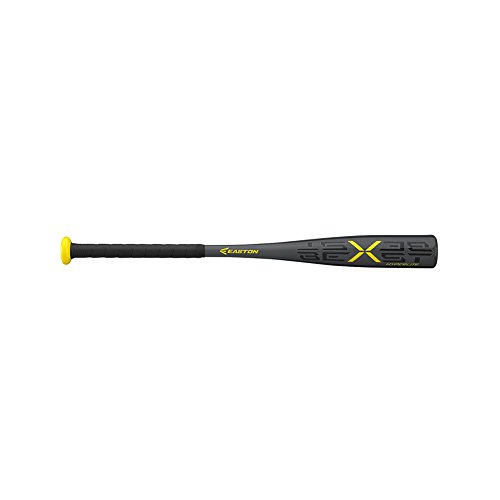 This Easton Beast X Hyperlight Tee Ball Bat offers a powerful and speedy swing. In addition, this baseball bat is lightweight, making it perfect for young children who want to have the power of a heavier bat with the control of a lighter one. Moreover, you need to use this bat with only approved tee balls, as unapproved ones can be dense and too heavy – ruining the bat. Finally, this bat comes in multiple lengths, allowing anyone who wants to use it comfortably.
Pros:
Good construction
Lightweight and easily controllable
Affordable
Cons:
Some found that the bat came damaged
SKLZ Baseball Speed and Power Training Bats

This SKLZ Baseball Speed and Power Training Bat features a thinner barrel, forcing the player to develop better hand eye coordination and to focus on bettering their hitting. This bat is lightweight, allowing you to hit more before getting tired and ensuring you get the best practice. In addition, this bat features durable aluminum and a strong grip, this allows for easier control and balance in swings and hits. And finally, the lightweight build allows for a high speed, yet controlled, swing.
Pros:
Lightweight and easy to control
Durable aluminum
Strong grip
Cons:
Some found this bat almost too lightweight
Key Considerations When Buying a Baseball Bat
There are thousands of different features and options for baseball bats out there on the world wide web. But in order to buy the right bat, there are a few things that should be considered before purchase.
The Material of the Baseball Bat
The material of a baseball bat can vary, from wood, composite wood to even aluminum; each material serving its own set of unique advantages.
Aluminum – Aluminum bats have an immense amount of power and are generally more durable than their wood counterparts. Moreover, wooden bats require a break-in period in order to perform at their best, which metal bats don't require; allowing them to be used straight out of the box.
Composite – Composite bats are bats from a blend of wood and other synthetic materials. These bats will generally be cheaper than all wood bats and have the advantage of vibrating less upon contact, making the bat easier to control and the hit more powerful.
Wood – Wooden bats have the best look, most comfortable feel, and the best natural grip; plus, when using them you get to look and feel like a real MLB player. Wooden bats have the least vibrations and the most unique swing, as they require a personal break-in period. These bats, however, are the easiest to break and wear and splinter the quickest.
The Length of the Bat
The length of the bat has everything to do with your height and the length of your arms. The best way to check if the bat you have is the right length for you is to place it on the floor – with the barrel end down. If your hand can then comfortably rest upon the handle, then chances are the length of the bat is appropriate for you.
The Handles and the Grips
It may seem like a handle is just a handle, but that is in fact not the case when it comes to baseball bats. And surprisingly, the type of handle you have can strongly affect your ability to control your swing.
Thin Handle – A thin handle makes it easier for you to produce a quicker and more controlled swing.
Thick Handle – A thick handle, however, it better for shock absorption and stability.
Grip – Not every player likes a grip, however, there are those that find that the extra rubber padding allows for a more stable hold and a steadier swing.
Knob – Many people prefer a bat with a knob because this added feature helps keep the bat from slipping out of your hands while batting.
Weight
The weight of the bat affects two things, the speed and the power of the swing and hits. And the different weights, serve different purposes for different batters and players.
Heavy – Heavy bats, when controlled correctly, have extremely powerful hits. They have the advantage of requiring immense control and allowing the batter to improve their hitting tactics.
Light – Light bats are geared generally towards weaker people. This is because the heavier bats allow for a stronger more powerful hit, that the lighter bats can't copy. However, the advantage of the bat being light allows for a more controlled and faster swing.
How to Buy a Baseball Bat
It may seem foolish to have to read up on how to buy a baseball bat, especially because it seems pretty straightforward. However, there's a lot more going into a baseball bat than people assume and knowing what to look out for can help immensely.
Know Your Hitting Style
Every player has their own unique hitting style and depending on this, they need to choose the type of bat to buy.
One Piece Bat – One-piece bats are from a solid piece of material, making the bat very stiff and very strong. Moreover, these bats have a great transference of energy keeping your hits strong. However, these hats don't swing as fast as their two-part counterparts.
Two Piece Bat – Two-piece bats are easier to break, putting them at a power and durability disadvantage. However, they are lighter and faster than their one-piece counterparts. This gives the batter a speed advantage and allows the building up of power.
Know the Advantages of Each Material
Every bat has its own unique set of features, each one serving a different purpose. The material the bat is from helps fulfill the purpose and perfect the baseball bats function.
Composite Bats – These bats are from an extremely durable material. They are from a blend of materials that are woven together, also creating the perfect pop for the baseball bat. Moreover, composite bats have a lighter swing weight and allow for a faster swing. Finally, composite bats absorb more vibrations than other bats and will result in less sting in the batter's hands.
Aluminum Bats – These bats are more affordable than the other options, and they require zero breaks in time to use. Moreover, aluminum bats have a stiff feel that allows the baseballs to jump off on contact and create a nice pop. Finally, these bats are also extremely durable and environmental factors do not affect them  the way wooden bats are.
Hybrid – Hybrid bats are generally bats with wooden barrels and aluminum or metal handles This allows for the advantages of each bat material to shine through together. The wooden barre makes for fewer vibrations and a more stable swing. And the metal handle allows for a more controlled swing with a tighter grip.
Weight Distribution
Different baseball bats distribute their weight differently, this affects the power, the swing, the balance and the overall performance of the equipment.
Balanced – Balanced bats are bats that have the weight distributed evenly across the entire barrel. This provides the bat with a faster swinging speed than their end loaded counterparts.
End Loaded – End loaded bats distribute the weight of the bat so that most of the weight falls towards the end of the barrel. This type of weight distribution makes for a more powerful and stronger swing and hit.
How to Care for Your Baseball Bat
Caring for your baseball bat doesn't have to be a difficult deal, but it can be the difference between a long and short lifespan for your bat.
Aluminum Bats 
Aluminum bats are easy to care for, simply wash them down with some soap and water and keep them out of reach of untrustworthy people. Since aluminum is a durable material that isn't affected by environmental materials, clean up and storage is almost never a problem.
Wooden Bats
Caring for your wooden baseball bat is a little trickier than caring for an aluminum one. Wood is a fragile material, so it requires gentle care to keep it in tip-top shape. So, here is how to keep your wooden bat in tip-top shape and ready for game time.
Alcohol Rub – Alcohol can be used for more than just drinking, it can also be used for cleaning. By running alcohol over your wooden bat you can clean up all the grime and dirt that gathers on it during the game. Having a clean bat is good for more than just aesthetics, a clean bat ensures a firm grip, allowing you the control and balance you need to hit that grand slam.
Keep Cool – Wood is a fragile material, and it needs to be cared of correctly or it will get ruined. Keeping your wooden baseball bat stored in a cool and dry place will ensure that you are keeping it away from the environmental factors that can ruin it. However, if your bat does get wet – despite your best efforts – then it is important you dry it up as quickly as you can, to keep the water from settling inside and ruining the wood.
Bend it Back – Dents in a wooden baseball bat are inevitable, it's simply the nature of the game. However, if you want to keep your bat as functional as possible then it is probably a good idea to use a piece of wood to rub out any bends or dents. Keeping your bat straight and dent free will keep it functional for longer.
Hang Like a Bat – When storing your baseball bat during offseason, it should quite literally hang like a bat – upside down. Keeping it in this position will keep the bat from being kicked over and getting ruined.
How to Know if Your Bat is Past its Prime
Bats aren't built to last forever, and sometimes it is just time to admit that your bat is no longer functioning the way that it should be. This is how to tell if the time has come for you to retire your bat.
Cracks – In composite bats, if there is a significant crack (not just a paint chip) then your bat is probably dead. However, do not confuse this with the spider web effect, which appears after you break the wood in. This is actually a sign that the bat is at its best now.
Dents – Aluminum bats won't allow for any cracks, given the durability of the metal. However, dents could be just as bad as a crack and effectively ruin the build and function of the entire bat. Dents can be the first hint of your bat ruining.
Sound – This is something that is only recognizable if you know the bat you're listening too. If your bat suddenly starts making a different sound than it usually does that is a clear sign that something is going bad. Moreover, if a thud sounds when the bat is hit against the ground, or a rattle rings when you shake the bat, then these are two signs that the bat might be on its way out.
Sting – It is normal for your hands to sting sometimes when playing baseball. If you hit a particularly powerful hit, or maybe you missed the sweet spot on the bat. But if you're consistently hitting the baseball bat's sweet spot and your hands are still painfully stinging after hitting that might be a sign that your bat is going bad.
Pop – A baseball bat's pop is a very valuable feature. This is because, if the better the pop, the better the performance. However, if you find that the pop on your bat has declined recently, it may be because of your bat it on its last legs. The effect on the performance can and will be the first thing to do with a dead bat.
Broken – If the knob of your handle has fallen off, or the top capped has popped then it is probably time to say goodbye to your beloved baseball bat. Unfortunately, not only are these breaks irreparable, but they may also be hinting at a larger problem that means your bat was already on its last legs.
How to Keep Your Bat from Getting Ruined
Keeping your baseball bat healthy doesn't have to be a difficult process. Simply ensure that you are following the correct tips and that you aren't doing anything to keep your bat in harm's way.
Sharing is not Caring – Different than most everything else in life when it comes to baseball bats sharing is not caring. Because with every hit and swing there is a chance of breaking the bat, it's better to keep your equipment to yourself and try and keep the wood as strong as possible.
Keep it Cool – Try keeping your bat below 60 degrees Fahrenheit. This will keep the wood from ruining through environmental factors that you can't otherwise control.
Keep it Warm – While it is true that your batt should be fairly cool, it is also true that being too cold is a problem. Keeping your bat at a temperature that is too cold can result in it breaking easier or ruining the wood.
Use Regulation Balls – Non-regulated balls are generally denser and harder than the regulated ones. This can result in the ball applying too much pressure to the bat and then causing irreparable cracks and dents.
Keep it Turning – Keep your baseball bat turning when using it. This will keep you from applying too much pressure to one spot and causing a crack or dent.
How to Break in Your Baseball Bat
This may not seem like much sense, you don't wear a baseball bat, what could there probably be to break in? While it's true that this process is worlds apart from breaking in a glove or a shoe, wooden (and even sometimes aluminum) bats get better after having undergone a couple hundred hits.
Tee Ball – Using your bat to hit off a tee ball can help you break in your bat. Make sure to keep rotating the bat as you continuously hit to keep from weakening one spot and make sure to increase the power of your swings as you hit.
Soft Toss – After increasing the pressure on the tee ball it's okay to start tossing the ball with another person. However, make sure to remember to keep your bat rotating and your tosses soft as to not put too much pressure on the bat.
Batter Up – Once you're confident that you have – to some extent – broken in your bat, it's a good idea to start hitting balls coming from a real pitcher. Not only is this good batting practice, but it can also help you toughen up the wood on your bat and prepare it for a real game.
Pro Tip: Only use certified baseball when breaking in a bat. Noncertified balls will be too dense and hard and can ruin the bat. And rubber or plastic balls won't be strong enough to work in the breaking in process.
Final Thoughts
In conclusion, baseball has been a fan favorite sport for generations. From the games to the cards to the sport, people love every aspect of it. But taking part in the game nowadays doesn't require you to be a pro athlete. Sometimes it's as simple as joining your own league and joining in on the fun. With mass production technology, and the internet at your fingertips, you can do so without breaking the bank or even lifting a finger.