Best Youth Catcher's Gear Sets
This page contains affiliate links. As an Amazon Associate I earn from qualifying purchases..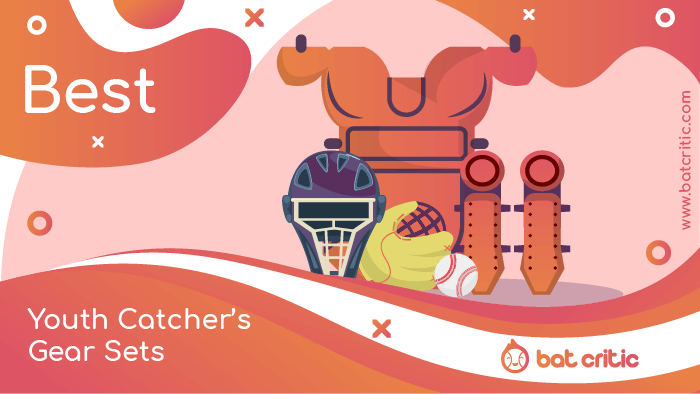 Catcher's play an important role in the game of softball or baseball. Even though they aren't out in the field, since they are right behind the batter and receive the pitcher's throws, they are actually quite susceptible to being hit.
For this reason, purchasing a sturdy, protective catcher's gear set is essential to making a great catcher.
Best Rated Youth Catcher's Gear Sets Reviewed
There are different products on sale in the market that might make it hard for you to buy the right product you want.
Any player who wants to be at the top of their game will find the right gear that will give him/her the confidence to be the best out on the field.
Mizuno Boy's Youth Samurai Box Set Catchers Gear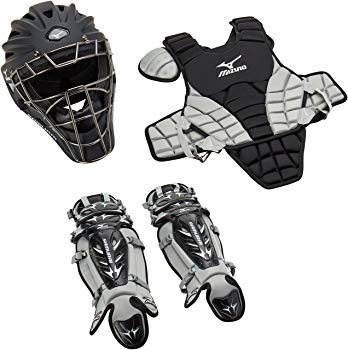 Samurai youth catcher's gear comes with a helmet, shin guards and a chest protector that will provide the player with all-around protection on the plate. Moreover, the set also comes with a gear bag that the player can use to store the gear. This makes it easy to carry. Any player that is looking for all-round protection can check out this kit.
Pros:
The extra padding on the knee and shin guards provides enough protection
Chestguard material effectively absorbs the impact of the ball
It is a comfortable and flexible set to wear
Cons:
Shin guard straps are too long
Helmet obstructs the view of the player
Under Armour PTH Victory Catchers Kit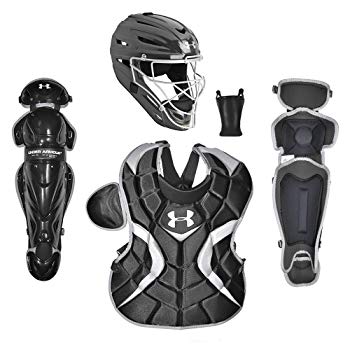 It is a catcher's kit that is suitable for players who are in the entry and immediate levels. The helmet's padding and lining will protect players from high impact balls and still keep them dry and cool. Moreover, its chest guard is of molded plastic material and will provide added protection. The washable shin and kneepads will perfectly fit offering the legs comfort and protection at the same time free movement.
Pros:
The leg guards are comfortable and fit well
Made in a way that makes it easy to put on and take off
It is made of durable, heavy-duty quality material
Cons:
Chest protector is a bit too big
The helmet can be a bit tight at first
Louisville Slugger Youth PG Series 5 Catchers Set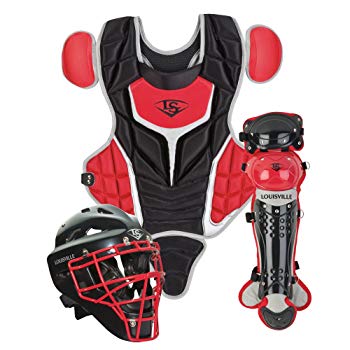 The Louisville Slugger catcher set provides all-around protection for the catcher. You get more padding on the chest protector and shoulder pads to absorb the shock of the high-velocity balls. Moreover, it has a double knee design that will fit you better in helping a player to move without restriction. The kit also has a helmet, shin guards and chest protector to help the player perform at the top of their game.
Pros:
The shin guards fit perfectly
The set is easy to fit and adjust
It is of good quality material
Cons:
The helmet is a bit tight
A throat guard is missing from the kit
All-Star Inter System7 Axis Pro Catcher's Set (Ages 12-16)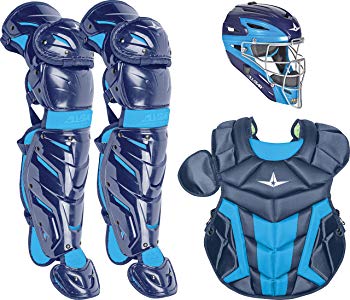 This is a catcher's set that is suitable for players in the intermediate level. It also comes with a hockey-style helmet, a chest protector with diamond vents to reduce the weight and leg guards. The helmet is of high impact resistant plastic material with breathable mesh padding providing protection and comfort. Moreover, the chest protector has a flatter surface for blocking the balls.
Pros:
The gear is durable and comfortable
Chest protector absorbs the impact of the balls well
Leg guards fit well and are east to move in
Cons:
The helmet is a little bit heavy
Some say the delivery was a bit messy
Youth Catcher Gear Pack - Black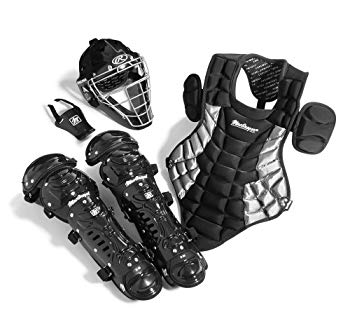 Being a youth catcher's gear, it comes in a black suit that is suitable for players of ages 8-12 years. Moreover, it comes with a hockey design helmet, a chest protector, double knee leg guards and a 4-inch throat protector. The helmet can also be adjusted to fit the players head for maximum protection while in the plate.
Pros:
It fits well and is flexible
Chest protector provides ample protection
Leg guards have good clips that stay in place
Cons:
The helmet's padding is not properly glued
Customer complained of delivery of the wrong helmet
Wilson EZ Gear Kit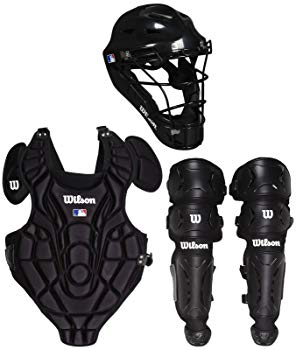 This is an EZ kit that is made for young players to use. Moreover, you can easily put it on and take off. It is a heavy-duty gear set that provides all the necessary protection for a young catcher. The kit also has a helmet, chest protector and shin guards that provide all-around protection. It is also made in small and medium sizes for players of ages 5-7.
Pros:
It is easy to wear the chest protector and make adjustments
Allows the player free movement behind the plate
The helmet provides good protection
Cons:
The Velcro on the leg pads keep coming off
The kneepads are a little uncomfortable
Easton M5 Youth Qwik Fit Catcher's Set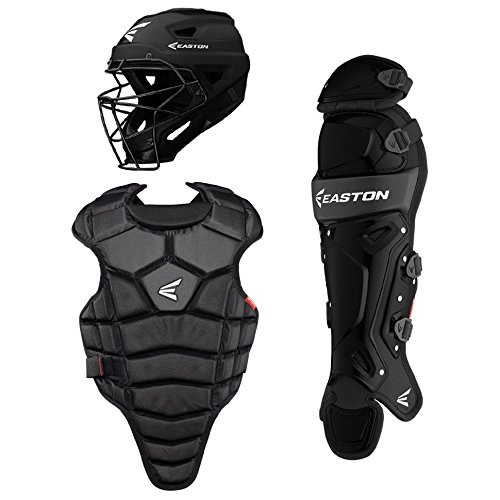 The Easton's Qwik fit catcher's kit is ideal for young players from the ages of 9-12 years. This kit comes with a matching helmet, chest protector, and leg guards. Moreover, it is shock-absorbing, durable and the airy mask will provide the player with protection deflecting the balls. It also comes with a 14-inch chest protector that is easy to wear. The adjustable strappings protect the chest from the ball's impact.
Pros:
Extra padding offers good protection
The helmet is very comfortable to wear
The gear is made of durable material
Cons:
Shin guard latches are a bit hard to unsnap
Chest protector can be a bit tight
Under Armour Game Ready Catcher's Kit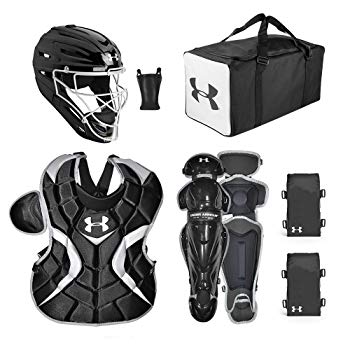 It is a game ready catcher's kit that comes with a catcher's helmet, a chest protector, leg guards, a throat guard, knee savers and an equipment bag. Moreover, it is an all-round kit that is suitable for players at the intermediate level. The helmet is also certified for play by the nocsae. The padding and durable material will also provide the player with all the protection they need to bounce off the high pitch balls.
Pros:
Very comfortable and flexible
Offers adequate protection on the field
It is an affordable set to buy
Cons:
The equipment bag and knee savers were missing on delivery
Helmet is a bit small for intermediate player
ALL-STAR CK912PS Player's Series Catcher's Kit in Your Choice of 4 Colors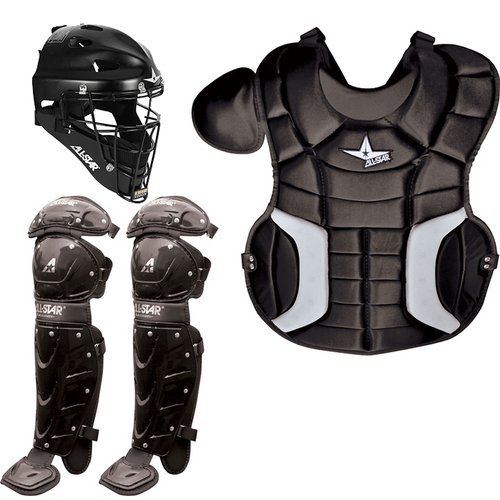 This All-star catcher's kit gives a player better protection, more professional look, and comfort. Moreover, it comes with an MVP hockey-style catcher's mask, a chest guard leg guards, a catcher's throat guard and a catcher's equipment bag. Any player using this kit will also get extra protection from the throat, collarbone and sternum areas.
Pros:
Shin guards fit well and are comfortable
The removable crotch pads are a good addition
The gear is flexible good quality
Cons:
Helmet is a bit small and tight
Chest protector is big and hard to adjust
Wilson C1K Catcher's Gear Kit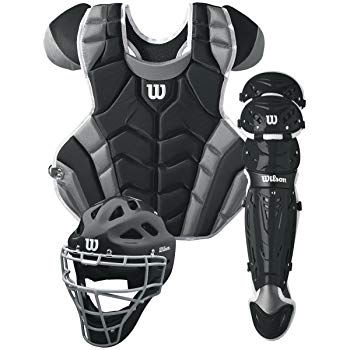 Like any other Wilson catcher's gear, this kit comes with a catcher's helmet, a chest protector, and leg guards. Moreover, the gear has inner kneepads that are washable while the overlapping thigh pads protect the player's legs. Also, its light adjustable metal buckles fit well for extra protection. Strappings on the helmet can easily adjust to fit well.
Pros:
Helmet is of durable material
Leg and chest protectors fit perfectly
Straps give you enough room to make adjustments
Cons:
Helmet is narrow and uncomfortable
The leg guard straps sometimes break
Key Parts of a Catcher's Gear
A catcher's gear set will usually come in three pieces. Usually, when you are purchasing for the gear set, there are some companies that sell them together as a set while others require you to go and get them separately. We recommend buying them together to assure they are all the same quality.
Headgear – This refers to the helmet/mask that a catcher needs to wear. When you are buying a catcher's helmet and mask, you might notice that some say traditional while others are labeled 'hockey.' Do not be confused, since that is just the name of the headgear. Even though the sport is softball or baseball, one of the styles of a helmet/mask is called hockey style. This is actually one of the most common types of gear you will find since many baseball associations do not allow the traditional style to be worn. While we go into greater detail down below for the specific key considerations, we recommend that the headgear you have allows for good visibility. It is not a good mask if you cannot see properly.
Chest protector – Much like the headgear, the chest protector can come in various styles. It is meant to protect your chest and groin area. The two main styles it comes with are whether or not it includes this groin protecting area or if you need to buy that separately. Although protection is key, some chest protectors sacrifice comfort for safety. Keep in mind, you do not want to be uncomfortable and rigid while wearing a chest protector. Something lighter weight might be more ideal. There are even some chest protectors that have removable shoulder pads, which can be convenient.
Leg guards – Many leg guards look quite similar. The main difference that you need to look at is comfort – how well they fit – as well as the padding. One of the most painful places to get hit by the ball would on your legs, so make sure the right places are protected. There are a lot of leg guards that offer to pad behind the knee, so that is one thing to consider. Make sure the straps are sturdy and keep the guards in place. It is extremely annoying when you are playing a game and need to adjust the guards each minute.
Key Considerations When Buying Youth Catcher's Gear
Since protection and safety is the most important thing for every youth, every parent or player should make it a priority to buy good quality items. But, before you decide on a product, first learn what features to consider when buying a youth catcher's gear set. By understanding this, you can get a better idea of what parts are more important to focus on than others.
Allowance of your gear – Just as we mentioned above, some baseball associations do not allow specific types of gear. Often times, associations do not permit traditional style headgear. For this reason, make sure to check this before purchasing your gear. The last thing you want is to spend all this money on an expensive catcher's gear set and then be told you cannot wear it.
Padding thickness – Obviously, your catcher's gear set should be thick enough to protect your body parts, but still comfortable enough to wear. This is probably the most important thing to consider when purchasing your gear since it is all about protection and safety. There are some leg guards and chest protectors that offer triple layered padding without sacrificing mobility.
Washable – If you go out on the field and play frequently, it is reasonable that your gear will get dirty quick. For this reason, check the instructions on how to properly wash your gear without damaging or wearing out its material. Some gear might require a specific method to wash it. There is even some gear that is not washable, but instead, needs to be replaced. Make sure to check this information first.
Breathability – The last thing you want is to have the gear pressing down on your chest, face, or groin uncomfortably. In a sport where you need to move around and be physically active, breathability is key. This is especially important for headgear, as a lot of companies tend to make a helmet or mask that does not allow the player to breathe well due to being too heavy or thick. The same goes for chest protectors.
Moisture-wicking – You are definitely going to be sweating a lot wearing this gear on top of your uniform, especially on a hot day. For this reason, make sure that the catcher's gear set is moisture wicking. This means that it should be able to absorb sweat well and have good ventilation, rather than get heavier or damp.
Visibility – Any helmet or mask you put on should allow for great visibility. As a catcher, every movement counts. Your entire team is relying on you to make that catch. It would be weird to miss the pitcher's throws from the fact that you can't see well. Thus, put on the helmet and mask before buying and try to practice with it. Consider the field of view from inside the helmet.
Comfort – This relates to breathability, but comfort for both your arms, legs, and chest should be something you should consider for any gear. Even if what you buy is durable, safe, and protective, it means nothing if you hate being inside of it.
Accessories – There are also some additional accessories you can add onto your gear set. For example, knee savers help to protect your knees even more, and there are also things called thumb guards. These are awesome if you are a hard thrower. Visors are also great for those sunny days.
Sizing – There are so many sizes available and if you are a youth, that means you are in the process of growing. Thus, make sure that whatever gear you purchase has some flexible room to wear even after a few years. Most manufacturers offer a youth size that is great for ages 9 to 12. This means the gear can be well-adjusted.
Pricing – Usually, youth catcher's gear sets can range from $100 to $400. The lower end will obviously be less durable or lack certain features that the higher end provide. For example, some higher end kits have extra padding, knee guards, and is made of fabric that is easier to breathe, while also being lightweight. However, just as we mentioned above, keep in mind that your child or you as the player may grow taller or bigger as you get older. Therefore, even if high-end sets have great features, consider if it is really necessary to have. If you are going to replace the set in a year or so, you might as well get something a bit more affordable in price, and then settle on something more expensive when your child is all grown up.
Final Thoughts
The best youth catcher gear for any player should offer protection, comfort, and agility to be able to perform well on the plate. On top of that, it should be within a budget that you have set out for yourself. A catcher's gear is the most important thing that a catcher can invest in. Even though we do not recommend getting something overly expensive just because of the brand name, it is good to get a product that is sturdy, durable, and perfectly fit. As a result, you will ensure the utmost protection on the field.