Best Baseball Turf Shoes
This page contains affiliate links. As an Amazon Associate I earn from qualifying purchases..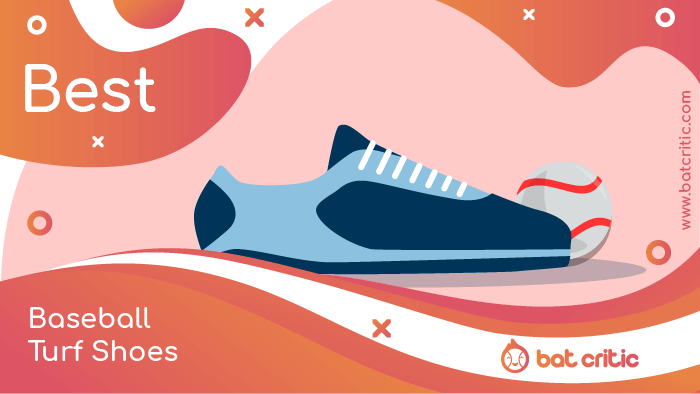 People use turf shoes during training. They provide comfort and stability in the field without having to use much traction. You can use the shoes as casual on-field wear, unlike cleats. This is because cleats have a tendency to wear down if they are used on the hard ground.
For you to determine which are the best turf shoes for baseball in the market, you must first know what turf shoes are.
Quick Look at Our Top Picks:
IMAGE
PRODUCT

Comfortable shoe
Has good traction
Fits well

VIEW LATEST PRICE →

Stylish
Very comfortable
Sole performs well

VIEW LATEST PRICE →

Light in weight
Has great traction
Breathable shoes to wear

VIEW LATEST PRICE →

Comfortable
Very light
Affordable

VIEW LATEST PRICE →

Good quality for its price
Durable
Easy to clean

VIEW LATEST PRICE →
Top 5 Best Rated Baseball Turf Shoes Reviewed
Now that you know what turf shoes are specifically for and their difference with cleats, you will probably be looking for options on which are the best.
It may seem confusing to some when buying new shoes because they think the shoes should fit snugly. However, that is not at all the case. The suggestions below are some things to consider when buying a good turf shoe.
New Balance Men's 3000v3 Baseball Turf Shoes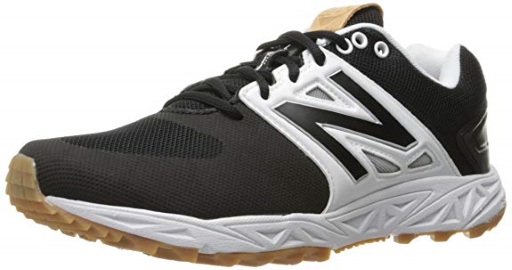 Product Features:
Synthetic and mesh upper
Full-length REVlite midsole
Weight -10.1 oz
Brand – New Balance
Pros:
Comfortable shoe
Has good traction
Fits well
Cons:
Rubber tip has a tendency to come off
Sole has a tendency to fall off
This product is made up of textile and synthetic materials. It is available in nine different variations of colors, and goes up to size 13. There is a rubber sole which enables the wearer to have a firm grip on the ground. It does not sacrifice mobility unlike wearing cleats. Furthermore, the shoe has a Revlite midsole which makes it comfortable and stable, all while being light in weight.
New Balance Men's T4040v4 Turf Baseball Shoe
Pros:
Stylish
Very comfortable
Sole performs well
Cons:
Not water resistant
Offers little support
This product is made of synthetic materials and has a rubber sole. It is available up to size 16 and has thirteen design variations to choose from. It is a mid-top shoe that provides support to your ankles.
Its midsole also uses Revlite technology, allowing you to experience maximum comfort and stability while having a lightweight shoe. The no-sew material application makes it durable and will ensure that it is built to last.
Mizuno Men's Players Trainer Turf Shoe
Pros:
Light in weight
Has great traction
Breathable shoes to wear
Cons:
Insoles do not provide that much comfort
Does not provide much ankle support
This product is made up of synthetic and fabric materials. The sole is made of rubber, making it ideal for infield play and artificial turfs. It has a padded tongue and collar which makes for maximum comfort and security possible.
The shoe has a forefoot cushioning, allowing the wearer to feel like they are wearing sneakers due to added comfort. It also features the classic two tones upper and outsole that is designed for baseball-specific movement. This allows the wearer to feel at ease when moving as they have the appropriate support needed in the field.
Under Armour Men's Ultimate Turf Trainer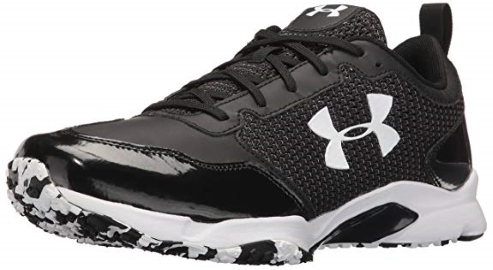 Product info:
Synthetic leather & lightweight
Full-length Micro G® midsole
Weight  -10.6
Brand – Under Armour
Pros:
Comfortable
Very light
Affordable
Cons:
Size runs a little larger than expected
Shoes run narrow around toe area
This product has a rubber sole and is made of synthetic material. This is a low-top shoe, which offers the maximum mobility possible when it is worn. The combination of synthetic leather and mesh makes the shoe breathable and comfortable, and also provides a great fit and feel.
The high rebound SuperFoam insole provides optimal shock absorption, making this product one of the most comfortable shoes in the market. The full length Micro-G midsole provides stability and comfort like no other as it delivers light, ultra-responsive and low-to-the ground performance so that you may be able to step in the field and feel as light as a feather.
New Balance Men's T500 Turf Low Baseball Shoe
Pros:
Good quality for its price
Durable
Easy to clean
Cons:
Labels are different from their sizes
Offers very little traction
Shoes are very narrow
This product is made up of textile and synthetic materials. It has a rubber sole that provides excellent traction in the field like no other. The REVlite midsole provides optimum comfort and stability, all while being light in weight.
The Fantom Fit technology used in this shoe makes the shoe light in weight as well as breathable and offers excellent support. It is a low-cut shoe which enables you to have the maximum mobility possible. The full-length XLT footbed allows for the best possible comfort possible.
What are Turf Shoes?
Turf shoes may look similar to other baseball and soccer cleats, but they have different functions and purposes. This is why they are not really common in the field unless for practice. If you are new to baseball, chances are you still don't know that you are supposed to wear turf shoes during practice.
As we mention above, they are a kind of shoe that players use in baseball during training. They come in low-top and mid-top styles. Lightweight but durable, they provide maximum comfort. In fact, turf shoes are one of the most comfortable types of baseball shoes in the field.
The main disadvantage of turf shoes is that despite the fact that it provides great stability and comfort, it does not perform as well as metal cleats. Cleats are more versatile compared to turf shoes when it comes to traction, as they are capable of clinging to the ground even if muddy.
The Difference of Turf Shoes and Cleats
To most people, there is always a significant difference between turf shoes and cleats. However, surprisingly, some people prefer using turf shoes in field games even though they are merely for practice. Here are some of the differences between turf shoes and cleats.
Physical Features – Cleats are typically shoes that come in low-top or high-top heights, with the bottom being the defining feature. People call these "studs" – protrusions that are usually 8 to 15 in number. These studs are usually half an inch long. Turf shoes do not have half-inch long studs and they are usually rounded, with very little spacing. Unlike cleats, turf shoes are more comfortable because they only come in low-top or mid-top styles.
Function – The reason why cleats have half-inch studs is that they offer traction in muddy and wet areas. Security is also a priority when it comes to wearing cleats as high-tops offer protection. Cleats with low-tops also offer mobility, but may potentially lead to injury. Turfs shoes, on the other hand, are made specifically for artificial grass, and will not prevent you from slippage. However, when turf shoes are in an artificial turf field, they offer great support and mobility than cleats.
Advantages – The main advantage of cleats is the fact that it is versatile in most fields, especially if they turn muddy. The player can change their direction without having to move their feet much in the field. They do not have to worry about slipping, because of the grips on the ground. Furthermore, the main advantage of turf shoes is mobility. It offers the wearer to run at high speeds when stepping on the artificial ground. Also, turf shoes do not run the risk of injury.
Disadvantages – Cleats have a disadvantage of injuring the wearer even if they have high-tops, which will potentially help the wearer protect themselves from injuries from the outside. However, it does not protect them from getting soreness on the inside of the shoe, as cleats have a tendency to dig into the insole. If the insole does not have enough padding, it will cause pain to the wearer. The disadvantage of turf shoes is that they offer little sole support. This makes them more susceptible to injuries than cleats. Also, since their tops usually run low, they offer little ankle support. This can lead to twisted ankles if the wearer slips and falls.
How to Choose The Right Turf Shoes For You
When it comes to choosing turf shoes, one may not know how to choose the right kind because there is a wide array of turf shoes available. Some may not even know if what they are buying are turf shoes or not. Therefore, we provide some tips on how to choose the right kind of turf shoe for you.
Look Closely at the Label – Turf shoes have an obvious label on them. Buying sneakers with rubber nubs on them do not count as turf shoes, because these shoes have specific qualities that sneakers do not have.
Look at the Slip Factor – Once you select a turf shoe, it is best to look at the bottom and see if you have a one that has too much or too little grip. Turf shoes have rubber nubs instead of sharp studs. You will have no problem identifying how slippery your turf shoes will be. A good kind of turf shoes is those that offer a little slip but still offer some traction, especially on artificial turf.
Proper Fitting – One of the most important factors in choosing a turf shoe is their size. One of the things to consider when it comes to looking for the proper fit is that it should not be too snug or loose. This is especially when you are wearing socks. Wearing turf shoes should not require to wear thick socks. This will only lessen your performance in the field unless the weather is too cold.
Final Thoughts
When it comes to turf shoes, one of the common complaints some people will have is that the shoes are too narrow. This is because turf shoes, just like any other baseball shoe, you need to order a half size up. Turf shoes offer a lightweight option to baseball cleats and offer less traction but more mobility. Depending on what you need as a player, use turf shoes for practice or infield play. Not all turf shoes are made to be the best of the best, as some of them will have some disadvantages, but do know that the one suggested here are some of the best ones in the market today. In the end, it is up to you to decide what kind of turf shoes you would buy.
Sources
dickssportinggoods.com/products/turf-shoes-for-baseball.jsp
forums.softballfans.com/threads/turf-shoe-vs-cleat.907342/
livestrong.com/article/435263-difference-between-soccer-lacrosse-cleats/
thefarleygroup.com/blog/4-tips-to-choosing-your-turf-shoes.htm