Best Slowpitch Softball Bats
Shopping for the best slowpitch softball bats has never been an easy adventure. This usually requires a lot of effort, knowledge and time.
That is why we have decided to take you through the necessary hurdles that will help you land that befitting bat.
Generally, slowpitch softball bats are from an alloy, composite, wood or hybrid materials. Some bat materials are prohibited by some league authorities.
That is why having a full understanding of the guidelines within your league jurisdiction is essential. You may agree that buying a bat is not really a big deal, but owning an ideal one is the best if you want to succeed as a softball player.
Best Rated Slowpitch Softball Bats Reviews
Any member of a slow-pitch softball league will understand how essential it is choosing the best slowpitch softball bats.
That is why most players always look out for unique features in bats before making their decision. Therefore, we select the top 10 bats from which you can make your pick.
Louisville Slugger Z4 Slowpitch Softball Bat

The Louisville Slugger Z4 Slowpitch Softball Bat is from 100% pure 360 composite material. It is an awesome option for almost any hitter. This is because it is very much available with an end loaded or balanced swing weight. It provides a great cover for both contact hitters and power hitting sluggers as well. Moreover, this bat is from composite possesses a 12-inch long barrel together with a 2 ¼-inch diameter. Its handle is ⅞-inch and grows thinner up to the barrel.
The Slugger Z4 bat is a three-piece bat that sports patented TRU3 technology that enables independent movement between the handle and the barrel, which manages vibration and gives an unparalleled feel on contact. Also, the bat is designed to have a rougher surface in order to produce bigger backspin on batted balls to send them a farther distance. Its trampoline effect on the balls is enhanced to produce good pop by the S1iD barrel technology.
Pros:
It has great pop
Very versatile, can be used by variety of players
Great bat right out of the wrapper
A great base hit bat
Approved by all major Slowpitch league associations
Cons:
Needs to be broken in a little
Easton Maple Wood Slowpitch Softball Bats

The Easton Maple Wood Slowpitch Softball Bats are constructed from the North American maple. They are specifically to be used in ASA league. These bats have a laser engraved ASA stamp conspicuously etched on the barrel. This completely signifies that these particular Easton bats as the best for ASA leagues that allow only wood bats.
They come with cupped end design which makes them more durable, lightweight and consistent. Also, the North American Maple gives them a great deal of durability and excellent heft for power. Finally, the Easton Maple Slowpitch Softball Bat is an awesome option for those who are looking for the hottest ASA slowpitch softball bat meant for the wood-only league.
Pros:
Has great weight distribution and pop
Has a great feel
Excellent shipping and delivery
Very solid
Offers good value for the money
Cons:
Maple wood bats are not suitable for use in colder weather
A bit heavier
2018 Worth Legit XXL Slowpitch Softball Bat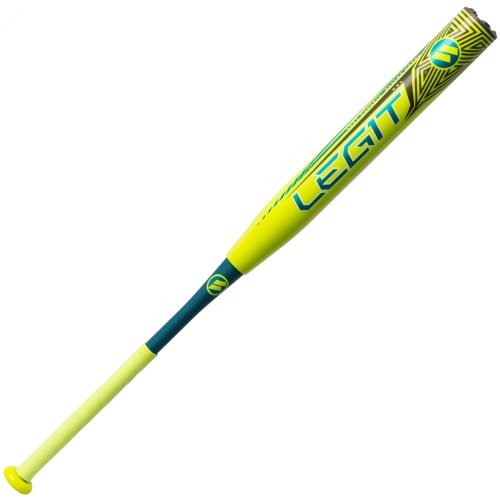 The 2018 Worth Legit XXL Slowpitch Softball Bat is a 100%, two-piece composite construction that features full, one ounce of an end loaded mass to allow players to drive the ball far above the fence. This bat is the signature model of Andy Purcell. It also sports the 220+ technology that enables a larger hitting surface, a massive sweet spot and maximum performance throughout the entire 360-degree rotation of the barrel.
Moreover, its barrel uses Worth's CF100 technology to provide more durability than ever before with better pop through 100% carbon fiber materials. Its handle also utilizes the Flex 50 technology which offers an extremely thin feel with an awesome whip through the zone. In the end, this also provides a winning edge at the plate.
Pros:
It has more pop
Massive sweet spot
Very durable
Offers an ultra thin feel
Added end load enables great power behind every swing
Cons:
It is not usable in the ASA league
Some say that its packaging was a bit loose
DeMarini Steel Slow Pitch Softball Bat

The DeMarini Steel Slow Pitch Softball Bat is a single wall construction that features a barrel that is made from Carburized Steel. It comes with a ZnX Alloy handle together with an RCK knob and an extremely thin 6mm grip. It is also a two-piece softball bat featuring a full alloy construction. Specifically, its barrel is 13-inch long with a 2 ¼-inch standard diameter.
Furthermore, this Carburized Steel barrel makes it go through an unusual heat treatment procedure which enhances its performance and durability. In addition, the barrel has a single wall design. Another edge this bat has over many others is that many players can use it in almost all the leagues and tournaments.
Pros:
It is worth every penny
Gives a great pop
It makes a lovely sound
Impressive and super hot right out of the box
Perfect for single wall league
Cons:
A few say there are some quality control issues
A bit heavy
Miken Izzy Psycho Supermax USSSA Slowpitch Softball Bat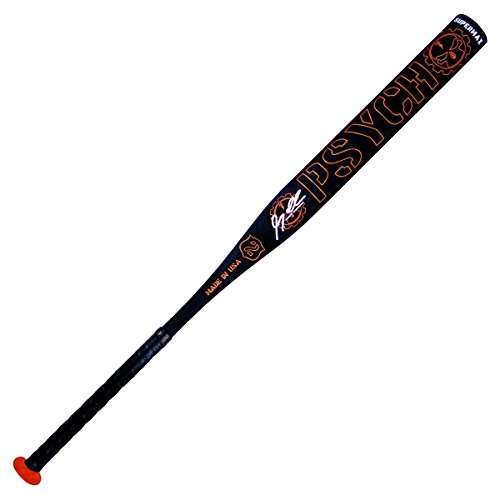 The Miken Izzy Psycho bat is a single-piece bat constructed from the premium Aerospace Carbon Fiber. It comes with a one-ounce end load which makes it ideal for a power hitter whose major desire is to own the best USSSA slowpitch softball bat. The HPI process is utilized to inject some extremely tough epoxy into its carbon fiber material in order to make one of the most durable bats available on the market.
Furthermore, its barrel possesses a standard 2 ¼-inch diameter and a length of 15.5 diameters. The sound this bat makes when it comes in contact with the ball will definitely boost your confidence. This constantly reminds  you that you are holding an excellent bat.
Pros:
Great right out of the package
Can easily add more power and distance to your swing
Has got a lot of pop
Great bat at a great price
Very easy to swing
Cons:
It takes a while to break in
It is not ASA approved
Miken Ultra II Senior Slowpitch Softball Bat

The Miken Ultra II Senior Slowpitch Softball Bat is built to provide a high level of power and performance. It is made with Miken Carbon X-Shell Technology, a 100% composite construction. This technology helps to shield weaker points and the seams of the bat with a firmer carbon fiber shell. It also comes with a performance-elevating bat technology, E-Flex Ultra Flex barrel design, which enables the walls of the bat's barrel to flex inwards on making contact with the ball.
Moreover, this produces a bigger trampoline effect on batted balls and offers the hitter a much more expansive sweet spot to work with. Also, the Miken Ultra II Senior bat is specifically for Senior Slowpitch leagues and it carries a 13.5-inch barrel length and a 2.25-inch diameter.
Pros:
Offers a better contact and hit
So good at making the ball pop off the bat
Breaks in right from the start
The performance outweighs the price
Great trampoline effect on balls
Cons:
Offers no warranty
Not approved for most leagues
Worth Triple Crown XL Reload Slowpitch Bat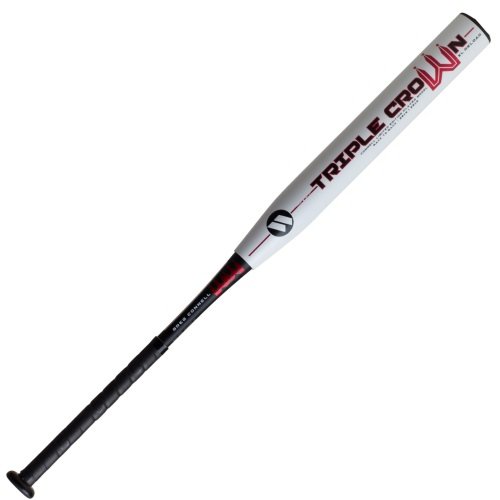 The 2017 Worth Triple Crown XL Reload Slowpitch bat is a 2-piece bat is from 100% carbon fiber for enhanced durability and lighter swing. It is specifically designed for USSSA play but can also be used in NSA and ISA. This bat is unique because of its Reload end load which is a bit less than traditional end load weight. It is an excellent option for players that are just in between contact and power hitter or are trying to move on to a bat with some extra weight.
Moreover, its double wall construction enables the bat to generate a massive pop. Also, the double walls help increase trampoline effect of the baton batted balls for farther distance. Furthermore, it utilizes Flex 50 Handle Technology to create higher-grade whip through the strike zone.
Pros:
This bat is a home run hitter
Perfect for transitioning players
Great bat at a competitive price
Massive pop
Maximum bat speed and distance
Cons:
Not ASA approved
A bit heavier than expected
Miken DC-41 SuperMax Slowpitch Softball Bat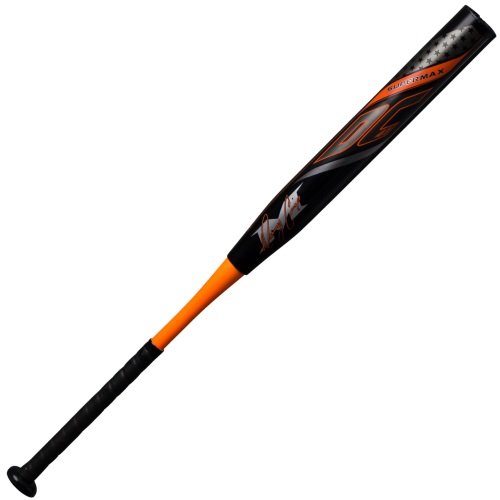 The 2018 Miken DC-14 SuperMax Slowpitch Softball Bat satisfies the needs of serious power hitters. This bat comes in two models, one for ASA and another for ISA/USSSA/NSA. It features the 100 COMP aerospace-grade fibers for superior durability. It utilizes the power of Flex 2 Power Technology to enable better speed and barrel loading. Also, its barrel leverages on the Tetra-Core Technology to broaden the sweet spot and further enhances its durability.
However, note that the model for ISA/USSSA/NSA leagues contain the same features with the exception of Tetra-Core Technology. According to Miken, this means the composite volume increases by 15%.
Pros:
Hot right out of the wrapper
Has got a massive pop
Extremely durable
Good for extreme power hitting
Has got approvals from many league bodies
Cons:
A bit on the heavy side
Slightly too expensive
Worth Legit Watermelon XL Reload USSSA Slowpitch Softball Bat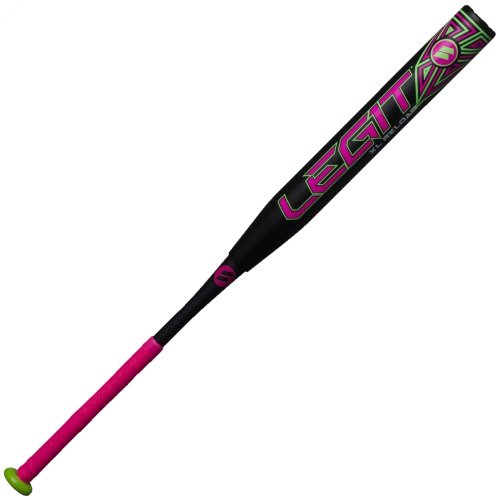 The 2018 Worth Legit Watermelon XL Reload USSSA Slowpitch Softball Bat has CF100 Technology that uses 100% carbon fiber barrel to give unbelievable durability coupled with great bat speeds. It is a combination of attractive cosmetics and cutting-edge technology that delivers incomparable performance.
Furthermore, it also utilizes the 220 Advantage+ Technology and the True 1 Technology to deliver a larger sweet spot and great performance throughout the entire hitting surface. The Flex 50 technology is employed to attach the high performing barrel to the extremely thin handle to improve flex and whip through the zone. This 2018 Worth Legit Watermelon XL Reload USSSA Slowpitch Softball Bat comes with a 13.5-inch barrel length with 2 ¼-inch standard diameter.
Pros:
Hot out of the wrapper
Very durable
High quality made-in-USA bat
Large sweet spot
High bat speeds
Cons:
Not approved for use by ASA
Easton Salvo Composite Balanced ASA/USSSA Slowpitch Softball Bat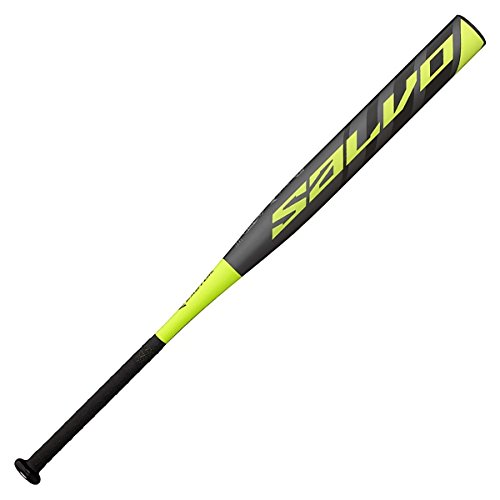 The Easton Salvo Composite Balanced ASA/USSSA Slowpitch Softball Bat maintains a great balance between overall control and the power of the impact. It is in a one-piece profile with a well placed high-end composite barrel. This barrel is 13.5-inch long and gives support to a considerably large sweet spot to enable some easy power hitting.
Moreover, the barrel also gradually grows thinner into a 29/32-inch handle that is extremely thin and unbelievably useful for effective shots. The thin handle also has a very tiny grip that is potent in enabling players to have a firm grip on the handle by as well reducing sting. Furthermore, it is available in 34-inch length and weight ranging from 26 ounces to 28 ounces.
Pros:
Gives an amazing pop
Has got an excellent balanced feel
Pretty hot out of the wrapper
Offers fantastic value for money
Has a good sweet spot
Cons:
Not very good for ASA league
Types of Slowpitch Softball Bats
Slowpitch Softball bats come in different forms and designs. Here, we shall take a look at the different types of bats available on the market.
End Loaded Slowpitch Softball Bats – Majority of slowpitch softball bats come as being end loaded. End loaded bats have more weight towards the end that enhances the mass behind sweet spot of the bat. When this bat come in contact with the ball, its additional heft makes more power available for farther hits. They are quite suitable for power hitters.
Balanced Slowpitch Softball Bats – Balanced bats usually have their weight evenly distributed throughout their profiles. These are very ideal for players who prefer swinging for contact rather than power.
Alloy Slowpitch Softball Bats – These bats are from aluminum or aluminum that mix with other lightweight material. They normally give a very unique feeling that some hitters cherish.
Composite Slowpitch Softball Bats – Most slowpitch bats are from composite materials. This is because they have the edge of utilizing lighter materials which allow the barrel to elongate without any extra weight.
Wood Slowpitch Softball Bats – These bats are usually from maple, bamboo, ash or hybrid woods. They are actually the most affordable option in a softball bat and you can obtain a lot of cool wood bats at less than 100 dollars.
Hybrid Slowpitch Softball Bats – Hybrid slowpitch softball bats have both composite and alloy parts. For instance, the barrel may be of alloy while the handle may come as a composite. This is an attempt to gain some of the pros of each material.
Key Considerations When Choosing the Best Slowpitch Softball
There are certain factors you need to put into consideration before making your final decision on a particular Slowpitch Softball Bat. We shall proceed to highlight some of these key factors.
Weight – It is always essential to consider the weight of a slowpitch softball bat before jumping at it. This is because nobody wants a bat that is too heavy or too light. You will definitely swing late if you are carrying the type that is too heavy. As a result, this will make you hit more ground balls and more pop flys than normal. Moreover, while a bat that is too light will embarrass you, this will affect your bat control by taking a couple of distances away. Thus, this means choosing a bat with the right amount of weight is crucial to your performance on the pitch.
End Loaded/Balanced/Maxloaded – Another important aspect of this factor is weight distribution. It is what determines how heavy a bat is and this can either be balanced or end loaded. If it is end loaded, it means most of the weight is channeled towards the barrel which is the best for a power hitter. While the balanced ones will have their weight evenly spread throughout the bat. Some manufacturers also go a bit further by adding a little more weight to the end of the bat to offer Maxload weighting.
Length – Length is also important while determining the ideal bat for you. A bat that is too short or too long will hamper on your performance when batting. You should also know that most bats come as 34-inch long. It is the maximum for most leagues. But issues often emerge when a player is too short or has less power to swing the 34-inch. Also, that is why it is always essential to take a look at the available manufacturer's size chart to determine the bat length that corresponds to your size.
Wall Type – A typical slowpitch softball bat can either be a single or multiple walled barrel bat. Many manufacturers are now designing their bats with multiple barrel walls. This is because multiple barrel bats are found to be more durable and the additional layers of barrel material have a higher possibility of increasing the trampoline effect on a batted ball. However, it is important to check out whether your league guidelines support multiple barrel bats.
Grip – Bat grip has to do with the bat speed and comfort you have when batting. Most grips come in either synthetic leather or leather with their attendant pros and cons. They can also be anything from simple bat tape to advanced rubberized and patterned grips. Also, some bats can come with some cushioning for absorbing shock in order to give a perfect grip. Although it is possible to have these, it is usually better to ensure the bat has a high-quality grip before buying.
Materials – This is one of the most important factors you need to put into consideration before paying for any bat. The most popular materials for constructing slowpitch softball bats are composite, wood and aluminum while some are from the combination of any of these materials. Composite bats are usually from fiberglass, graphite, and resin which set them apart as being suitable for professional hitters. Moreover, they are very light and lightweight enhances power and swing speed as well as having a massive sweet spot. Aluminum bats are suitable for non-professionals because they are light but do not possess as much power as their composite counterparts.
League Body Approvals – How would you feel if you ended up with a bat that is not certified or approved by your league? I am sure the answer is as good as mine. A good bat is expected to have an endorsement from ISA, USSSA, NSA and ASA or at least two of these standards. The two major slowpitch softball regulatory bodies are ASA and USSSA.
Price/Budget – This is another factor that we can never ignore. No matter how cool a bat is, you may find it not affordable if it is not within your budget limit. Although there are many high-end bats that will cost right up to $500, there are some with decent quality that can be obtained at a cost below $100. If you are a budget conscious buyer you can choose to buy a cheaper bat. Those will definitely give some level of quality swim and power.
One Piece or Two? – You must also consider whether you will go for a one or two-piece bat. They both come with their varying benefits. Two-piece bats will normally have a separate handle and barrel. The benefit of this type is that the barrel flexes at the point of contact with the ball by offering the hitter enhanced pop and producing a trampoline effect. While a one-piece design utilizes the same material throughout by producing a stiffer bat. Moreover, this type of bat has a low level of flex and is often preferable by power hitters.
Taper – Taper is the part that joins the barrel of a bat to its handle and it is the width of the lower part of the handle. Many players are often ignorant of this part that is why they always find it difficult to choose an appropriate size. However, it is quite advisable that you should opt for slowpitch softball bats that come with small tapers because they enable fast wrist movement as well as making it feel lighter.
Final Thoughts
In conclusion, we have some information that is worth having before embarking on purchasing a slowpitch softball bat. For instance, you now know that it is important to ascertain the type of certifications a bat has. We also take a look at the different types of materials that bats can be from.
Moreover, these include alloy, composite, wood and hybrid materials, usually a combination of any of the other materials. Also, our softball bats are well researched and they are major products from a spectrum of the top bat manufacturers in the industry.